Networking is an important part of the prospecting process. It's a great way to introduce yourself and your products to new audiences in a casual environment.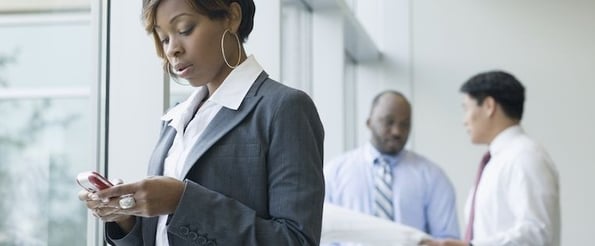 Though it often takes place at formal events and happy hours, effective networking also happens when you least expect it — like standing in line at the airport. So, you must always be ready to make the most of any encounter. This is where professional networking apps come in handy.
In this post, we've rounded up 13 of the best networking apps for sales professionals. From swapping business cards to scheduling that first meeting, these apps will take your prospecting skills up a notch.
The 13 Best Networking Apps for Sales
Price: Free
Best for: Busy sales professionals who want to automate their tasks
You just met a new prospect and their contact information. Now what?
HubSpot's mobile app can help you record that information from anywhere.
You can create a task from a contact, company, or deal record within your free HubSpot CRM. Then, set a due date or email reminder. You can also include notes, set your task type, or even assign a task to someone else.
Price: Free

Available on:

iOS
Best for: Salespeople attending in-person events
Still collecting and sorting through business cards after a networking event? You don't need to. The free Evernote Scannable app for iPhone and iPad takes the human error out of storing valuable prospect information.
First, you need to use Evernote's business card camera to capture a clear image of a business card. After that, the app will automatically save your prospect's name, title, company, contact info, and LinkedIn profile in a single contact note.
Best for: Salespeople who have most of their ideal customers on LinkedIn
Sales Navigator uses LinkedIn's powerful algorithm to provide lead recommendations tailored to your business. This makes your networking more purposeful, and hopefully, more successful.
Navigator also integrates with your CRM, syncing daily and keeping your data fresh. It provides real-time sales updates, alerts you when your champion changes companies, reports when your prospect is mentioned in the news, and more.
Upgrading to a LinkedIn Premium account is the only way to take full advantage of Sales Navigator — but you can try the first month for free.
Best for: Salespeople in horizontal SaaS companies that serve multiple industries
The cardinal sin of networking? Being boring. Feedly fixes this. As a news aggregator, Feedly makes it easy to stay up to date on the industry news your prospects care about.
Selling consulting services to new restaurateurs? Set up a feed that populates with the latest food industry news every day. That way, when you're in the buffet line at a food service event in South Carolina, you can ask your prospect about how that new liquor legislation will affect their business.
Staying up-to-date shows that you're a valuable, knowledgeable contact for others to know. Feedly can help you get there.
Best for: Salespeople who prefer inbound selling to attract prospects
Many people come to Quora to ask questions. In fact, Quora had over 300 million monthly active users in 2022. This makes Quora a gold mine for finding the questions your prospects are asking.
Once you create a free account, start answering the questions for your prospects. This will help you build value, authority, and name recognition with potential customers.
You can also follow specific companies or verticals where you consider the prospects to be warm or hot and follow up with them.
Best for: Salespeople seeking a simple but feature-rich calendar software that integrates with platforms like HubSpot and Salesforce
Calendar offers a convenient way to add networking contacts on the go from its mobile app or directly on desktop You can easily schedule a meeting with your networking contact on the spot with just their name and email address or phone number.
After selecting a time slot, you can send the networking contact a link via email or SMS. They can select a time — or change or accept the one already selected — as well as add the meeting to their calendar.
Plus, you can use additional features like team analytics to assess networking time and productivity, get meeting transcriptions, and more.
Best for: Salespeople who attend networking events with an enormous amount of prospects to connect with
Say you meet a great prospect at a networking event, but the event isn't over and you've still got more hands to shake. Don't worry about forgetting or mixing up pertinent information. Use Hey DAN, a voice-to-CRM solution.
Simply speak your notes into your phone, and they'll automatically populate your CRM.
Drop-down menus, check boxes, and other unique fields are instantly filled out — and you can get back to meeting more people.
Best for: Salespeople who want to physically connect with prospects. This helps them to know prospects, pitch their high ACV products, and address all objections.
Shapr works by presenting you with a pool of professionals with similar interests. And, just like Tinder, you can swipe left or right to indicate whether you'd like to connect. When it's a match, you'll both be notified and you can connect in person over coffee.
But be warned: Shapr will flag you if you try to sell to people using their app. That being said, it's still a great way to expand your network, both for your current sales job and your future career. Plus, you never know what future deals might come of it down the line.
Best for: Salespeople looking to manage and schedule meetings on the go
If you've met a prospect who's really interested in setting up a demo of your product, don't wait until you're back at the office to schedule that meeting. Pull up the Calendly app right there and send them a link.
Your prospect can instantly choose a date and time that works for them and add a meeting reminder on their calendar — all before you've even parted ways.
P.S. You can also check out HubSpot Meetings. It automatically creates records for new prospects when they book a meeting with you through the tool.
Best for: Salespeople who don't want to miss important events in their industry
If you want to boost your network, one way to do it is by attending conferences. This is where Eventbrite shines. Eventbrite removes the hard work of searching all day for conferences you'd like to attend.
With Eventbrite, you can follow the organizations whose events interest you. This way, you receive notifications when they have new events.
Best for: Networking with prospects at conferences
Making meaningful connections and starting conversations in a conference hall that's packed with people feels impossible. Bizzabo's event app fixes this. This app allows you to filter through the lists of event attendees so you can identify potential leads and reach out to them.
The first step is to register with your LinkedIn account so Bizzabo can automatically fill in your profile. Afterward, search for conferences in your industry.
Before registering for a conference, you'll see a list of attendees. This list helps you decide if the conference is a fit before you register.
Best for: Salespeople who want to connect with business owners in their area
Meetup allows anyone to build both professional and personal relationships. It works by finding and connecting people with similar interests in the same area.
This app is great for finding people in your niche and building a thriving community. Meetup also has many groups with lots of members in categories like travel, health, tech, arts, and many more. You can also take advantage of different events organized by Meetup users to connect with your prospects.
13. Your CRM's Mobile App
If you haven't downloaded your CRM app onto your phone yet, you're doubling your workload. Having on-the-go access to your CRM will make entering a new contact into your database quick, easy, and procrastination-proof.
After you grab a prospect's information at a cocktail hour, take a few minutes while your drink is being refreshed and enter their contact info, meeting notes, and a follow-up reminder.
Don't have a CRM? HubSpot CRM is free and easy to use, and it's so much better than spreadsheets. Download it here.
The Human Factor
Networking can be a fruitful way for salespeople to expand their network and meet prospective clients in person. While these 13 apps will ensure you find quality prospects, they can't help you make a great first impression.
This is where personalization comes in. As you attempt to find prospects and start conversations, ensure you personalize your message. This way, you'll make the most of your time, build excellent relationships with prospects, win the sale, and hit your quota.