Networking is an important part of the prospecting process. It's a great way to introduce yourself and your product or service to new audiences in a casual environment.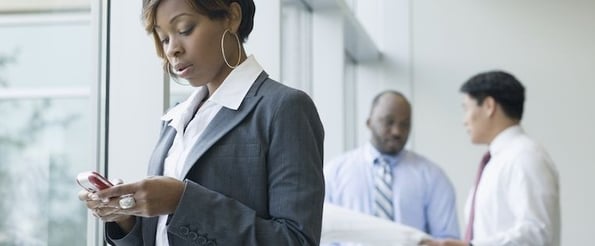 Networking often takes place at formal events and happy hours, but it also happens when you least expect it -- like standing in line at the airport. What's important is that you're always ready to make the most of any encounter with a prospect.
To do that, we've rounded up 11 apps guaranteed to pump up your networking skills. From swapping business cards to scheduling that first meeting, these apps have you covered.
The 11 Best Networking Apps for Sales
MightyMeeting turns your presentations into an interactive experience. It also enables you to share videos, documents, and presentations anytime, anywhere. Everything is stored safely in the cloud and can be accessed on or offline.
Source: MightyMeeting
So if you're having a great conversation with a prospect you just met at a conference happy hour and they're interested in learning more, whip out your smartphone and pull up your latest company video or a quick, three-slide elevator pitch. You'll look prepared and polished and your prospect will look impressed.
Create a task from a contact, company, or deal record within your free HubSpot CRM. Then, set a due date or email reminder. You can also include notes, set your task's type, or even assign a task to someone else.
Once a task is created, add it to a timeline and track completion on your Tasks Dashboard. Task completion can also be tracked in the Productivity widget of your Sales Dashboard. And, you can create task queues for better organization.
Source: HubSpot
Price: Free
Available on: iOS
Have trouble wrangling business cards after networking events? The free Evernote Scannable app for iPhone and iPad takes the human error out of storing that valuable information.
Use their business card camera to capture a crystal clear image of the business card, and the app will automatically save your prospect's name, title, company, contact info, card image, and LinkedIn profile in a single contact note.
Source: Evernote
Sales Navigator uses LinkedIn's powerful algorithm to provide lead recommendations that are tailored to you and your business. This makes your networking more purposeful and, hopefully, more successful.
Source: LinkedIn
Navigator also integrates with your CRM, syncing daily and keeping your data fresh. And it provides real-time sales updates, alerting you when your champion changes companies, your prospect is mentioned in the news, and more.
You have to upgrade to a LinkedIn Premium account to take advantage of Sales Navigator -- but you can try the first month for free.
The cardinal sin of networking? Being boring. Feedly is a free news agrigator. It makes it easy to stay up to date on the industry news your prospects care about.
Selling consulting services to new restaurateurs? Set up a feed that populates with the latest food industry news every day. That way, when you're working the buffet line at a food service event in South Carolina, you can ask your prospect about how that new liquor legislation will affect their business.
Source: Feedly
People come to Quora to ask questions -- a lot of people. In fact, Quora had 100 million active monthly users worldwide in 2016.
Find the questions your prospects are asking when you create a free account. Then, answer those questions to build value, authority, and name recognition with your prospect. And second, follow specific companies or verticals you feel might be warm or hot prospects and follow up with them accordingly.
Source: Quora
Price: Free for Basic; $10 per month for Pro; $12 per month for Business; Enterprise pricing available with free quote
Calendar offers a convenient way to add networking contacts on the go from its mobile app or directly onto a desktop version of their productivity and networking tool. You can easily schedule a meeting with your networking contact on the spot with just their name and email address or phone number.
After selecting a time slot, you can send the networking contact a link via email or even SMS. They can select a time or change or accept the one already selected as well as add the meeting onto their calendar. Plus, you can use additional features like team analytics to assess networking time and productivity, get meeting transcriptions, and more.
Say you meet a great prospect at a networking event, but the event isn't over and you've still got more hands to shake. Don't worry about forgetting or mixing up pertinent information about your contacts. Use Dial-A-Note, a voice-to-CRM solution. Simply speak your notes into your phone and they'll automatically populate your CRM.
Drop-down menus, check boxes, and other unique fields are instantly filled out and you can get back to meeting more people.
Source: Dial-A-Note
Shapr transforms the functionality and usability of the dating app, Tinder, into a powerful tool for business professionals. But be warned: Shapr will flag you if you try to sell to people using their app. That being said, it's still a great way to expand your network, both for your current sales job and your future career. Plus, you never know what future deals might come of it down the line.
How does it work? Shapr will present you with a pool of professionals with similar interests and, just like Tinder, you can swipe left or right to indicate whether you'd like to connect. When it's a match, you'll both be notified and you can connect in person over coffee.
Source: Shapr
10) Mobile CRM App
If you haven't downloaded your CRM's app onto your phone yet, you're doubling your workload. Having on-the-go access to your CRM will make entering a new contact into your database quick, easy, and procrastination-proof.
After you grab a prospect's information at a cocktail hour, take a few minutes while your drink's being refreshed and enter their contact info, meeting notes, and a follow-up reminder. What's that? Your drink is ready and so are you.
Don't have a CRM? HubSpot CRM is free, easy to use, and so much better than spreadsheets. Download it here.
Source: HubSpot
If you've met a prospect who's really interested in setting up a demo of your product, don't wait until you're back at the office to schedule that meeting. Pull up the Calendly app right there and send them a link. They can instantly choose a date and time that works for them and add a meeting reminder on their calendar -- all before you've even parted ways.
Source: Calendly
PS: You can also check out HubSpot Meetings. It automatically creates records for new prospects when they book a meeting with you through the tool.
Networking can be a fruitful way for salespeople to expand their network and meet prospective clients in person. These 10 apps will ensure you make a great first impression, all while freeing up more time for the important part -- actually talking to people.