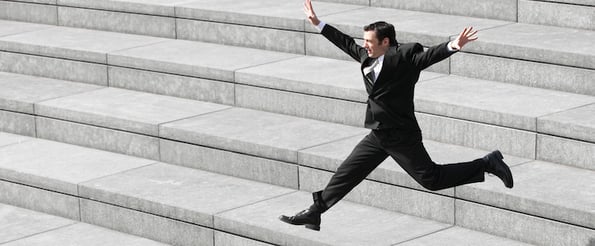 Do you feel like whistling while you work? If you're a business development executive, you probably hum a happy tune all day long.
After analyzing over 25,000 job reviews, CareerBliss recently released its list of the top 10 happiest careers in the U.S. Business development executive -- the bold pioneer of the sales world -- clocked in at number eight.
Each career's overall satisfaction rating was compiled based on seven factors: manager, colleagues, opportunities for advancement, company culture, rewards and recognition, support, and the day-to-day grind. (Note that salary wasn't a factor -- I guess it's true that money can't buy happiness?)
Here's the full list:
School principal
Executive chef
Loan officer
Automation engineer
Research assistant
Database administrator
Website developer
Business development executive
Senior software engineer
Systems developer
What makes business development so satisfying? "Business positions certainly come with pressure and stress, but seeking growth opportunities is a gratifying responsibility for these professionals," according to a USA Today article. "Strategic thinkers can find happiness even in the many daily challenges of business development."

This isn't the first sales job to top a career list this year. Glassdoor named sales manager the 10th best job in America, based on average salary, number of jobs openings, and a career opportunities rating. Business development manager grabbed the number three spot.
Considering that sales has historically been regarded as a high pressure field, salespeople seem to be managing the stress just fine. Business development execs -- do you agree with this research? Would you recommend your job to others, or would you steer your peers toward becoming a school principal or chef instead? Share your thoughts in the comments.