What if there was one change to your sales process that would make 53% of prospects likelier to buy from you -- and 63% feel more positive about you, 59% believe your business cares about them, and 55% likelier to trust you?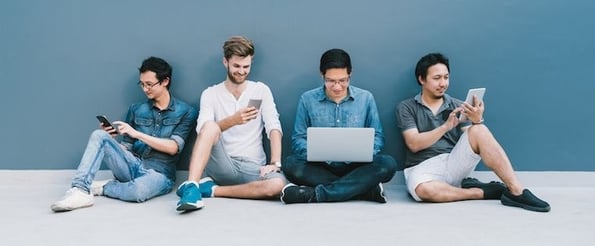 You'd probably implement it immediately.
But this question isn't hypothetical. The change in question is enabling your prospects to message you.
Every month, people exchange billions of messages with companies. Messaging is their second favorite way to communicate with businesses. And that's not changing anytime soon: Nearly 7 in 10 customers expect to message businesses even more over the next two years.
Changing Customer Expectations
These days, prospects don't have the time or patience to find your website, fill out a request to speak to a salesperson or schedule a demo, be routed to a rep, receive an email, and set up a meeting. Such a high-touch, manual process means it can take days, even weeks before they can learn the answers to their questions.
In contrast, sending a message and getting a reply takes mere seconds. This process is even quicker, easier, and more convenient if they can interact with you from multiple platforms -- Skype, Facebook, WhatsApp, Instagram, email, etc. -- without losing their previous messages.
Not only is messaging better for buyers, it's also beneficial for businesses. You can add value to your prospects' lives in a fraction of the time and with a fraction of the effort. Gaining their trust and learning about their situation and needs more quickly means you'll close more quickly as well. The speedier your sales process, the more deals your sales team can close.
You might be thinking, "Okay, these results sound great. But how do I answer all these messages from prospects? I'd have to hire a bunch of reps to sit at their computers and do nothing but respond to chats."
Here's where bots come in. A bot is an AI-powered tool that performs automated tasks. The most well-known bots are chatbots, meaning you use them by having a conversation.
Bots and messaging are a powerful combination.
Immediacy
Bots offer immediacy that's unrivaled by humans. To illustrate, imagine two of your reps are active when a hot lead visits your website. She has a question about pricing, so she clicks the "Chat with a salesperson" button. Unfortunately, both reps are helping other people and can't respond right away. After a minute of waiting, the prospect gets impatient and leaves the site.
Now imagine you have a bot who's equipped to answer product questions. The prospect asks her question, receives an immediate answer, asks a follow-up question, and gets a second response. At that point, the bot marks this lead as "qualified" and passes it to a live salesperson who will learn more about her needs. She ends up buying at the end of their conversation.
Scale
Not only are bots faster than people, they can also help an infinite number of queries at once. A rep can juggle three to five conversations at any given time, depending on how complex the questions are. However, bots aren't restricted by these limits.
That means you can have a huge flood of buyers looking for information via chat without compromising quality -- or response time.
Intelligent routing
Of course, there are some aspects of selling that will always be better-suited to actual people. Real people offer much that bots cannot: Intuition, empathy, humor, the ability to deal with ambiguity, and more. Bots aren't meant to replace humans; they're meant to take over the more administrative, lower-value tasks currently sucking up reps' time so they have more bandwidth for important sales activities.
That's the final piece of the bot puzzle: Smart handoffs. Once a bot has identified a good fit prospect, they can pass them to a rep. Not only does the rep have immediate insight into the prospect's situation and needs, the bot has already helped them become a trusted advisor.
The messaging and bot revolution is underway. Meet your customers where they're at, answer their questions quickly and efficiently, and serve up qualified leads to your salespeople.
Editor's note: HubSpot has acquired Motion AI, which enables everyone (developer or not) to build bots. Learn more here.