A customer relationship management (CRM) database can help your company automate data collection and sales processes. With a hand from technology, you can boost conversions and provide collaborative access to critical customer data.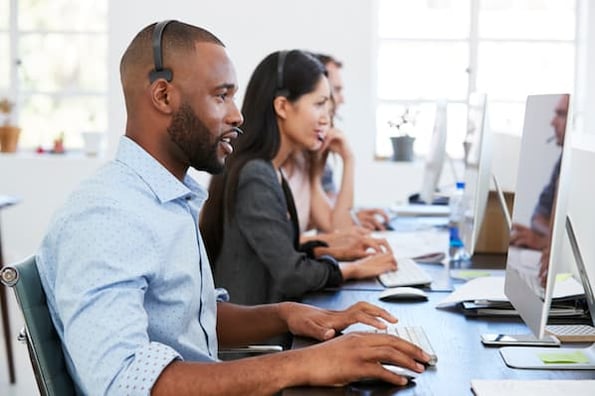 Many of these databases are cloud-based, so teams have access to contact data anytime and anywhere. As a result, CRMs are one of the most popular sales tools.
Here's what you need to know about what CRM databases do, how they work, and where they can benefit your company.
What is a CRM database?
A CRM database allows businesses to manage relationships with contacts and customers by centralizing information. These tools create a single source of truth for your team. You can organize your contacts' data, keep track of deals, and create reports. You can typically see each contact's source, if they visited your website, their company, and more.
CRMs also log interactions. You can view a contact and see the touchpoints they have had with their company. You can see a log of calls with your sales teams, the number of emails they've opened from you, and a history of chats with representatives.
CRM platforms make it possible for staff to access customer data from any supported device, in turn allowing employees to easily find relevant data and collaborate on new sales and marketing initiatives. You no longer have to tap a colleague on the shoulder for info. It's all in your CRM!
But don't just take our word for it — 91% of companies with 10 or more employees use CRM tools. Of these businesses, 74% of businesses say that CRM software gave them improved access to customer data.
How Data is Sorted
To help streamline the sales and marketing process, CRM databases sort data into different types, also called categories. This goal is achieved by analyzing information from various data pipelines.
For example, an ecommerce transaction database might represent one data pipeline that provides information about customer purchases, service interactions, and contact history.
See three common CRM data categories below.
Operational CRM
Operational CRM data refers to information that allows teams to better perform key tasks, such as sales, marketing, and customer service.
For example, customer support tickets or where a customer is in your deal pipeline would fall into this category.
Analytical CRM
Analytical CRM data is — not surprisingly — used for analysis. By understanding the relationship between specific data points or data types, business leaders are better equipped to make both short- and long-term strategic decisions.
Collaborative CRM
Collaborative CRM data is shared among team members and across departments to create a unified source of customer truth. This allows staff to complete key tasks more quickly and helps ensure that when customers contact your company, they don't need to fill in the blanks about previous purchases or problems.
Worth noting? Some CRM tools can be configured to handle all three types of data, while others specialize in a specific pipeline.
Benefits of a CRM Database
CRMs can help you stay organized and keep a clean record of important data. If you're on the fence about adopting a CRM, consider the following benefits.
1. You'll keep your contacts organized.
Once you add your contacts to a CRM, you can sort and filter the contacts by different contact properties. You can sort through customers by first and last name, email address, and company name.
If you need to reach out to a specific contact, you can find them promptly and efficiently.
Get organized with HubSpot's free CRM
How this helps: By filtering this data, your staff can spend less time looking for information and more time closing deals.
2. You can manage your deals easily.
Many CRM databases provide a full layout of your deal pipelines, stages, and close dates which makes deal management easier. Salespeople can see an overview of their deals and see their progress toward their monthly quota.
Start managing your sales better today!
How this helps: By understanding where your deals come from and how often sales efforts lead to conversions, CRM tools make it possible to streamline sales and marketing operations.
3. You can make reports quickly.
In most robust CRM systems, you can build reports to keep track of your contacts and deals. You can use this information to create revenue forecasts. This makes assessing performance against your goals easy.
Check out how you can create reports
With a CRM, you can speed up your sales processes, communicate with contacts effectively, and plan for the future of your business.
How this helps: Reports provide context to current operations. This allows managers and team leaders to see what's working well, what needs improvement, and what needs to change. You can provide training to help fill in performance gaps.
If you're ready to take the next step with your customer relationship management, check out these CRM best practices.
Popular CRM Databases
Looking for a CRM database to help improve your sales, marketing, and customer retention processes? We've got you covered with four popular options, plus more here.
It's our post, so of course, Hubspot's free CRM database takes the top spot. But this isn't just digital nepotism — our solution is consistently ranked as one of the best options on the market.
In part, this stems from the ease of use. Our CRM specializes in handling a massive volume of customer data. Our CRM also gets top marks for its ability to integrate with other software platforms.
What we like: HubSpot offers easy integration with more than 1,000 other software applications, making our tool a great choice for any business.
Also a market leader, Salesforce CRM offers a large selection of industry-specific CRM products. You'll also have access to modern sales features that let you make use of social media metrics to capture new leads and boost sales.
What we like: Guided learning tools make it easy for companies to get started with this CRM database.
Zoho allows companies to build customized and user-friendly CRM frameworks that suit specific business needs. The solution also includes a suite of easy-to-use automations to help eliminate repetitive, manual tasks.
What we like: Real-time notifications of customer interactions let teams take action when it counts.
This affordable CRM option is all about communication and collaboration. With the ability to run customized email campaigns, manage deals, and forecast revenue, teams are equipped with the data they need to make better decisions.
What we like: Freshworks includes VoIP capabilities, allowing companies to consolidate some or all of their communications infrastructure.
Context and Consistency: The Case for a CRM Database
The right CRM database can make all the difference when it comes to creating context and consistency across your organization. Everyone at your company will have access to the same data. Handing off deals, gathering insights, and tracking goals then becomes easy.
With all of this information, your company is in a better position to discover key trends. You can find pain points and discover your most important feature. Soon, all your sales campaigns will be backed by data.