As we usher in 2018, one thing is at the top of salespeople's minds: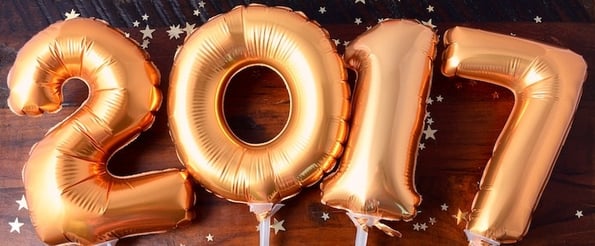 "New year, new quota. How am I going to hit it?"
Whether you're going to President's Club for your performance in 2017 or fell short, everyone was back at 0% starting January 1. Take advantage of your clean slate and set yourself up for success with the following tips.
How to Exceed Your Sales Quota in 2018
1) Set personal goals.
Your career goals will define everything else you do this year. For example, if you want to be promoted to sales manager, look for leadership opportunities in addition to selling this year. But if you have your sights set on a more senior individual contributor role or want to jump to another sales team, you should focus on the activities that will best prepare you for those transitions.
Don't forget to share your goals with your manager. Ask them what opportunities are available and how you can work toward them.
2) Know your numbers inside and out.
It's important to lay the foundation for your career progression. But meanwhile, you still have a number to hit. Review your past deals and make sure you know the following:
Average conversion rates between steps of the sales process
Average deal size
Average length of your sales cycle
If you know these three metrics, you'll be able to work backwards from your quota and calculate exactly how many closing calls, product demonstrations, discovery calls, and prospecting activities you'll need to complete to hit your number.
Once you've determined those activity benchmarks, aim to exceed them in January and February -- especially if you blew out your pipeline in Q4. Once you're back at a steady cadence, you can level off to meeting your daily and weekly benchmarks.
3) Refresh your collateral.
The amount of sales collateral that Marketing produces might be overwhelming to keep up with during the year, but there's no better time than the new year to get up-to-date. Go through your computer and dump any outdated files, and make sure you're only sending your prospects new, fresh material from here on out.
4) Review your lost and won deals for commonalities.
There's no time like the present to rid yourself of bad habits. Review your biggest wins and losses from 2017 and ask yourself the following:
What did the prospects who bought from you have in common? What about the ones who didn't?
Were there common threads in your behavior in won and lost deals?
What worked and didn't in competitive deals?
What were your best moments last year? Your worst?
Were there key soundbites or best practices that consistently worked across varying deal types?
The more closely you understand your own failures and successes, the more familiar you'll be with what works and what doesn't.
5) Make a to-don't list.
It's also important to understand your personal work habits. Pick your worst three months from 2017 and examine your calendar and activities during those months. Were you overloaded with meetings? Did you neglect prospecting? Compile a list of your slip-ups and add them to your "to-don't" list, a handy tool that reminds you only to spend time on the important things.
6) Clean out your pipeline.
A bloated pipeline leads to artificially high forecasting and a false sense of security. Whether it's a deal that's been pushed for six months or a prospect asking for an excessive discount, remove every deal that's not going to close so you enter January with a clear sense of how you're doing.
7) Reach out to lost competitive deals from last year.
This is something you should do about once a quarter. Go through all your deals lost to a competitor from Q1 of last year and check in to see how they're doing. Usually, a year is enough time for buyers to fully implement a product and realize a return on investment (or decide they made the wrong choice).
If they let you know they're happy with their decision, move on. But if it turns out they're in the market again, you've just restarted a relationship with a familiar prospect.
8) Identify your largest target accounts.
There are exceptions to this rule, but generally, the larger the company, the more people are involved in a purchasing decision. More stakeholders means juggling competing priorities, varying levels of expertise, and different personalities.
A sales process involving 10 different points of contact is a more complicated affair than selling to one person, and will probably take longer. So identify your "whales" early, set up Google Alerts for them, and start proactively reaching out early in the year. You don't want October to roll around only to realize you didn't start working those accounts early enough.
9) Re-engage prospects who went dark in November and December.
November and December are tough months -- with the holidays, you have far fewer selling days to work with. It's also harder to get hold of your prospects -- they're most likely wrapping up end-of-year projects and scrambling to finalize plans for the coming year.
While that can sometimes work to your advantage if the business pain is high enough on your prospect's priority list, it can also mean that you get punted to next year. So take the initiative to reach out to accounts that have gone quiet to see if moving forward still makes sense.
10) Call your best customers and ask for referrals.
What's that old saying? Oh, right: "I'll scratch your back if you scratch mine."
Your best customers are also your brand's best ambassadors -- they're objective third parties who have had proven success using your product. So call the customers with whom you have the best relationships and see if there are any companies in their space that could use your solution. Chances are, they'll be happy to help.
11) Watch game tape.
You can roleplay, practice objection handling, and review all the collateral you want. But nothing helps like real-time feedback based on real situations.
Enter the sales call review. Ask your manager or experienced peers to sit with you and listen to one or two of your recent calls, then suggest pointers on areas where you could have improved. Tactical, contextual feedback will always be more useful than generalized advice.
12) Practice good hygiene.
No, we don't mean shower and brush your teeth every day -- although you should probably do that too.
Are there old views in your CRM you no longer use? Old email templates that you tested and determined to be underperformers? Overdue or no-longer-relevant tasks on your to-do list? Presentation files you haven't shown a single prospect in months? Take an hour when you walk into the office today to clear out the cobwebs. Organize your desktop, clean out your CRM, and generally tidy up the data in the tools you use so you're beginning the year with a fresh start.
Your quota doesn't have to be a scary number hanging over your head. Get out of the gate fast in January and your strong start can last all year.