Data enrichment is part of the larger data hygiene process, which is the continual practice of ensuring that data is accurate, reliable, and up-to-date.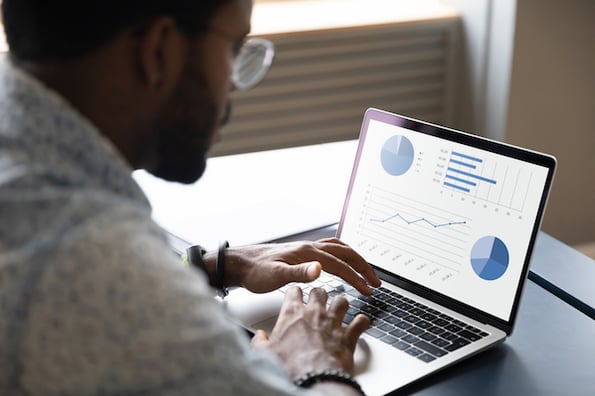 Enrichment focuses specifically on the addition of new and supplemental information to existing datasets. Teams then verify this information against third-party sources to increase overall value.
In this piece, you'll learn the basics of data enrichment and explore its key benefits. Then, we'll dive into best practices and enrichment tools that can help you deliver on data potential.
Table of Contents
What is data enrichment?
Data enrichment is the process of improving the accuracy and reliability of your raw customer data. Teams enrich data by adding new and supplemental information and verifying the information against third-party sources.
Data enriching (also called data appending) ensures your data accurately and thoroughly represents your audience.
As salespeople, we can all agree on the significance of accurate data. This information allows us to better understand our customers' wants and needs, improve our customer experience, and personalize our sales efforts to meet our leads wherever they are.
The Benefits of Data Enrichment
Data enrichment can significantly improve the customer experience. Here's some notable research that shows the importance of personalized customer experiences:
66% of customers want brands to understand their unique needs and expectations.
52% want all offers that come from a brand to be personalized.
54% of customers say they're likely to look at items in-store and buy them online (or vice-versa), and 53% of brands are investing in omnichannel strategies to match.
Accurate, enriched data is the key to creating targeted, personalized customer experiences — and the lack thereof can turn customers away.
Data enrichment can also help reduce total costs. Here's why: With a solid data enrichment strategy, your focus shifts to keeping data that matters to your company, such as customer contact information or transaction histories.
Other, less relevant data can then be deleted or shifted to lower-cost long-term storage sites. In addition, enrichment makes it possible to detect and eliminate redundant data to reduce overall spending.
Data Cleansing vs. Data Enrichment
While data enrichment is mostly about adding supplemental data that helps strengthen your CRM, data cleansing is the process of removing inaccurate, irrelevant, or outdated data.
Both are important components of keeping a healthy, vibrant database, but data cleansing typically happens first to make room for the updated, supplemental information provided through data enrichment.
The same goes for your CRM data, including demographic, geographic, and psychographic information. The goal of your CRM isn't to collect as much information as possible; it's to gather the highest-quality data that best represents your leads and customers.
When should you invest in data cleansing? Well, for example, if your email list is growing but your engagement rate is dropping, you know it's time to clean up your data. The same goes for other information you use to connect with your leads and customers.
Keep a closer eye on your engagement rates (opens, click-throughs, etc.) versus your total subscribers. They'll tell you how healthy your database is.
Outside of monitoring your data performance, data cleansing should take place at least every six months or so. Over 50% of organizations spend more time cleaning data than using it. Given the value of accurate data (and the cost of using inaccurate or outdated data), this isn't too surprising.
Data Enrichment Best Practices
While every company's enrichment process will look different depending on the type of data they collect and their strategic business goals, there are common best practices that can benefit brands no matter their approach.
Create clear criteria.
First up is creating clear criteria. This means considering the goal of your data enrichment efforts and then defining criteria that help you measure this goal.
For example, if you're looking to improve the completeness and accuracy of customer data, you might set a goal of having 90% or better data accuracy in customer profiles when tested against a 3rd party verification source.
If targets aren't met, you know more work is needed.
Make processes repeatable.
Next is developing repeatable processes.
Designing and implementing new processes over and over again is a waste of time and money. By creating frameworks for data analysis that are consistent and reliable, you can apply them to more than one enrichment effort.
Consider the process of verifying customer profile data using a set of standard 3rd party sources. By creating a process that automatically checks these sites for specific data types, you can simply reapply the function as necessary.
Ensure efforts can scale.
As your data volumes grow, you want enrichment efforts that can scale in tandem. In practice, this means implementing automation wherever possible to eliminate manual touchpoints that could introduce additional complexity or unexpected errors.
Prioritize general applications.
Finally, it's worth thinking about how processes will generalize to other datasets.
For example, if you create a process to verify customer data submitted via desktop website forms, it's a good idea to leverage partners or services capable of ensuring this process is also applicable to mobile users.
Data enrichment is an ongoing process.
Data enrichment isn't a one-and-done process. Instead, effective enrichment requires ongoing effort to ensure that collected data is relevant, accurate, and timely.
It makes sense: Data never stops flowing into or out of your organization, and your data environment is constantly changing. To ensure you're getting the most value from data sources, continual enrichment is critical.
Data Enrichment Tools
We've defined data enrichment and data cleansing and discussed when to invest in these processes. Now, let's talk about how. Depending on the size of your database, you may be turned off by the prospect of manually combing through hundreds or thousands of data points.
We don't blame you. So, we compiled this helpful list of data enrichment tools to help you clean and manage your data. Take a look.
HubSpot CRM
Your data is important, and so is where you keep it. A customer relationship management (CRM) tool is the perfect home for something so vital to your organization.
The HubSpot CRM offers useful contact management tools like custom properties, tasks and activities, and web forms for collecting data. It also offers an entire set of sales-specific — including live chat, email scheduling, tracking, a centralized dashboard, and more.
The HubSpot CRM not only celebrates data collection and enrichment, but it enables your team to invest in these processes as one — not as disparate teams or siloed sales reps.
Customer Data Platform (CDP)
A CDP aggregates and organizes your customer data from all the disparate sources in your organization. If your customer data is used by a variety of software, systems, and teams, a CDP may be a good investment.
CDPs collect and structure real-time data into individual, centralized customer profiles, and they help your company avoid using siloed (and likely inaccurate) data.
CDPs and CRMs work in tandem: They both collect customer data and provide value to your organization, but that's where the similarities stop.
Where a CDP autonomously creates unified customer profiles with data gathered across a variety of online and offline channels, a CRM only tracks a customer's intentional interactions with a company via manual entry. (Unless, of course, you use the HubSpot CRM, which automatically tracks contacts via the user's HubSpot timeline.)
Read more about CDPs and top CDP software providers here.
Data Enrichment Services
Once you've 1) established a database for your data collection and entry and 2) linked up all of your internal data sources, it may be time to examine using a third-party data service.
Thankfully there are several data enrichment services against which you can corroborate and spruce up your data. Here are a few to consider.
Vainu is a B2B business database and sales intelligence software. With Vainu, users can filter through a database of millions of companies and identify prospects that fit their ideal customer personas
Vainu allows easy access to data and integrates with multiple platforms. Vainu offers native integrations with HubSpot as well as Salesforce, Pipedrive, and 1000+ more tools.
Clearbit offers updated company and contact information for your sales records. You can focus on B2B lead enrichment, qualification, and scoring.
Clearbit provides teams with access to more than 200 million contacts. This platform also continuously updates and enriches contact information automatically.
Reverse Contact is a Reverse Email Lookup tool that empowers you to instantly access pertinent, real-time information about individuals and their companies using just their email addresses. This software is exceptionally well-suited for enhancing, qualifying, and scoring B2B inbound leads.
Unlike systems relying on pre-existing databases, Reverse Contact prioritizes fetching real-time data that is publicly available. As a result, all retrieved information is compliant with CCPA & GDPR regulations.
Leadspace is a software that unifies multiple data sources with contact databases and customer relationship management systems to enrich your data. This ensures that your data is up-to-date.
LeadSpace also uses artificial intelligence (AI) to gather data and target leads from online user behavior. You can more accurately target leads and keep track of customer preferences.
Quickly find and connect with your next customer using Datanyze. With this tool, you can capture data while you browse social media to connect with potential prospects. You can also tag contacts and companies to create segmented lists.
Datanyze integrates with a variety of CRMs and provides data on millions of companies worldwide.
Alt Text: LeadGenius allows you to verify B2B lead information to ensure your team is reaching out to the most accurate, engaged prospects.
IMG name: data-enrichment-leadgenius
LeadGenius allows you to verify B2B lead information to ensure your team is reaching out to the most accurate, engaged prospects. You can give your team the personalized datasets they need to make better connections with potential customers.
Trifacta offers an open and interactive data engineering cloud platform. Here you can prepare and manage data for analytics and machine learning.
Trifacta gives sales teams the ability to monitor the quality and sources of their data enrichment workflow.
Without accurate, representative data, our sales outreach would fall flat. Maintain high-quality data through data enrichment, and you'll keep your prospects and customers interested and engaged.
Delivering on Data Potential
Data enrichment best practices combined with the right tools and services can help improve the accuracy and reliability of lead and customer data. The result? Increased value that helps teams deliver on data potential.