What pops into your head when I say the words data hygiene?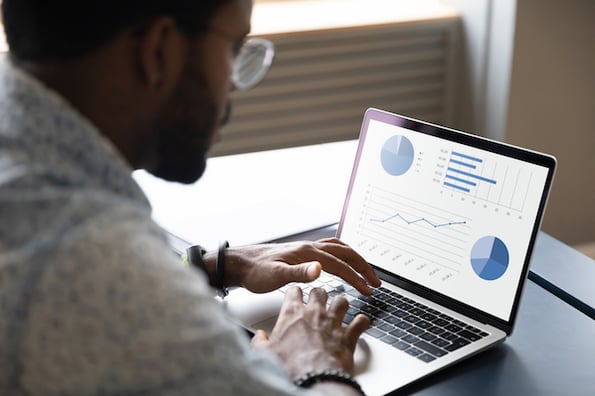 Do you picture cleaning your hard drive with a soapy sponge? No? Maybe that's just me … although that would probably cause more harm than good.
Anyway, data hygiene is an oddly-named yet important part of maintaining a strong database. Without accurate information that you obtain legally about real consumers, your data is meaningless.
Consider an email list. While it may sound impressive to hear that someone has 5,000 email subscribers, what would you think if that person told you their list was comprised of purchased emails and that their bounce rate consistently hovered around 30%?
If I heard that, I'd immediately realize that those 5,000 emails are just a vanity metric. The true value (engagement, conversion potential, etc.) of that person's list would likely be much, much lower.
While it may not involve a literal sponge, data hygiene all about keeping your data (particularly your CRM data) clean, accurate, and up-to-date — and data enrichment is an important part of the process.
What is data enrichment?
Data enrichment is the process of improving the accuracy and reliability of your raw lead and customer data by adding new and supplemental information and by verifying the information against third-party sources.
Data enriching (also called data appending) ensures your data accurately and thoroughly represents your audience.
As salespeople, we can all agree on the significance of accurate data — it allows us to better understand our customers' wants and needs, improve our customer experience, and personalize our sales efforts to meet our leads and customers wherever they are.
Basically, data is the lifeblood of our jobs — so much so that 72% of organizations believe that data quality issues impact customer trust and perception.
And to help improve both trust and perception, you can also use enriched data to create targeted, personalized customer experiences. Here's some notable research that proves the importance of those shows us that customers appreciate personalized customer experiences:
Accurate, enriched data is the key to creating targeted, personalized customer experiences — and the lack thereof can turn customers away.
In fact, 72% of organizations believe that data quality issues impact customer trust and perception.
TL;DR: Data enrichment makes your and your customers' lives better. But how does it work?
Typically, data enrichment is the process of corroborating first-party raw data from internal sources (think: email lists, web forms, etc.) with either:
Disparate data from other internal sources (e.g. your marketing or service departments), or
Third-party, external data from a data enrichment service
We'll talk about some of those data services below. But first, under the data hygiene umbrella, you may have also heard the term data cleansing. Let's unpack that next.
Data Cleansing vs. Data Enrichment
While data enrichment is mostly about adding supplemental data that helps strengthen your CRM, data cleansing is the process of removing inaccurate, irrelevant, or outdated data.
Both are important components of keeping a healthy, vibrant database, but data cleansing typically happens first to make room for the updated, supplemental information provided through data enrichment.
While it's encouraging and impressive to grow your database and email list, your data itself doesn't hold much value if it isn't useful for growing your business.
Is your data representative of interested customers? Do your subscribers actively engage with your emails or other communications? Is your means of acquiring your data still relevant (i.e. if you ran a contest or released a gated offer, are those assets still relevant to your business and representative of your products or services)?
If you answered mostly no to these questions, it's time for a cleaning! (Picture your dentist reading that sentence.)
Here's a real-life "cleaning" scenario: Let's say you're giving a speech at a conference. Your session gets 1,000 sign-ups (woo-hoo!), but when you step on stage, you notice nearly two-thirds of your attendees are looking at their phones, reading other materials, or even asleep!
Not only would that be super discouraging and distracting, but at that point, you'd probably rather them leave so you can focus on those engaged listeners in the first few rows — the folks who are much more likely to ask questions and even hire or purchase from you.
The same goes for your CRM data, including demographic, geographic, and psychographic information. The goal of your CRM isn't to collect as much information as possible; it's to gather the highest-quality data that best represents your leads and customers.
When should you invest in data cleansing? Well, for example, if your email list is growing but your engagement rate is dropping, you know it's time to clean up your data. The same goes for other information you use to connect with your leads and customers.
Keep a closer eye on your engagement rates (opens, click-throughs, etc.) versus your total subscribers — they'll tell you how healthy your database is.
Outside of monitoring your data performance, data cleansing should take place at least every six months or so. Over 50% of organizations spend more time cleaning data than using it. Given the value of accurate data (and the cost of using inaccurate or outdated data), this isn't too surprising.
Data Enrichment Tools
We've defined data enrichment and data cleansing and discussing when to invest in these processes. Now, let's talk about how. Depending on the size of your database, you may be turned off by the prospect of manually combing through hundreds or thousands of data points.
We don't blame you. So, we compiled this helpful list of data enrichment tools to help you clean and manage your data. Take a look.
HubSpot CRM
Your data is important, and so is where you keep it. A customer relationship management (CRM) tool is the perfect home for something so vital to your organization — the free HubSpot CRM.
The HubSpot CRM offers useful contact management tools like custom properties, tasks and activities, and web forms for collecting data. It also offers an entire set of sales-specific tools as well — live chat, email scheduling and tracking, a centralized dashboard, and more.
The HubSpot CRM not only celebrates data collection and enrichment, but it enables your team to invest in these processes as one — not as disparate teams or siloed sales reps.
Customer Data Platform (CDP)
A CDP aggregates and organizes your customer data from all the disparate sources in your organization. If your customer data is used by a variety of software, systems, and teams, a CDP may be a good investment. CDPs collect and structure real-time data into individual, centralized customer profiles, and they help your company avoid using siloed (and likely inaccurate) data.
CDPs and CRMs work in tandem: They both collect customer data and provide value to your organization, but that's where the similarities stop. Where a CDP autonomously creates unified customer profiles with data gathered across a variety of online and offline channels, a CRM only tracks a customer's intentional interactions with a company via manual entry. (Unless, of course, you use the HubSpot CRM, which automatically tracks contacts via the user's HubSpot timeline.)
Read more about CDPs and top CDP software providers here.
Data Enrichment Services
Once you've 1) established a database for your data collection and entry and 2) linked up all of your internal data sources, it may be time to examine using a third-party data service.
Thankfully there are several data enrichment services against which you can corroborate and spruce up your data. Here are a few to consider.
Vainu offers native integrations with HubSpot as well as Salesforce, Pipedrive, and 1000+ more tools.
Clearbit offers updated company and contact information for your sales records.
LeadSpace uses artificial intelligence (AI) to gather data and target leads from online user behavior.
Datanyze integrates with a variety of CRMs and provides data on millions of companies worldwide.
LeadGenius allows you to verify B2B lead information to ensure your team is reaching out to the most accurate, engaged prospects.
Trifacta gives sales teams the ability to monitor the quality and sources of their data enrichment workflow.
Without accurate, representative data, our sales outreach would fall flat. Maintain high-quality data through data enrichment, and you'll keep your prospects and customers interested and engaged.