In the past 20 years, the number of successful female entrepreneurs has gone way up. And their outlook is bright -- according to this Fortune article, women are "more ambitious and have been more successful than their male counterparts."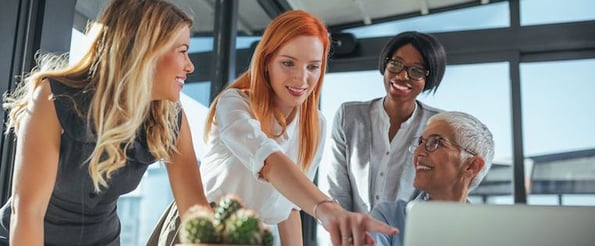 Not only are female-led companies more profitable, they're also focused on making a social impact.
If you're looking for some inspiration, read on for the top women entrepreneurs to follow.
Female Entrepreneurs to Inspire You
Stephanie Korey Goodwin and Jen Rubio, co-founders of Away
Tyler Haney, founder and CEO of Outdoor Voices
Doreen Bloch, founder and CEO of Poshly
Payal Kadakia Pujji, co-founder and CEO of ClassPass
Edith Harbaugh, co-founder and CEO of LaunchDarkly
Audrey Gelman, co-founder and CEO of The Wing
Leandra Medine, founder and CEO of Man Repeller
1. Stephanie Korey Goodwin and Jen Rubio
Inspiration for Away, a luggage company, hit Jen Rubio at -- of course -- the airport.
Her suitcase fell apart, and "all of her clothes just spilled out everywhere."
"I had to find some straps and some tape to tape everything together," she explained.
Rubio pitched the idea of an affordable, well-made suitcase to her former coworker Stephanie Korey.
Korey Goodwin was an easy sell; not only was she already convinced direct-to-consumer businesses (like Warby Parker) are the future of retail, she and Rubio had grown close at their old jobs.
Since the pair founded Away in 2015, it's raised $31 million and sold more than 100,000 suitcases.
2. Tyler Haney
Tyler Haney launched cult athleisure line Outdoor Voices in 2013. Back then, wearing leggings and sporty tops to non-workout activities wasn't really a thing. Haney was somehow able to predict -- maybe even create -- the rise of fashionable gym-to-happy-hour athletic gear.
"I wanted to create a fabric that functions across multiple activities, but looks more like the brands I wear every single day -- something less sporty looking," she said. "I started with the material and grew the products and took them to market."
She used her own savings and capital from friends and family to launch. Getting more funding -- this time from venture capitalists -- was hard. More than 70 investors turned her down. Haney persisted, and at now, at 27, she's running a company that's earned more than $8 million in funding.
3. Doreen Bloch
Doreen Bloch founded Poshly -- a consumer intelligence platform -- in 2012, just one year after graduating from UC Berkeley.
Poshly gives users the chance to win new beauty and lifestyle products in exchange for information about their makeup preferences, habits, etc. Consumers get freebies, and brands get a treasure trove of data.
Of course, getting brands on board wasn't always easy. Bloch ended up meeting a key player from L'Oreal at that company's event honoring women in the digital world. Once she had L'Oreal, Poshly could acquire even more big partners.
More than 700,000 consumers have answered questions on Poshly, and Fast Company called it one of the top 10 most innovative companies using big data.
4. Payal Kadakia Pujji
Payal Kadakia Pujji's life seemed perfect. After graduating from MIT, she joined prestigious management consulting firm Bain & Company. At night, she'd go to dance rehearsals.
But Payal wasn't happy. She loved dance -- not her 9-5. So she quit her job at Warner (where she'd gone after Bain), and founded a company with a friend from high school. They built a directory of fitness classes (think Open Table for exercise). Unfortunately, the demand wasn't there.
Payal and her cofounder launched a second product that let users buy 10 classes in advance. Again, the idea flopped.
In 2014, the company rebranded itself as ClassPass: A subscription service model that lets customers go to a set number of classes each month for a recurring fee. The first month, ClassPass hit 1,000 users. It's now partnered with more than 7,000 studies and is valued at $435 million.
5. Edith Harbaugh
Edith Harbaugh once biked across the country … solo. She's also completed 34+ ultra long-distance races. Safe to say, she's no stranger to big goals.
It's probably the same strain of daring and ambition that led Edith and her co-founder, John Kodumal, to quit their jobs at successful businesses (at TripIt and Atlassian, respectively) to start LaunchDarkly.
LaunchDarkly is a tool that lets companies turn on features for a select number of users. Sample use cases include giving some users an early preview of new features, or trialing a potential change with a test group.
In December 2017, LaunchDarkly raised $21 million in funding.
6. Audrey Gelman
Audrey Gelman had a successful career in politics. She was senior vice president of SKDKnickerbocker, specializing in public affairs and local politics. In 2008, she was a junior aide for Hillary Clinton's campaign. In 2013, she was campaign spokesperson for Scott M. Stringer's successful New York City comptroller bid.
But Gelman decided to pivot -- into social clubs. Last year, she founded The Wing, an all-female coworking space.
Unlike most social clubs, The Wing is anti-exclusivity. Members are all different ages and professions. They pay a little more than $2,000 per year to work, network, relax, read (there's an all-female lending library with 2,000-plus books), recruit, hold meetings, and socialize.
Demand definitely outstrips supply. There's a long waiting list for membership, and The Wing will have four locations by winter 2018.
7. Leandra Medine
Twenty-one-year-old New Yorker Leandra Medine started blogging back in 2010, before everyone and their mother was doing it. Her website? "Man Repeller," named for her quirky, cool -- and therefore off-putting to the male gender -- sense of style.
Man Repeller quickly took off. Leandra secured partnerships with brands like Mango and NARS Two years after the launch, Leandra expanded the team. Now she employs 12 people.
But will Man Repeller take outside investment? Not for now: Leandra is committed to maintaining the unique editorial voice and intimate feel that having external stakeholders might threaten.
And about that voice: Man Repeller's success can partly be attributed to the team's willingness to broach uncomfortable and personal topics.
These stories serve as a reminder that the journey to success isn't linear. It isn't easy. And it isn't always obvious. So whatever risk you're contemplating -- whether that's starting your own company, asking for a raise, or learning a brand-new skill -- I hope these women inspire you to be brave. Even if you stumble, even if you completely fail, you'll learn something in the process.