Raise your hand if you've had to sit through presentations where you struggled to pay attention because slide after slide looked the same. I know I can't be the only one with my hand raised right now.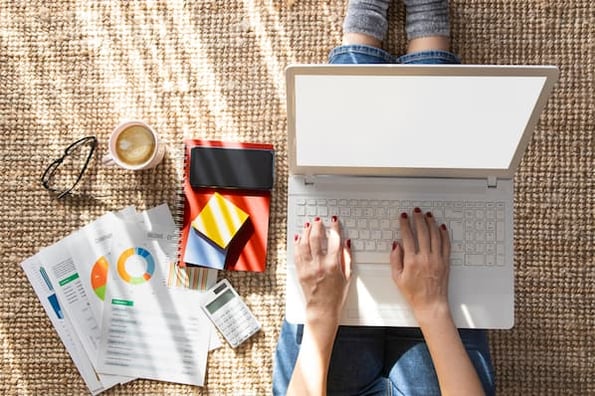 When you're delivering a sales deck, the last thing you want is your prospect to be bored or disengaged, and keeping your prospects engaged and focused can be especially challenging in a virtual environment when everyone is working remotely.
GIFs are a great way to add compelling visual elements to your sales presentations to keep the audience engaged and support your talking points in a fun, creative way. Here are some of our favorite work-appropriate GIFs to include in your next presentation.
The Best GIFs to Use in Sales Presentations
1. Dollar Dollar Bills
Sales conversations often revolve around money. Whether you are discussing how much money your prospect wants to spend, or how much money you can save them by switching to your product, address the financial conversations head-on with this visual.
2. It's the BIGGEST DEAL
If you're presenting an amazing deal, don't be shy about it. Reinforce the value of your offer, and share its cost-effectiveness with your customer.
3. Show Me the Money
There's no better time to say "show me the money" than when you're reviewing quota with your sales team. This classic movie quote makes a great presentation visual to accompany money talk.
4. I Heart Feedback
Are you directly asking your prospects for feedback when working with them? If not, you may want to start. Asking for feedback is a great way to gain valuable insight into your sales technique, and can help you understand what information did and didn't land with your prospects. This visual makes the ask even easier.
5. Working Hard
An accurate representation of sales reps following up with prospects to close as many deals as they can to make quota. We've all been there.
6. Showcasing Growth
For our B2B salespeople out there who have helped their clients and customers achieve growth through their products and services, this one is for you. Share the growth and successes of your happy customers with your prospects to inspire their growth.
7. For When You Need To Mention the Competition
Chances are you don't need to dwell on the competition in your sales deck. But if you do need to mention competitors, this GIF says it all.
8. Stuck Between Two Thoughts
Speaking of the competition, sometimes your prospects feel torn between their options and that's ok. While this GIF shows empathy towards their position, you can follow it up with concrete reasons why your product is the best choice.
9. Do the Math
Sometimes in sales presentations, you need to do a little math. This GIF is a good visual before presenting quantitative data.
10. When Your Prospect Needs Time to Think
It's ok to give time and space to think during your presentations. Take a breath and let the content you've shared sink in with this GIF.
11. When You Share A Brilliant Solution
As a salesperson, you want what's best for your prospect which is why you want to provide them with sound solutions. This GIF is perfect for when you make an especially brilliant proposal.
12. For the Celebratory Slide
Whether your team just hit quota and you are building a sales deck for upper management, or you're meeting with a customer who just had a big win, this GIF is perfect for celebratory moments.
13. Cruising Through
Every salesperson has had experiences working with tire-kickers or prospects who have no intention of seeing the sale through. This GIF pokes fun at that scenario (and happens to be one of my personal favorites).
14. When You Need A Happy Scream
I know, supporting your customers fills you with glee. When you're so excited and just can't hide it, this GIF will do the talking.
15. A Round of Applause
This GIF is perfect for acknowledging the wins of your sales colleagues or celebrating a B2B customer's milestone.
16. Let's Speed This Up
Remember, the goal is to keep your audience engaged with the material you're presenting. This classic GIF can be a good way to break up long stretches of information, keeping the prospect's precious time front and center.
17. Summing Things Up
When it's time for your pitch to wind down, sum things up with this GIF.
18. Taking Questions
Your meeting is about to wrap, and it's time to take questions. This GIF is a bit more entertaining than a bland slide that just says Q&A and just might get the song "Independent Women" stuck in your head.
19. It's Business
At the end of the day, it's all business. Include this GIF when you need to re-center your audience and remind them of the "why" behind the conversation.
Looking for more ways to make your sales presentations stand out? Check out these sales presentation techniques that will help you close more deals.