Hate the thought of doing sales presentations? You're not alone. But the best reps have sales presentations down pat, even if it's not their favorite activity.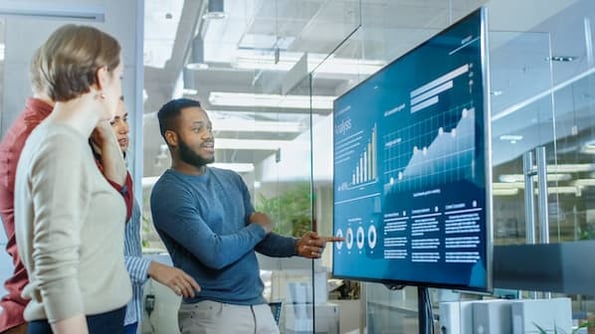 The best sales reps know that, when done right, sales presentations are a high-earning skill.
So, let's hone that skill with simple sales presentation techniques that communicate an irresistible narrative and get buyers to close.
Sales Presentation
An effective sales presentation tells a compelling story, highlights your value proposition, and aligns with your audience's needs and desires. It ends with a strong call-to-action and leads prospects to your differentiators instead of leading with them.
As it can sometimes mean the difference between closing a deal or losing a customer, you definitely want to get your sales presentation right. There are strategies and tips you can follow to ensure your sales presentations are effective, memorable, and engaging. Let's go over them below.
Sales Presentation Methods
1. Structure your presentation.
Guiding your prospects down a clear path is key to a successful sales presentation. You'll follow a logical structure, and listeners will understand how each element of your presentation relates to one another, rather than them having to piece together disjointed information on their own.
There are times when flipping the structure can add unique elements to your presentation, though, and we'll discuss this further below.
2. Use data visualizations.
Using visuals, like charts and graphics, to supplement your message is a valuable way to showcase your content in an easy-to-understand format as they make your words more impactful.
For example, if you're selling SaaS that helps users organize their sales process for a shorter cycle, you can create a visual that displays the average length of your clients' sales cycle vs. those using other tools.
By doing this, you're adding extra emphasis to your words with a visual picture, and a bonus is that visuals are more likely to stick with your audience and get them thinking versus just hearing you talk.
3. Rely on spoken words — not text.
If your presentation slides are text-heavy, prospects may get caught up reading the words you've written instead of listening, causing them to miss out on the value you're sharing. Aim to include less text by calling attention to the most significant elements with short bursts of text that you supplement with your words.
In addition, when you have less text on your slides, you may be less inclined to just read from them, which can be a bad part of presentations. You'll have to speak instead of relying on written content.
Let's go over some sales presentation techniques that, when paired with the three methods above, will help you nail it every time.
Sales Presentation Techniques
1. Send your buyer the presentation deck before your call.
You might assume that sending a buyer a deck before a call is like revealing whodunnit on the cover of a murder mystery. No one will pay attention to the rest of the book, right?
When the Gong.io team started sharing our deck before opening sales calls, we learned it was a winning move.
If your deck is compelling, prospects will want to get into it with you, even if they know the main point. Together, you can dive in, dissect the good bits, and talk through questions. It's going to be a juicy conversation, and they know it.
Then, you can begin the conversation during your presentation with a statement like, "Based on the information in the deck I sent, where should we start?"
2. Invoke self-discovery.
It's tempting to stick to a positive linear story during your sales presentation. That usually invokes talking about benefits, outcomes, and desired results. But, that approach isn't always the best.
Before discussing solutions and results, you must understand your prospect's problem. More importantly, you have to be sure your prospects understand the problem.
Self-discovery is the ticket that gets you there. Instead of telling the buyer what the problem is and how you'll address it, get your buyer to connect with the problem on their own.
3. Talk about Point A. Don't skip to point B.
This is 100% linked to the tip above. There's a problem (point A) and desired outcome (point B). Point A is the status quo. It's a problem your buyer will continue to face if they don't make a change.
You can stand out by focusing on point A, as talking about a pain point is shockingly more effective than talking about positive outcomes.
Make your buyer feel the pain that results from the status quo. Convince them the pain will only worsen without your solution — because you know that to be true.
You should only talk about benefits once they're on board with that line of thinking. Urgency is what allows benefits to land. Without urgency, benefits are just happy points that hold no real meaning.
4. Insight is your #1 lead story.
Buyers are experts on their circumstances, but they want insights into their situation from you.
You're most likely to impress a buyer by telling them something new about themselves, as your offering is a unique insight into their problems and opportunities.
Check out this TaylorMade video. It's a bang-on example of how to lead a presentation with insight, and then move on to your product's strengths:
You learned how to get more distance from your golf swing (an insight into what you're doing). Then you learned how that's supported by the product's particular strength.
Insight comes first. It changes how your buyers think about the problem your product solves. Only then benefits can land effectively.
5. Don't lead with differentiators, lead to them.
At Gong.io, we've taught our sales reps to speak with buyers about a critical problem only we can solve. It's the delta between top producers and the rest of the team.

After naming that problem, reps offer insight into it and begin to build urgency:
"The numbers from your top reps are fantastic."
"The downside is they're annulled by everyone else who's missing their quota."
"Your team goes from outstanding numbers to breaking even or missing quota. Both of those options are unsustainable."
We only introduce our key differentiator once the backstory is clear and the buyer gets it. Then, our reps say something like this:
"Gong is the only platform that can tell you what your top reps do differently from the rest of your team. We can tell you which questions they ask, which topics they discuss, when they talk about each one, and more."
See why we lead to our differentiator, and not with it? It just wouldn't land the same way if we started with the differentiator. In fact, it might not land at all.
6. Focus on value, not features.
Gong.io research found that focusing on features over value is not impactful. Prospects, especially decision-makers, want value propositions about how you'll help them solve their problems rather than an overview of the features they'll get.
7. Flip your presentation.
he next, eventually achieving a shiny, final outcome. This isn't always the best strategy.
Instead of building up to the most significant and impactful part of your demo for your prospect, begin with the most valuable part, which is how you'll help them, and let the conversation flow from there.
There's one other tactic underlying it all: The best product demos start with topics the buyers highlighted on the discovery call. For example, if the buyer spends 4 minutes talking about X and 10 minutes talking about Y, you want to begin with Y, as the buyer has demonstrated that they're heavily interested in Y. In the opening section of your presentation, address the biggest issue from discovery. Address the second biggest issue second, etc.
It's called solution mapping, and it's going to change your sales presentation process forever. Stop saving the big reveal for last. Stop building anticipation. Start with the good stuff. Let it rip right out of the gate.
8. Turn your presentation into a conversation.
If you sensed we were looking for a two-way dialogue during your pitch, you're right. That's a relief to most salespeople, especially the ones who hate delivering traditional presentations.
A two-way dialogue is going to make your pitch feel more natural. To do this, Gong.io says to get buyers to ask questions by giving them just enough info to inspire them to ask more questions and keep the conversation going. In fact, top performers ask fewer questions because they don't bombard prospects with too much information but instead give buyers just enough information to have them ask questions.
Long monologues won't help you have real conversations with your buyers. Instead, aim for a great two-way conversation.
9. Mind the 9-minute period.
This tip is crisp and clear: Don't present for more than nine minutes. Gong.io data supports this.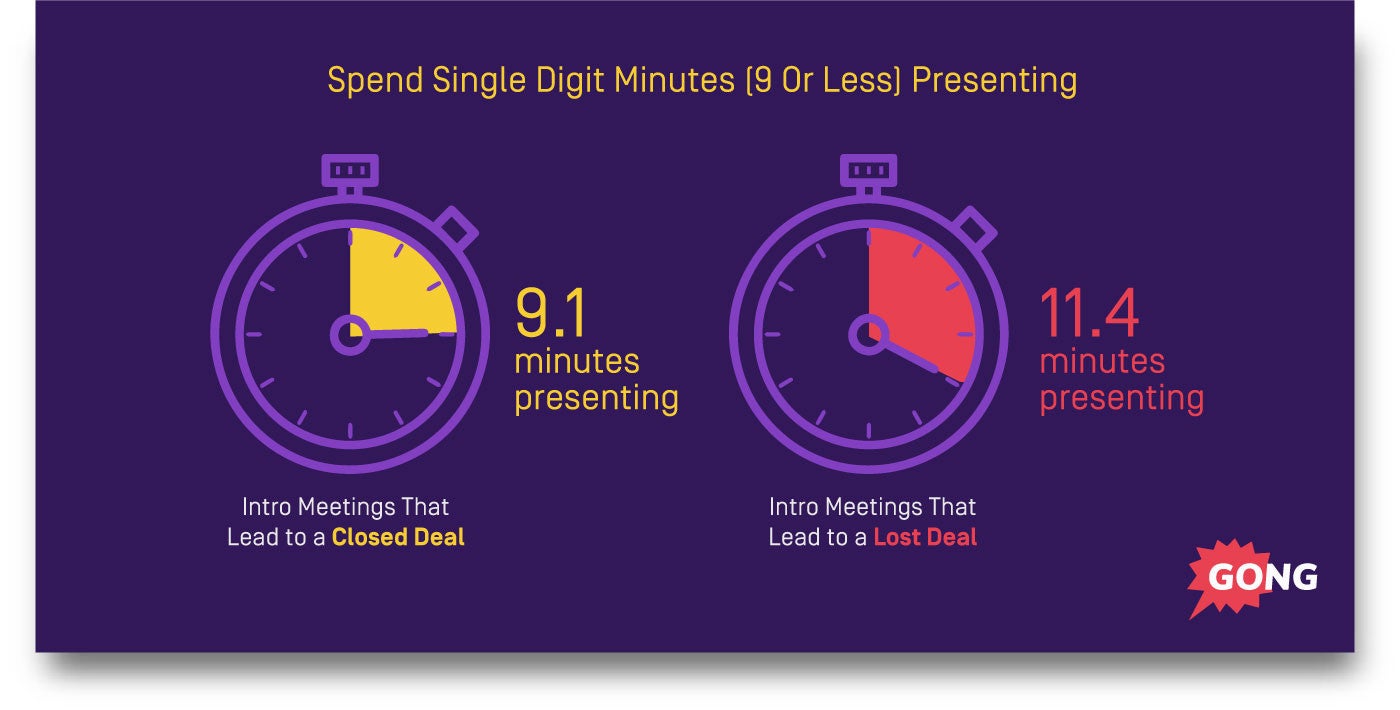 Presentations for lost deals last an average of 11.4 minutes. Why do they go so poorly? Because it's hard to retain attention. If you do go longer than nine minutes, switch it up.
Vary something that re-captures attention and keeps people engaged. Change channels by doing something like switching up who's speaking in real life or on video. This can rest your clock to zero, and you've got nine more minutes for the next portion of the show.
10. Be strategic with social proof.
Social proof. Best friend or worst nightmare? It can be either one, so use it carefully. For example, generic social proof (i.e., naming impressive clients for brand power alone) is a disaster. Buyers might not identify with them. Sure, they're dazzled, but they may not see how they relate to your current client.
An effective strategy is to reference clients similar to your buyer, with the same pain points, challenges and needs that they can relate to. You can tell an accompanying story about the client and their pain points, helping the buyer see themselves in the story you're telling.
11. Talk price after you establish value.
Would it surprise you to know it matters when you talk about certain topics? It can actually affect whether you win or lose a deal. Pricing is a great example of this principle.
The top salespeople wait to talk about pricing. They know it's important to demonstrate their product's value first.
Set an agenda at the start of your call so your buyer knows when to expect a pricing discussion. They'll be less likely to raise it early, and if they do, you can refer back to the agenda.
Open with something like, "I'd like to talk about A, B, and C on our call today. Then we can go over pricing at the end and -- if it makes sense for you -- talk about next steps. Does that work for you?"
You're all set.
12. Reference your competitors.
Our data shows that you're more likely to win a deal if you talk about the competition early in the sales process instead of ignoring them completely.
For best results, practice this during your first sales presentation. Waiting until the end of your sales process puts you into a dangerous red zone. Your buyers will already have formed opinions, and they'll be harder to change.
In other words, at the end of the day, buyers will justify a decision they made early in the process, which is why it's critical to set yourself up as the winner early on. Talk about the competition in your presentation. Put the conversation out there. Get your buyer to see you through that lens, and you're golden.
Over To You
You now have 15 new tips and techniques to throw down this quarter. Many of these data-backed moves come from Gong.io's own findings and have proven to be effective for us. Implement them, and I know you'll boost your numbers.