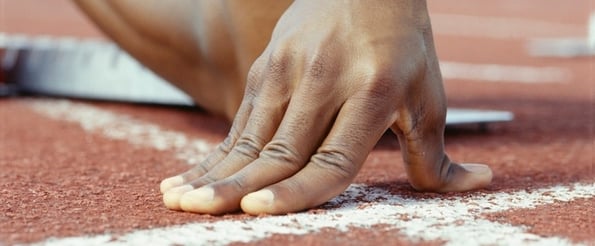 Planning is an essential part of a top salesperson's success. The best hitters in baseball take batting practice before every regular season game for up to 30 minutes before it starts. Facing live pitching prepares their reflexes, timing, and mental awareness.
Sales works the same way. If you want to win more deals than you lose, you have to do your prep work.
Top performers keep all non-essential customer interactions to non-work hours. For me, that means I spend every Sunday night prepping for the week. My wife makes fun of me because between the hours of 4:00 p.m. and 6:00 p.m., I'm working, and I refuse to go out. I have missed concerts, plays, ball games, and dinners to do my prep work, and my friends think it's dopey.
But that dedication and time means I'm prepped, confident, and ready to hit the ground running when I walk into the office at 7:00 a.m. on Monday morning.
Here's everything I do to prepare for the week ahead.
4:00 - 4:30 p.m.: Review activities from the previous week.
Look over last week's prospect and customer meetings.
I review my notes from customer-facing meetings to make sure I'm up-to-date on action items and follow-up correspondence. I update my CRM and review any outstanding commitments to send follow-up information to prospects.
Catch up on last week's internal meetings.
I travel a lot for work, so I often miss internal meetings and other non-essential commitments. I make sure I'm fully caught up on what happened at meetings I wasn't able to attend so I'm up to speed with my team -- or I'll send an email that says I won't have time to review this material.
Bonus tip: Ask one of your colleagues to recap the top three things they learned from the session, so you can consolidate an hour of training into three bullet points.
Send out straggling emails.
During the week, my schedule is packed with prospect and customer meetings. Anything that's not urgent or essential has to wait until Sunday. I block out time to finish any emails that are in my drafts folder, as well as respond to emails I've been sitting on all week. Create a "Review" folder where you can park half-finished emails or messages that need reviewing so you can concentrate on your top priorities during normal business hours.
4:30 - 5:00 p.m.: Confirm next week's schedule.
Confirm travel days.
Because I'm physically out of the office so much, I have to guard my time closely. I review all my available timeslots so I know when to book meetings with prospects, and set up out-of-office replies so I don't have to worry about missing a day. Putting travel time in your calendar as soon as you know you're going to be out ensures you don't book and and then reschedule a ton of meetings, which saves time and effort.
Schedule prospecting.
Prospecting is absolutely necessary to success, but it's easy to skip if you're busy with other things, or you procrastinate, or you've thought up 1,001 other reasons not to pick up the phone. To keep myself accountable, I schedule time in my calendar specifically for prospecting. This way, I don't neglect the most important part of a sales professional's job -- filling my sales pipeline with new opportunities.
Schedule internal meetings.
The last thing I do to organize my time is schedule all internal meetings for the week ahead on Sunday nights. This way, my colleagues will have the calendar invites in their email inboxes when they walk in on Monday morning and can accommodate my schedule. This is especially important if you work remotely or in different time zones.
Prep for prospect calls.
For each call I have during the week ahead, I do the following:
Check out the LinkedIn profiles of everyone on the call
Review notes from previous calls to make sure I remember the details of the deal
Review our latest email exchange
Find an update or new piece of information I can share on our call so that I can start with a question that demonstrates interest
Since HubSpot is a software as a service company, we create demonstration portals for each prospect, as well as offer free trials. So I'll check prospect activity in trials and portals to look for activities that determine whether this buyer is a good or bad fit, as well as spot trigger events that would be a good reason for me to reach out. Determine what similar types of activities are good indicators for your product and review them during this time.
For the rest of the week, five minutes before each call, I review my notes from Sunday again. It's helpful to do this twice because you always see things differently the second time you look at a document, and it reinforces important points of discussion.
5:00 - 5:30 p.m.: Write customer emails.
Compose nurturing emails.
I write around two to five new emails every Sunday night. These emails should be extensions of a sales process, not prospecting emails. I aim to:
Reinvigorate old sales opportunities
Tie down a meeting time
Resolve any specific issues
I schedule these emails to sent by 7:45 a.m. local time on Monday morning so I'm at the top of my prospects' email inboxes when they start their weeks.
5:30 - 6:00 p.m.: Work on professional development.
Catch up on industry content.
I work with marketers, so I use the last half hour of my prep to read about what's new in their world. If there are changes to major social media platforms or Google's search algorithm, for example, I need to know about it so I can explain to my prospects how the HubSpot platform can help.
You should be keeping up with similar activity in the industries you sell into. Use this time to step into your buyers' shoes and determine what will be top-of-mind for them in the week ahead.
Review internal updates.
Next, I need to keep up with what's new in HubSpot's universe. If there are any internal product updates -- a new feature, a new policy, or any other customer-facing development -- I need to know about it so I can provide my prospects with the most accurate information possible.
Learn something new.
Whether it's an email about a competitor's new product line or general tips for selling, I want to read things that help me become a better salesperson.
The end result of doing these two hours of prep each Sunday is that I'm calm before I walk in on Monday. Sunday evenings are a non-stressful time when you don't have any deadlines or other obligations looming over your head.
It's a huge advantage to be in your prospects' inboxes and colleagues' schedules before the week even begins, and it means that when you walk into work you're ready to hit the phones and get a fast start to the work week. By following this checklist, you'll learn something new every week, get better at your job, and set yourself up for success.