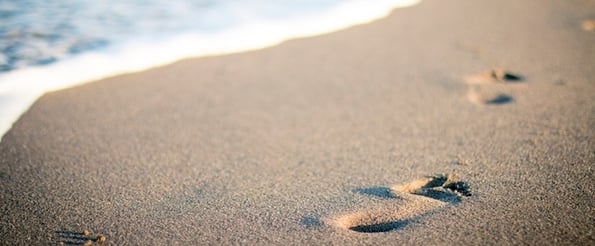 Vacations can bring deals to a screeching halt. Even the most enthusiastic prospects can go dark after spending some time away from the office.
Prospects are usually slammed with work when they return, so they'll often deprioritize the deal while they play catch-up with their immediate responsibilities.
Once the deal has lost momentum, reps can find it challenging to get back on their prospect's radar.
Does that mean the deal is a lost cause if the buyer takes a trip? Not if salespeople plan well. These four strategies will keep the momentum going in their prospects' absence.
1) Set a Firm Next Step
It's important to end every conversation with a clear, mutually-agreed next step -- but especially so if the buyer is going to be out of the office. Her calendar will be more full than usual right after she returns, so the rep needs to secure a slot in advance or risk never getting one.
Prospects might avoid committing to a specific day and time because they know they'll be extra busy. To overcome this potential roadblock, salespeople should offer a compelling reason for the call or meeting.
The first option is referencing an important goal on the buyer's timeline and working backward from that date.
For instance, the rep could say, "You mentioned you'd like to have a new system in place before you hired another employee. You'll need to make that hire by January and it'll take approximately two months to get everything up and running, so you should see the product no later than the twentieth of this month."
If there isn't a firm deadline, the rep can remind the buyer of the ongoing costs of her current setup.
To give you an idea, he could say, "Do you want to schedule our next call for the 15th or 16th? As we figured out, you're losing 10 hours each week with the app you have now -- hopefully we can get you that time back as soon as possible."
2) Do Some Homework
The buyer might be taking a break -- but that doesn't mean the rep should. Making any sort of progress gives salespeople a reason to check back in.
Let's say Karla sells vending machines to school districts. She originally got in touch with Renaldo, a district administrator, by sending him some suggestions for improving school lunches. While Renaldo is on a nine-day trip, Karla thinks of three more ways his district can encourage healthy eating.
Karla schedules this email to send when he's back from vacation:
Hi Renaldo,
Hope Europe was lovely and that settling back into the groove hasn't been too painful. You'll have to let me know which country was your favorite when we talk tomorrow at noon.
While you were gone, I strategized a few more ways CUSD can promote a nutritious diet. There's a quick write-up attached to this email -- also happy to talk about these ideas during our call.
Best,
Karla
Not only is Renaldo impressed by Karla's dedication, he's also intrigued to learn more about her suggestions. The likelihood of him canceling the call has just gone down dramatically.
Here are some other ideas you can try:
Come up with an alternative solution to a challenge the buyer is facing
Update your original suggestions based on additional research you've acquired
Audit their strategy and come up with some small changes that'll result in a few quick wins
Ask one of your team members to look over your notes and add to your ideas
3) Involve an Executive From Your Team
Bringing an executive onto every deal is neither productive nor realistic. But when salespeople are dealing with prospects they really don't want to lose, calling in the big guns can be highly effective.
It makes buyers feel special -- after all, they must be important if they're interacting with someone from the C-suite. They're far more likely to commit and show up to a call or face-to-face meeting when they know an executive will be there.
This technique comes in handy before the prospect goes on vacation, as it gives the rep a solid justification for booking the next meeting.
He might say, "I'd like to introduce you to my [manager/VP of X/director of Y] to our next discussion for [reason]. Their schedule is pretty busy, and I want to make sure we're able to lock down a time -- are you free [date and time] or [date and time]?"
Alternatively, the rep can try this technique after his prospect has returned if he senses she's lost some interest.
In this case, he'd write something like:
Hi Georgia,
Is [business challenge] still a priority? I told my [manager/VP of X/director of Y] about your situation, and they have some ideas that might help. It would be great to get the three of us on a call to discuss. Let me know if you're free on [date and time] or [date or time].
Best,
Shilah
4) Schedule a Strategic Follow-Up
Salespeople shouldn't email prospects while they're gone -- unless they want those emails to get buried among a flood of others. Sending a message the day they return isn't ideal either, since buyers are typically still working their way through the flood.
So, when should you send your email? Two days after your prospect's return date is ideal. They'll typically have sorted through their inbox by then, meaning your message will be right on top.
To avoid accidentally missing this crucial date, schedule your email in advance with HubSpot Sales.
"I'm going to be out of town" will strike fear in any salesperson's heart -- and for good reason. To ensure their deals don't get stuck, reps should strategically plan around their prospects' vacations.