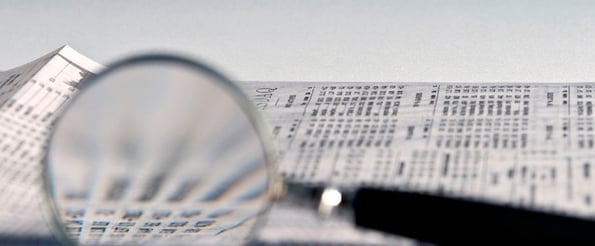 When you're sourcing new prospects or receive an inbound lead, where's the first place you look for more information on your buyer?
Most likely, you go straight to LinkedIn. As well you should.
But while a buyer's LinkedIn profile provides a wealth of information, not all of it will be useful. And when you're prospecting at scale, you can't afford to spend an hour, a half hour, or even 15 minutes on each profile. You have to skim.
We've prioritized the most important parts of a LinkedIn profile you should focus on before picking up the phone, dependent on how much time you can afford to spend on research. Zero in on these 12 areas, and you'll be ready to have an intelligent, informed conversation in no time.
The Obvious: Just Three Minutes of Research
These four sections cover the bare minimum of what you should know about your prospect before you pick up the phone. Prioritize these areas above all others.
1) Summary (0:45)
A summary is a high-level description of a professional's background, areas of expertise, and career goals. Because LinkedIn members write their own summaries, this profile introduction of sorts reveals how your prospect wants to be seen and what they want to achieve. Make sure to tailor your pitch and conversation in a way that will appeal to their interests.
As an example, here's social selling evangelist Jill Rowley's LinkedIn summary:
Rowley specifically mentions that she's passionate about getting universities to introduce professional selling classes and degrees, which means she thinks big. Asking her for advice on how to structure an entire curriculum would likely be a compelling offer. Asking her to speak to a five-person seminar three states away? Less so.
2) Job Title/Description (0:45)
What does your prospect do? Does their title suggest a level of seniority or are they more entry-level? Check their description for verbs like "manage" or "oversee," and see if you can determine whether they're directly responsible for any metrics or goals -- especially those that pertain to your offering.
3) Shared Connections (0:30)
More than 80% of B2B decision makers start the purchasing process by asking for referrals. With this in mind, check if you and your prospect share mutual acquaintances to provide a warm introduction to your prospect. If a common connection pops up, reach out that person and ask if they'd be willing to provide a warm introduction.
Scroll to the "Connections" section of LinkedIn. LinkedIn automatically surfaces shared connections you have with professionals you're not already connected with.
4) "In Common With" Sidebar (1:00)
This is the fastest way to surface everything you and your prospect share professionally. Whether it's the same alma mater or the same LinkedIn group, use this section to quickly find everything you have in common, and then dig deeper into relevant areas.
The sidebar appears underneath "How You're Connected" and "People Also Viewed" on the right-hand side of a LinkedIn profile. For prospects you're already connected with, it will appear at the top of the right sidebar.
The Not-So-Obvious: If You Have Seven Minutes to Spare
Read everything about your prospect's current job, yet don't feel like you have enough information to hook them in an email or call? Read the sections below to find your "in."
5) Recent Activity (1:00)
If you're lucky, your prospect didn't just create a LinkedIn profile and walk away. Ideally, they're sharing content, liking updates, and posting in groups. The "Recent Activity" section of LinkedIn will unearth this information, allowing you to form a clearer picture of what your prospect cares about.
To get to "Recent Activity," hover over the arrow next to the "Send InMail" button, then click "View recent activity."
Once you're on the page, you can browse through updates, comments, likes, and published posts on LinkedIn (see #13).
6) Job History (1:30)
Your prospect's current job is obviously important, but you should also look at their holistic job history. Have they worked in the same industry for decades, or have they jumped from field to field? One circumstance isn't necessarily better news than the other, but a buyer's job history will reveal how you should approach your prospect.
For example, someone who's worked at the same company for 12 years and has risen in the ranks has likely accrued a good deal of organizational influence. In a sales scenario, this person will be valuable to speak with even if they aren't the sole decision maker. On the other hand, a prospect who's held the same senior position at four different companies in the last decade might not have as much internal influence, but will almost certainly have a direct say in sales decisions.
7) Certifications/Projects (0:15)
Certifications are a great way to get up to speed on your prospect's expertise. In general, you shouldn't get overly technical or in-depth during sales conversations, but a prospect certified in an area relevant to your product can handle a more detailed discussion. Additionally, check out the "Projects" section of a buyer's profile to determine if they've worked on an initiative that relates to your product or service, or if they've implemented an offering like yours before.
It's worth mentioning that not all prospects include certifications or projects on their LinkedIn profiles. That's fine -- look for related sections like "Publications" and "Honors & Awards" that also demonstrate deeper expertise.
8) Volunteer Organizations/Causes/Interests (0:15)
These sections are bonuses, so don't worry if they're blank on your buyer's profile. However, if the information is there, use it. Bringing up a common interest is a good way to build rapport with a prospect, especially if you can't find out much else about them.
9) Groups (1:00)
Group membership is a great way to learn about your prospect's goals and priorities. How many groups are they a part of, and are the topics vague or specific? Do they participate in industry groups, or post a lot about specific problems? What comments do they make on others' content? Pay attention to their activity and glean useful information from their involvement.
Deep Cuts: If You Have 15 Full Minutes
By this time, you should have a good sense of what makes your prospect tick. But maybe you're going after the CEO of a major company, or giving it another go with an account you've been chasing for years. In high-priority or special cases, find out as much as possible about your buyer's concerns, goals, and thought process by digging into the following four areas.
10) Recommendations (1:00)
Not every prospect will have recommendations. But if you can find them, recommendations can be the most illuminating and interesting parts of a LinkedIn profile.
Recommendations can be key to understanding how a prospect works and how much influence they hold. Recommendations from colleagues both senior and junior to your prospect are a great sign. In addition, recommendations from people in multiple different departments signify that your prospect has pull across the company.
In terms of specific language, look for phrases that indicate your prospect is able to build consensus to reach decisions, or is directly responsible for making decisions.
11) Endorsements (0:30)
The Skills section of LinkedIn isn't always helpful. I could add "Flamethrowing" or "Juggling" to my skills, but that doesn't mean I'm a championship juggler. On the other hand, a professional with 99+ endorsements on her top five skills probably knows what she's doing. Look for endorsements in areas related to your product to confirm you're speaking with the right person.
A caveat: Like recommendations, not everyone is diligent about collecting endorsements, so a lack of endorsements doesn't necessarily mean your prospect is fudging their background. Use endorsements to confirm an area of expertise or identify your prospect's strengths, not to disqualify.
12) Influencers/Topics/Companies Followed (1:30)
Spend a minute and check out who your buyer follows on LinkedIn. Are there shared themes among the influencers or topics they subscribe to? Identifying common threads in the news, people, and companies they keep tabs on can shine a light on what your prospect cares about.
13) Publications/Posts (5:00)
If your prospect blogs on LinkedIn or links to their work, read something they've written. It will give you insight into their thought process and what they deem a major accomplishment or concern. Have they written four posts about how they improved upon a certain metric? Lead with numbers. Are they a sucker for a good growth story? Show them how your product can achieve even more.
LinkedIn is a valuable source of information on your prospects if you just know where to look. By using this list, you'll be able to develop an efficient and effective LinkedIn screening process that will get you key information in a short amount of time.
What do you make sure to look at on a prospect's LinkedIn profile before you call them? Let us know in the comments below.