The sales software space is booming.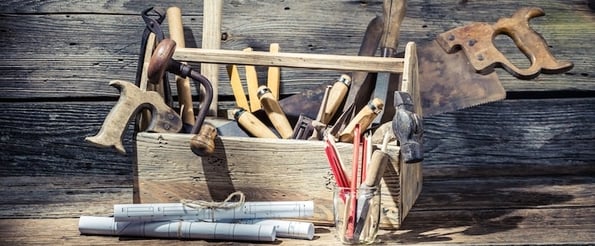 It's no surprise. These days, it doesn't matter what your profession is — having and using the right software is essential to achieving success. This is especially true in sales because of the amount and variety of communication salespeople must initiate, track, and organize — not to mention the pressure to exceed quota in a world where our buyer's default reaction is to dismiss us or tune us out.
In 2017, 68% of marketing leaders reported using guided selling technology or tools, and the most popular sales tools include CRMs, social prospecting software, data and list services, email engagement tools, and phone and communication tools.
According to LinkedIn's State of Sales 2020 report, 97% of sales professionals said sales technology is "important" or "very important". Almost half (47%) reported that they use sales technology at least once a day.
Moreover, 69% said they use sales collaboration tools, and 65% use CRM tools.
The report also said, "Each of the seven kinds of sales technology covered in the survey — sales collaboration, CRM, networking platforms, sales intelligence tools, productivity tools, email tracking tools, and enterprise communications — increased in usage in 2020 compared to previous State of Sales reports."
Which software tools are you using, and how much time should you be spending with each? Read on to learn what the top salespeople are doing.
Salespeople Use Many Different Types of Sales Technology
LinkedIn's survey analyzed the use of the following five different types or categories of sales technology.
1) Customer Relationship Management (CRM)
In its simplest form, CRM helps salespeople (and their companies) record, reference and report interactions with past and current prospects and customers.
2) Email Tracking
Probably the narrowest and most easily defined category of the five, email tracking software integrates with your email client (such as Gmail or Outlook) and tracks when a recipient opens an email or clicks on a link in an email you sent them.
3) Social Selling
Social selling software is any software that helps salespeople initiate and build relationships with buyers on social media sites like Twitter, Facebook, LinkedIn, or even Snapchat and Instagram.
Many salespeople use social media sites directly. Others use social listening and publishing software like HubSpot's social monitoring and publishing, Hootsuite, Sprout Social or Buffer, as they can help salespeople sort relevant messages from noise, tune into only what their leads are sharing, monitor social activity, and publish messages to multiple networks.
But based on my vantage point, the most popular social selling software is LinkedIn's Sales Navigator because it allows salespeople to create lists of prospects based on LinkedIn's vast member-managed repository of contact and company data, as well as contact more of those members directly.
4) Sales Intelligence
Sales intelligence software provides contact and company data so salespeople can build lists and prospect into new accounts. G2Crowd, a peer review site for software, has a full comparison of available sales intelligence tools which includes rankings.
LinkedIn, once again, rules this category with Sales Navigator. Other tools in the space include Salesforce's data.com, one of the orginal, modern data providers and InsideSales.com, which has solid traction among large sales teams because of the attractiveness of its broader suite.
In addition, salespeople can tap specialty providers like DiscoverOrg, which provide IT, finance and marketing organizational charts to companies who sell to those departments, and Datanyze, which provides information on the software your prospects are using on their website. Our own CRM includes a database of 18 million companies that instantly provides salespeople information about the companies they are pursuing -- no data entry required.
5) Productivity Apps
While I predict these tools will eventually be integrated into most CRMs, sales productivity apps are tools that help salespeople improve efficiency and productivity. According to the report, this includes document storage and sharing tools like Dropbox and Box. Many salespeople use other types of sales productivity apps like tools that automate CRM data entry, proposal-building tools and task management software, to name a few.
If you think some of these software categories sound similar to each other, you're not alone. The sales technology space is not only new and growing fast, there are many software companies offering more than one of these capabilities. Many companies -- like HubSpot, Salesforce, LinkedIn and InsideSales.com -- even offer products across the majority of these categories. These five categories are just one way of organizing a rapidly expanding ecosystem of sales software providers, available to help salespeople be more efficient and more effective.
What's really crazy is that many of these categories -- and the companies that provide them -- didn't even exist a few years ago. Nicolas de Kouchkovsky, in partnership with VentureBeat tracks the current sales technology landscape. The graphic below is the latest visual they've produced and includes 340 companies. (Warning: Staring for too long at this sales technology landscape chart below will make your head hurt.)
And more choices are emerging every day -- de Kouchkovsky added 40 new software companies to his list at the end of 2015, and he told me recently he needs to add another 70 companies to the graphic that have popped up since the beginning of 2016 -- and those are just the ones worth tracking. Clearly, the landscape is getting more crowded -- and many of these companies are expanding their capabilities to compete with each other, making it even more confusing to pick the right tools for your needs.
Where should you start?
CRM Is Still Critical, But Majority of Reps Don't Use One
Despite all of the hubbub around new sales technology, CRM software (pioneered in the mid-1980s) is still the most-used tool, both in terms of time spent and number of salespeople using the tool. Forty-four percent of midsize companies, 23% of small businesses, and 27% of large businesses use CRM. One-third of those users spend three to five hours a week in the software, and almost 25% spend more than 10 hours a week using CRM. In contrast, fewer than 15% of salespeople use sales intelligence tools more than 10 hours per week.
If the idea of spending more time in your CRM sounds silly to you … hold your horses. More than 80% of top salespeople report that CRM is "critical" or "extremely critical" to their ability to close deals.
While salespeople spend more time using CRM than any other tool in the survey, it's not just because they're entering data so their boss can run reports. Top salespeople run reports themselves, take notes during calls directly in the CRM, and even store email templates in the software. These tasks help the salesperson stay organized in their pursuits, so it's time well spent.

Many modern CRMs integrate with a salesperson's inbox and calendar to sync data to the system automatically, so salespeople don't have to do any manual entry.
Regardless of what CRM you use, there are many time-tested benefits of CRM software. It can help:
Store all prospect and customer information and historical communication with them in one place, accessible to your whole company.
Set and remind salespeople to complete follow up actions.
Provide a central place where multiple team members can coordinate actions with prospects or customers.
Enable sales managers to inspect deals and their sales team's full pipeline.
Make it easier to teach and enforce a sales process.
Allow reporting of conversion rates from sales process step to sales process step, enabling managers and salespeople to spot and remedy the inefficiencies or ineffectiveness of individual salespeople.
Capture sales data that marketing can use to determine which marketing efforts are driving revenue.
Enable instant forecasting for company leadership.
Personally, I can't imagine running a sales team without one, even if the sales team was just one person. But despite all of these instant and impactful benefits, LinkedIn found that most companies aren't even using a CRM. While more and more companies adopt CRM, less than "one-third of companies anticipate spending more money on sales technology this year," according to the report. I'm biased of course, but if this describes your budget situation and you want to join the ranks of top salespeople, I'd encourage you to start with HubSpot's free sales tools -- no additional budget required.
Email Tracking May Be Key to Improving Underperformance
Since email has become the de facto communication channel for buyers and sellers, email tracking software is fast becoming a de facto standard too.
According to LinkedIn's research, just shy of 80% of top performers report that email tracking is either "critical" or "extremely critical"' to their ability to close deals. Only slightly more than half of all salespeople responded the same way.
Why the disparity? Why do far more top salespeople think email tracking is critical than the rest of the sales population? The report doesn't share a reason for this almost 30-point difference, but if I had to guess, it's because top performers are better at paying attention to their prospects' behavioral clues and using them for effective follow up. Whether it's a website visited, an email opened, a link clicked, a contract forwarded, or a social media mention, top salespeople make relevant and timely follow-ups by monitoring what their prospects are doing and when they're doing it.
Another theory: Whenever I teach salespeople with obvious sales weaknessses to use email tracking to time phone calls and prioritize follow-up communication based on which prospects are showing the most interest, I get funny faces and pushback from them. I find that these lower-performing or newer reps often think email tracking is creepy, while top-performing reps recognize how to use email tracking in a non-creepy way. If you think it's creepy, it might be time to rethink your stance. According to LinkedIn's data, if you're not using email tracking to help you close deals, it may be a reason you're not performing as well as your peers.
Another possibility the overall sales population cited email tracking as critical less frequently than top performers? Maybe they're just behind the curve. Most email tracking tools are inexpensive and don't require IT help to get started, leaving the decision to use one to each individual rep.
Inside Sales People Are More Likely to Use Sales Technology
LinkedIn analyzed data by age, putting respondents into three buckets: Millennials, respondents aged 35 to 54 (commonly referred to as Generation X) and baby boomers (age 55+). As a group, millennials are "33% percent more likely to use sales intelligence tools than industry peers aged 35-54." In fact, millennials are more likely to use all five categories of sales tools more than the other two groups, especially baby boomers.
The report also found that "business development professionals used sales intelligence tools at about a 17% higher rate than any other job function surveyed." and that "inside sales professionals (62%) were most likely to rate email tracking tools as either 'critical' or 'extremely critical' to close deals."
Could it just be that inside salespeople and business development reps (usually entry-level positions) are better users of technology since it's their job to initiate and connect with prospects from behind their computer and phone, instead of managing active opportunities face-to-face or via the phone like most account executives must do?
If you can't tell, as a Gen Xer (it's okay if you call me that, LinkedIn), I'm somewhat perturbed that the study didn't dig past age as a reason for varying technology usage. Since most sales technology is most useful for prospecting, it is therefore most useful to business development reps and inside sales professionals, who just so happen to usually be younger than account executives.
So while LinkedIn's report states, "Millennials Encourage Teams to Adopt Sales Technology Early and Often," I bet technology is becoming more critical because more and more companies have moved outside sales resources inside and more and more buyers educate themselves via the web. But hey -- as inevitably as we all succumb to taxes and eventually death, many salespeople will retire and be replaced by younger people. So it's a sure thing that sales technology adoption will rise over time, regardless of whether it's just a generational change or if other business trends are driving it.
Social Selling Tools Are Here to Stay, Even if Many Reps Are Abusing Them
One thing that LinkedIn knows for sure: Social selling is booming. They know because their social software sales are booming. And it's not just sales consultants who sell social selling tools who use it anymore. LinkedIn's Sales Navigator software is flying off their "social" shelf according to their 2015 earnings report: "Premium Subscriptions revenue increased 22% year-over-year to $532 million in 2015. Sales Navigator remained the faster growing component of Premium Subscriptions with continued improvement in customer satisfaction and product usage."
The survey reports that "more than 70% of sales professionals use social selling tools including LinkedIn, Twitter and Facebook" and that top salespeople believe these tools have a great impact on revenue growth.
The modern salesperson's love affair with Sales Navigator is something I've witnessed over and over again. In my experience, once a sales team has access to Sales Navigator, cancelling that subscription often requires prying it from their dead, cold-calling hands. As Ambition writes in their 2016 Inbound Sales Software Guide, LinkedIn has this one figured out: "They've cornered the market on the largest prospect database in the world and their targeting, list building and integration features are nothing short of spectacular."
I worry, though, that too many salespeople are abusing this newfound technology and access to up-to-date contact information. Too many salespeople simply use social selling tools just to find contacts and send self-promotional messages to them. Spam complaints are a huge challenge for email prospecting. Unfortunately, many salespeople just seem to be moving their spammy ways onto LinkedIn.
Why is this a concern? Whenever new technology is created, aggressive salespeople tend to use it to deploy their pushy sales tactics. It tends to sour buyers on the new technology and all of the salespeople who use it. (Anyone remember fax marketing? What about those automated, pre-recorded cold calls you get at night?) The problem with social selling is that salespeople can apply their unwelcome tactics more quickly and to more prospects than ever before at virtually no cost. So, I worry that the abuse of social selling software will make public social media sites less relevant over time. We're already seeing trends that point to this -- the social networks that are growing most rapidly today are not the ones like Twitter, LinkedIn, and Facebook where much of the activity is public by default, but the more private ones like Kik, WeChat, Facebook Messenger, Slack and WhatsApp (also owned by Facebook).
Regardless, buyers are choosing more and more non-phone and non-email ways of communicating with each other and salespeople are following along, even if they are a bit too aggressive and not using the newest network. While the tools, sites, and services are bound to change, leveraging social to sell is a trend that's not going away.
Is Your Company Behind the Sales Technology Curve?
Based on this survey data alone, it's clear that sales technology provides an advantage to salespeople. Top salespeople not only use technology more frequently, they also believe it helps them achieve better results. Eighty-two percent of top sales professionals specifically attribute their success to sales technology -- with CRM, productivity tools, email tracking, and social selling leading the way. Top salespeople cite all five categories of tools as critical or extremely critical in helping them close deals, including sales intelligence. But it's not just the top salespeople who think these tools are critical; the majority of the overall survey pool agreed they're important for the same reasons.
Therefore, it's probably safe to say that more than ever, an organization's success hinges on how quickly and effectively they adopt CRM and these other sales tools. As the top salespeople in Linkedin's survey report, this technology is fast becoming a powerful competitive advantage for them and their companies. These tools for the companies that use them are as critical as word processing, email or accounting software is for all companies.
The sales technology boom is just getting started too. We are most likely just at the beginning of how software will transform sales. These five categories are just the start of an expanding sales technology stack. The VentureBeat sales technology landscape shows that not only are there more companies, but more categories too. In the future, sales software will pull in more data sources, integrate more fully with marketing software, enable salespeople to leverage new communication channels, and use artificial intelligence to prioritize (and sometimes even automate) a salesperson's activities. If I were you, I wouldn't want to get left behind or let my competition master these tools before me.
P.S. If you're not yet a top performer, you now know what to do: Get better at using email tracking to improve efficiency, use your CRM to stay organized and use social selling and sales intelligence tools to initiate and build relationships.
P.P.S. For further review and analysis of LinkedIn's survey data, download the full LinkedIn State of Sales Technology 2016 report here.