Imagine this -- your flight was delayed two hours, your rental car mysteriously isn't where the company said it would be, and when you finally get back to the hotel you discover your shampoo bottle has leaked all over the suit you were going to wear at tomorrow's meetings.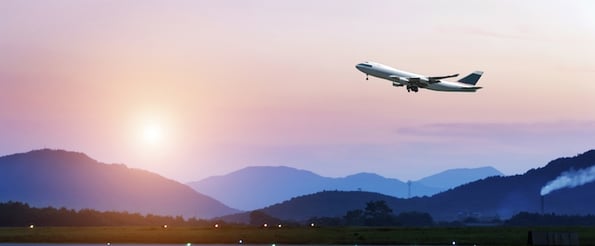 Business trips aren't always smooth sailing. But they're not going anywhere -- business travel is a massive, fast-growing industry. In 2014, Americans took 482 million trips for business purposes and spent $292 billion on trips, meetings, events, and other programs.
Yes, that's billion. With a B.
Clearly, we're on the move a lot. And if you haven't already, chances are that at some point in your career, you'll find yourself on a bus, plane, or train in a professional capacity. We've got you covered -- from accommodations to getting around a new area, read on to find out the seven essential tips for surviving on the road.
1) Pack the right things -- and leave the superfluous items at home.
When traveling, it's always best to pack as light as possible. Bring one or two pairs of versatile shoes, and articles of clothing that can mix and match well. A pair of brightly colored pants might be a great statement piece, but if you'll be at that conference for five days, they won't be as useful as black slacks you can re-wear.
In the same vein, unless you need to have a specific type of soap or shampoo, it's a safe bet to leave most of your toiletries behind. Not only do they add bulk and weight to your luggage, but it's often redundant to bring amenities since hotels provide their own. Check ahead with your hotel to find out which items will be included and available upon request, and then decide what to bring.
If you do choose to bring your own accoutrements, don't forget to check out the TSA's guidelines for liquid items.
2) Instead of a suitcase, consider a carry-on bag.
Braving baggage claim can be a nightmare, especially when you're exhausted and ready to get to your hotel room. In addition, many airlines charge extra to check a bag. Especially if you're on a short trip, it's just not worth it.
So keep it minimal by downsizing to a more compact bag. Most major retailers carry luggage specifically designed to pass airlines' carry-on luggage size restrictions. Just bear in mind that different airlines do have slightly differing standards for luggage size, so make sure to confirm any limitations before you fly.
3) Get pre-approved and skip lines.
You're a busy person -- you don't have time to wait in lines. Thankfully, the TSA feels your pain. The Global Entry program and the Pre-Check program allow approved travelers to skip ahead at customs and security check. Forty-five-minute waits in line, begone!
4) Be crystal clear on your company's expense guidelines.
Before you jet off for business travel, make sure you have a clear idea of what costs your company will be covering so that you're able to be fully reimbursed.
And don't count on saving all your receipts in a folder or large envelope. Keeping digital records of your purchases will make your and your company bookkeeper's life infinitely easier. There are a multitude of mobile apps that will allow you to quickly scan and save digital copies of all your records. Lifehacker has a handy list of some of the best mobile scanning apps -- check it out before you fly out.
5) Go digital.
The age of printed MapQuest directions, Zagat guides, and physical Rolodexes is over. Not only are printed materials unsustainable, but they also take up valuable space and are generally annoying to schlep around.
This is especially true at conferences or multi-stop trips, where the sheer volume of business cards, boarding passes, and notes you'll accumulate begs to be organized digitally. It doesn't matter if you're scouting out a restaurant for a business dinner or taking quick notes -- downloading organizational apps onto your phone will make your business travel easier, every time.
6) Loyalty pays -- literally.
Frequenting the same airlines, hotel chains, and rental car companies will benefit you in the long run. You'll be racking up points and miles no matter where you choose to spend your money, so why not accumulate them on one or two accounts and cash in? Rewards that you can look forward to by giving all your business to a single provider include free airline upgrades and a dedicated concierge lounge.
Perks don't stop at airline and hotel bookings, however. Many airlines and hotel chains offer their own credit cards you can use to build up rewards on top of preexisting loyalty programs. But beware -- many of these cards have annual fees, so unless you're a frequent flier, they might not make sense for you.
7) Make restaurant reservations ahead of time.
It can be hard to score last-minute tables for business lunches or dinners at popular spots, so make sure you reserve in advance. Having to explain to a client you're courting that you won't be able to eat until 10:30 p.m. because you forgot to make a reservation isn't exactly professional. Even if you're just wining and dining yourself, make a reservation -- or go hungry.
What are your tips to make business travel a little easier? Share them with us in the comments below.