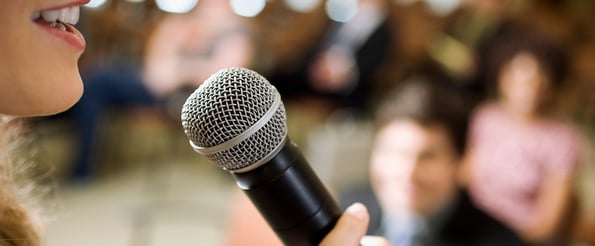 Recently, public speaking has become a big part of my life. In the last year alone, I have spoken at an average of four to five industry conferences, universities, and startup accelerator events per month.
People often ask me why I do it, and more frequently, how I do it.
The "why" is simple. Public speaking is a highly effective (though often underutilized) platform for any good content marketing and sales strategy. Chances are your directors and C-level executives are industry experts, and industry experts are highly sought after for public speaking engagements. And public speaking (if you do it properly) gains you and your brand additional press and industry credibility, which makes it easier to sell your products and services.
The "how," on the other hand, requires a more in-depth explanation.
You Have To Give Before You Can Get
Public speaking is an incredibly valuable sales tool. It's so valuable, in fact, that I only charge for about 50% of my speaking sessions because they help me generate so much revenue. That said, there seems to be a lot of misconception out there about how to effectively sell at speaking engagements.
Many of the tech companies and inventors I advise have read the words "public speaking" and "sales" together at some point and assumed that their speaking sessions need to be structured as sales pitches to sell their products. But the most powerful feedback I've ever received after giving a speech was from someone who said "Thank you for not trying to sell us anything. Every other speaker here has just been peddling their products without giving any real value."
The main goals of public speaking are to:
Enlighten and engage an audience.
Make your audience think.
Establish interest and credibility in your brand.
Build and nurture relationships that can later turn into sales.
It may sound counterintuitive, but public speakers should avoid directly selling or pitching any product or service during their speaking sessions.
The sales generated from public speaking engagements are more indirect. They are the result of heightened brand awareness and increased brand following. But you will only see a lift for your brand if you are giving your audience something that makes them trust you and want to learn more about you and your product.
You should think of your speaking sessions as a way to initiate a new relationship. You then have to nurture that relationship by giving, giving, and giving some more before you ever consider asking for anything in return.
That's right, in order to be an effective public speaker you have to give something away. Your audience has to come away from your speech with something of value.
Some examples of what you can offer your audience include:
Advice on a topic your audience cares about
Statistics that enlighten your audience
A story that touches them on an emotional level and makes them look at the world differently
This means you have to give your audience quality content -- don't bore or annoy them. Only then will they care about what else you have to offer.
Gary Vaynerchuk wrote a great article with more insight into this strategic approach to sales that's worth a read.
Perfect Your Content And Delivery
An audience's perceived value of you is determined 100% by your speech and how it is delivered.
It should go without saying that you need to spend time and focus on perfecting your speech and its delivery. All too often I have seen speakers who tried to finalize their speeches or presentations 15 minutes before an event and suffered because of it.
A poorly delivered speech is a huge waste of time for you, your company, and most importantly, your audience. Why invest in a strategy and spend resources on public speaking if you aren't going to do it effectively?
To develop a one hour presentation, it usually takes me about three days:
One day to draft the content and presentation
Another day to practice the delivery and make revisions to the content for better flow
And one more day to practice the final presentation
Practice is key for a good presentation. Just like athletes and musicians practice the same moves and songs over and over again, you should be practicing your presentation until you have it memorized.
To be an engaging and effective public speaker, your audience needs to feel like you are having a personal conversation with them, not that you're reading from a script and talking at them. This means that you need to understand who your audience really is. There's a big difference between how entrepreneurs, business professionals, and college students communicate so it's important to speak to your audience in a personalized way they will connect with.
Other methods I use to connect with my audience include:
Telling a story
Making jokes
Using metaphors
For more tips on how to develop your presentation and content delivery strategy, check out this list by Joe Pulizzi.
When It's Time To Sell, Maintain Your Brand Experience
With public speaking, you usually need to have multiple conversations with people before you can initiate the sales process. Personally, I have spent more than six months and 30+ speaking sessions to establish credibility with a given audience before initiating sales conversations with them.

This process can take some time, so be patient and pay close attention to your audience to determine the right time to move into a sales engagement.
With this approach, it's also important to remember that you've developed a strong brand image and perceived value with your customer through your speaking sessions and you must maintain your brand experience throughout the sales process.
I believe there are five principles to keep in mind to sell products or services after speaking sessions:
Drive multiple interactions. Develop your presentations with standalone content such as statistics and graphs so your attendees can leverage the content again in the future.
Differentiate yourself. What do you offer the customer that nobody else does?
Make your value easy to understand. Don't tell your customer what your product does, tell them what they can do with it.
Maintain your experience. The customer is used to hearing the way you communicate in your speaking sessions so make sure to give them a consistent experience during the sales process.
Repurpose your content. Reuse phrases and images from your speech and presentation in articles, blog posts, promotional materials, email templates, and over the phone.
Public Speaking Is a Marathon
With so many people out there wanting to demonstrate their thought leadership to enhance their brands, public speaking can be quite competitive.
Personally I have about 100 local competitors and several thousand global competitors in my specific niche (content marketing). So what's my strategy for maintaining a strong public speaking presence?
As I've already mentioned, I do an average of four to five speaking sessions per month and only charge for about 50% of these sessions. Two or three of these monthly appearances are usually local to me and one or two of them are global. About 65% of the time I am invited to speak but the other 35% of the time I make an effort to speak at strategic events that will help me continue to develop my personal brand.
The main benefits of this strategy are:
You gain more experience.
You learn how to work with different audiences.
You can perfect your content.
You drive more traffic to your website and social media channels.
You gain more followers for your brand.
Public speaking is like a marathon -- you have to maintain a steady pace in order to win the race. This is why it's so important to maintain a regular schedule of speaking sessions at strategic events that will generate constant visibility for your brand while you continue to evolve as a public speaker.
This article by Neil Patel will give you some more insight into the marathon strategy for public speaking as well as how to choose the right speaking events for your brand.
All of the concepts we have covered will help you effectively leverage public speaking to take your content marketing and sales to the next level. But you'll have to put in some time, effort, and commitment to succeed in this channel.
Are you using public speaking to sell a product or service? Is it working for you? Why or why not? Let us know in the comments below.