Intriguing Questions in Sales
"Would you like to learn about the opportunity I think [prospect's competitor] is missing out on?"
"I see [prospect's company] uses [X strategy]. Why?"
"I see [prospect's company] isn't investing in [Y area]. Why not?"
"Is [likely challenge or opportunity] a priority for [prospect's boss]?"
"Do you want to get on a call with [expert within your company] to discuss [prospect's business focus]?"
"Have you considered trying [X technique]?"
"Should I save a [seat, ticket] for you?"
Ending your first email to a prospect with a question gets their mental gears turning, demonstrates your subject matter expertise, and helps kick off a meaningful conversation.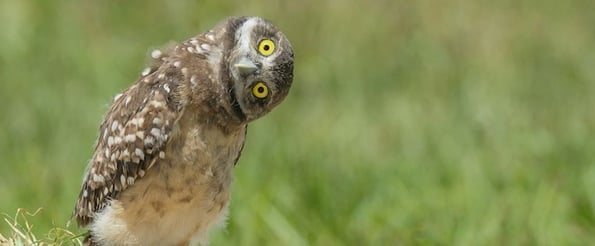 Perhaps most importantly, it makes your message memorable. The Zeigarnik effect states that people fixate on unfinished tasks -- so leaving a question dangling in your prospect's mind causes them to think about your email long after they've read it.
What should you ask buyers? Great question. These seven options will help you end prospecting emails on a strong note.
If you're more of a visual learner, click here to jump straight to the infographic we created with 24Slides.
7 Questions to Use in Prospecting Sales Emails
1. "Would you like to learn about the opportunity I think [prospect's competitor] is missing out on?"
Nothing is more interesting than competitive intelligence. The buyer doesn't know if you have real insights to offer -- but they'll want to get on the phone to find out.
Citing another player in your prospect's space also proves you're not spraying and praying, since this email could only apply to them.
2. "I see [prospect's company] uses [X strategy]. Why?"
Not only will you learn valuable information about why the buyer is using a specific approach, you'll also make them wonder if you know about a better way.
3. "I see [prospect's company] isn't investing in [Y area]. Why not?"
This question is a variation on #2. The response will tell you whether your prospect doesn't know about the opportunity, is unsure how to capitalize on it, or doesn't have the resources to do anything about it.
No matter the answer, you're in a good position to help. Prove the opportunity is worth their time, help them create a plan, or show them how your product makes it far simpler to execute.
4. "Is [likely challenge or opportunity] a priority for [prospect's boss]?"
Use LinkedIn to discover to whom your prospect reports (or to whom their boss reports). Do some digging to identify their top initiatives -- maybe they wrote a blog post discussing their current focus, spoke at a webinar about their success in an area, or belong to a niche community.
Use this intel to craft your question. Your prospect will be eager to learn if you can help them impress their boss.
5. "Do you want to get on a call with [expert within your company] to discuss [prospect's business focus]?"
Offer to connect your recipient with an internal expert. For example, if she works in Sales Operations, you might write:
"Our Sales Ops senior manager recently built a new lead scoring program from the ground up. Do you want to get on a call with him to discuss Clearize's lead score strategy?"
You'll immediately distinguish yourself from the other reps trying to win time on her calendar to talk about their product -- unlike them, you're adding value from the get-go.
Of course, you won't be able to do this for every deal, so save it for important accounts and hard-to-reach prospects.
6. "Have you considered trying [X technique]?"
If you know of an easy fix for your prospect, suggest it in your first email. They'll feel indebted to you for your help -- which starts the relationship off on strong footing and makes them likelier to listen to your future suggestions.
Wondering what this might look like in practice? Suppose you sell an event hosting platform. Your prospect runs two-plus events per week, but you've noticed he doesn't promote them beyond email. You might ask, "Have you considered advertising your webinars on Twitter? One of my clients doubled attendance with less than $500 of sponsored tweets."
7. "Should I save a [seat, ticket] for you?"
My coworker received an email letting him know a webinar he may be interested in was nearly full. The salesperson asked if he'd like her to save him a seat.
Although my coworker wasn't planning on attending, discovering how popular the webinar was changed his mind.
Use this question to incite the fear of missing out in your prospect. The offer doesn't need to be about a webinar -- you could ask if they'd like a spot saved in your organization's networking event, online community, conference, workshop, and so on.
Once you've made the connection, you can learn more about the buyer's needs and objections and craft an appropriate pitch.