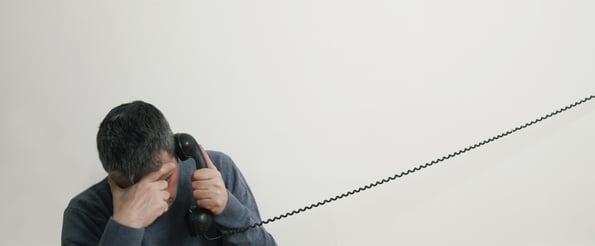 I don't think I've ever called or emailed a salesperson back. Normally, when I hear from someone trying to sell something to me, I'll just ignore the message, and move on without really thinking about it. The immediate reaction in my head is just delete.
After thinking about my behavior, I've identified eight main reasons why I tend not to answer salespeople. And while I can't speak for the entire public, I'm betting that B2B buyers share most of my beliefs.
So before you send out another email, consider the following reasons you might not hear back.
1) I don't know who you are.
According to a poll from CBS News and The New York Times, just 30% of Americans say people are trustworthy. The odds that someone is going to feel comfortable responding to an email from a person they don't know are low.
In order to change this perception, start by becoming familiar to your prospects. Build a rapport through mutual connections or by interacting with them online, and then send your initial email.
2) Unclear or uninteresting subject line.
Convince and Convert found that 33% of emails are opened on subject line alone. That means one-third of your emails aren't getting opened simply because you went with, "let's talk about [enter product name]."
To make an impact, according to the statistics, your subject lines should be less than 30 characters, include the person's name, and create a sense of urgency or exclusivity. Bad email subject lines can cut out one-third of your audience before they even read your email.
3) I don't need your product (or I don't know that I need it).
Sometimes a rep will email a prospect in hopes of convincing them to buy a product they don't need. In other instances, the prospect could benefit from the product, but the rep does a poor job of selling it as a solution to the prospect's pain point. Both of these mistakes can result in a prospect not getting back to the sales rep.
The moment that a customer decides that they don't need your service to solve a pain point, they will move on. To avoid the first mistake, focus on attracting good fit customers and reaching out to buyers who have already demonstrated interest instead of spamming any and all leads you can find. To avoid the second, make the connection between your prospect's pain point and your offering crystal clear and compelling.
4) I'm not sure why you're reaching out.
Unclear messaging is the Achilles heel of sales emails and calls. If you're unable to clearly explain who you are and what you want in one sentence, odds are you'll lose listeners and prospects.
Before you reach out to a prospect, identify your mission and the one thing you want to get across. This makes your value clear and gives them a concrete reason to respond to your message.
5) I don't know the next step.
What's the step you'd like me to take as a result of this email? Without including clear instructions, the email is pointless.
The call to action in any email is what drives curiosity and moves a prospect into the next phase of the buyer's journey. Next steps to include could be a calendar invite, a question to answer, or simply seeking feedback on what they've read so far.
6) I've already spoken to you … several times.
More than one-fourth of buyers say their biggest sales pet peeve is dealing with a rep who doesn't respect their buying process, according to HBR. Reps who email too frequently and try to persuade are learning that buyers shy away from these types of high-pressure messages.
Each buyer goes through their own individual journey in order to become a customer. Instead of trying to get prospects to buy on your timeline, respect their process and only reach out when you have something of value to provide.
7) I don't need information from you.
While sales reps used to boast information that their prospects didn't have, the modern rep no longer has that advantage. Today, prospects are going through nearly 60% of the buyer's journey before they talk to a rep. A quick Google search can help this person gather all the information they need without talking to a sales rep.
If all your email offers is information easily found on your company's website, you probably won't hear back.
8) I'm not ready to make a decision yet.

The final and most important part of the sales process is the decision. While some folks can quickly go through the funnel, others take their time and move slowly.
Reps who send emails that try to force the decision will likely end up scaring away the buyer. Instead, offer guidance and assistance as the buyer goes through their journey and honor the fact that they'll make a decision when they're ready.
In the past, salespeople relied on persuasion and persistence to move prospects through the funnel. With modern buyers, these tactics simply don't work.
Hard sales tactics are losing their effectiveness. And while you can continue to try these methods, I'm here to tell you: You probably won't hear back.