Let's be honest ... just because it looks like someone is working hard, that doesn't mean they are actually being effective. Along the same lines, your colleagues can be productive and effective at driving sales even when you all aren't physically working together in the same office space.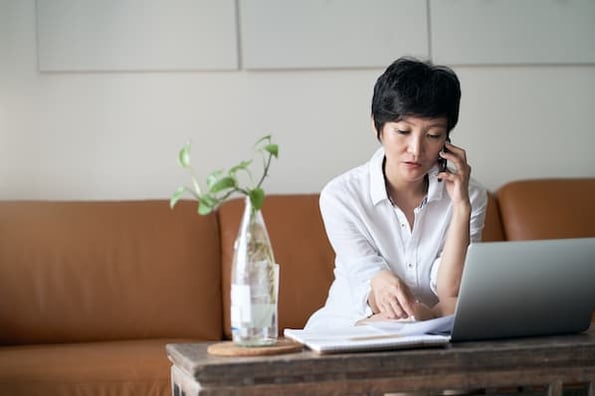 The workforce is rapidly changing, and traditional 40-hour work weeks with mandated hours worked from specific job sites aren't the only way to get work done.
Whether done voluntarily, full-time or on a part-time basis, remote work is still work and comes with its own unique challenges. According to the 2019 HubSpot Remote Work Report, a lack of social connection and communicating with team members are the best challenges for 29% of remote workers, respectively.
Salespeople, who are often social by nature, can likely be impacted by these remote work challenges. Though regularly measuring your team's effectiveness won't necessarily help you feel more connected socially, it can certainly help with team communication and effectiveness.
Even if you can't work alongside your team every day and see their every move, sales productivity doesn't have to suffer. However, it does mean your definition of success may need to shift.
Here are eight important metrics remote sales teams should be measuring to gauge their success.
We're committed to your privacy. HubSpot uses the information you provide to us to contact you about our relevant content, products, and services. You may unsubscribe from these communications at any time. For more information, check out our
Privacy Policy
.
Remote Sales Metrics
1. Call Volume
When you're working remotely and not engaging with customers face-to-face, your call activities can be even more important. Start by tracking the call volume for each rep on your team.
Call volume measures how many calls each rep handled during a specific timeframe, and can be especially valuable for remote salespeople who rely on calls to move forward through the sales process.
2. Closed-Won Deals Per Rep
While this metric is important to all sales teams, keeping a close eye on closed-won deals can be even more impactful for remote teams. Not only does tracking closed-won deals help you understand how well your reps are performing to their quotas, but it provides valuable context your team can celebrate.
Additionally, when you compare the closed-won deals to call volume, it can give your team a good idea of how effective their phone activities are when it comes to bringing in sales.
3. Revenue Generated Per Rep
How much revenue is coming in based on each rep's activities? While understanding how many deals have been closed by reps is important, it doesn't tell the full story, especially if a rep is closing small deals that don't have a significant impact on the bottom line for your company.
Tracking this information can give you a good idea of how effective your team is when working remotely, and if high-ticket sales are a top priority for your business, this is an especially important metric to understand.
4. Outreach Activities
How do your prospecting techniques measure up when working remotely?
By measuring the effectiveness of your outreach activities, you can find out. On a monthly basis, aim to track how many new opportunities have been added to your pipeline, and the percentage of leads that you have been able to follow-up with during that time period. Keeping an eye on this information on a monthly basis can help you stay on top of your quarterly and annual numbers, allowing you to pivot and strategize as needed.
5. Sales Tools Used Per Rep
On a typical day, how many tools and pieces of software are you using to perform your job? According to Sales for Life's research, the average sales rep uses 6 tools to perform their job, with companies spending $3,984 on tech spend per rep per year.
For remote salespeople, having the right tools is an important part of the role. Technology allows team members to collaborate from various locations and helps reps sell to potential buyers all over the world. But when remote salespeople are working with inefficient tools it can impact their productivity and the company's bottom line. Remote teams can benefit from tracking exactly what tools are a part of their sales stack, and regularly evaluating their effectiveness.
6. Leads Generated From Various Channels
If your organization isn't closely tracking where your leads are coming from, it's time to start.
For remote salespeople, there are a variety of ways to generate leads. Whether it is through social selling, email campaigns, or networking at virtual conferences, it is imperative you understand where your most viable leads are coming from to inform future remote sales strategy.
7. Percentage of Time Spent on Sales Activities
It's no secret that many sales reps are burdened with administrative tasks that prevent them from being able to actually sell. In fact, according to Xant's Time Management for Sales study, the average rep spends 36.6% of their working time actively selling. For remote sales teams, the ability to have open communication with managers and one another about the state of their deals and how they are spending their time is critical for success.
To begin tracking time spent on sales activities, have each rep tally how many hours they work each week, along with how many of those total hours were dedicated to each aspect of the job. If through this exercise you find that some reps are burdened with administrative tasks, and their numbers are beginning to suffer, this could be a good opportunity to streamline processes and free up time for reps to focus on engaging with buyers.
8. Sales Rep Ramp-Up Time
Sales managers — approximately how long does it take to fully onboard a new rep on your team? While there is no right or wrong answer, this metric is especially important for remote sales teams because of the unique challenges they face with helping new team members get up to speed.
For remote teams, track the average amount of time it takes for new team members to feel comfortable and competent in their role. If this amount of time does not support your team's overall workflow, work with newly on-boarded employees to understand what could make their ramp-up experience more smooth and efficient. Check out this post for advice on ramping new salespeople effectively and efficiently.
Ultimately the ability to be successful and productive when working remotely comes down to visibility and communication, and tracking these metrics is a good start. For more remote sales best practices, head to this post next.
Editor's note: This post was originally published April 2020 and has been updated for comprehensiveness.