2020 Sales Enablement Trends
CRMs are a necessity, not a nicety
AI takes over more and more of the sales process
Sales training is added back to the budget
Sales teams shrink in size
Sales enablement has grown from a buzzword into a strategic investment for organizations looking to lead and not follow.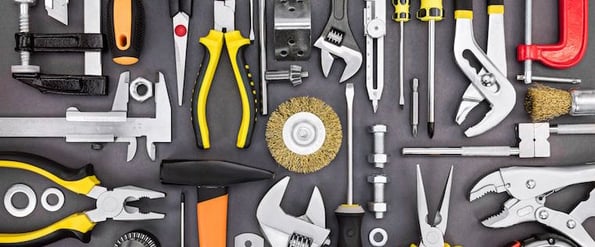 With every New Year comes the time for predictions, and if you're wondering what the year has in store for your sales team, look no further.
1. No CRM? You're Already Behind
Some small to medium-sized businesses resist using a CRM and instead rely on spreadsheets and outdated data collection. If your business still hasn't updated its sales tools today, you are already falling behind the pack.
Modern sales teams use every bit of customer data to their advantage. Today, prospects spend time interacting with your website and content long before they ever speak to a salesperson. New technology captures everything these prospects do, giving reps an idea of their interests, profile, and challenges before the first connect. If you aren't collecting this data or wasting time manually analyzing and reporting it, we promise your competitors are running away with your sales.
Consider how you interact with platforms like Netflix and Amazon. These businesses disrupted their industries by reading their customers. They are able to tell us exactly what we want to see or buy, exactly when we need it. They use every bit of data we give them and turn it into a way to market their products and keep us coming back. Don't be Blockbuster -- find out what your customers want and give it to them.
2. Rise of AI
Take a second and try to guess how many chatbots you've talked to this year. We guarantee it's not zero! That may have something to do with the fact that 35 to 50% of sales go to the business that responds first. Why leave responding to a human when a machine can do it faster?
The rise of artificial intelligence has produced a huge range of new products, but in the sales and marketing world, chatbots are the new toy. Whether you are adding CRM or marketing automation software, we guarantee an AI feature is included. No matter if you're a B2C or B2B organization, building your business chatbot should be a crucial sales enablement goal this year.
AI is going to start saving sales teams heaps of time in the new year. Chatbots can answer simple questions, trigger follow-up emails, evaluate responses, and make simple decisions. Your salespeople won't need to engage with prospects until they are qualified. The lead qualification process will also become more accurate, guaranteeing your sales team only receives the most promising leads.
Organizations that embrace AI will see a huge rise in productivity and profits.
3. Reinvestments in Sales Training
After the 2008 recession, sales training was one of the first expenses cut from sales budgets. At the time, this was a way of decreasing costs. Now, years later, many companies still resist bringing back sales training and coaching.
Some sales leaders believe their teams don't need mandatory sales training and coaching. Without it, though, they may be seeing a decline in forecast numbers, a surplus of inefficient reps, or high turnover. Sales is an evolving industry, with constant market changes and new strategies. In addition, salespeople lose 80 to 90% of what they learn after one month. Sales teams that reinforce training and stay up to date are simply more confident, productive, and efficient.
Other sales leaders know they need sales training and coaching but have a hard time finding modern coaches who have adapted their methodologies to the new sales landscape. If you're in that boat, don't give up. Finding the right sales training and coaching might take some time, but a forward-thinking sales enablement coach is invaluable to your team.
This year, organizations that stick to their old selling methods and resist updating their sales processes and methods will suffer -- they are too far behind. Sales leaders that get training buy-in from their teams and spend the time and money on an innovative sales coach will prosper.
4. Decrease in Sales Headcount
Sales enablement leaders this year will be focused on using AI, training, and sales tools to develop streamlined and lean sales teams. This means many sales departments may shrink. This is not to say a large group of sales reps is unnecessary, just that underperforming and inefficient reps won't be able to hide anymore.
Sales enablement does have its casualties. It weeds out salespeople who can't adjust and resist change. While this is unfortunate for some, it is good news for many organizations. Today, there is no need to hang on to failing salespeople. Your leads can be handled by chatbots until they are qualified and then passed onto your top people who are ready to handle inbound prospects. Your salespeople will have all the data they need and feel confident they can close the deal.
For some of you, this news simply means you are on the right track and need to double down on your inbound and sales enablement strategy. On the other hand, if reading this gives you an ache in your stomach, it's time to take the plunge and make this the year you reevaluate, reenergize, and enable your sales team.