Although the average sales professional tenure moved up from 1.5 years to 1.8 years, you still have a ton of work to do as a sales leader to develop and retain your sales team.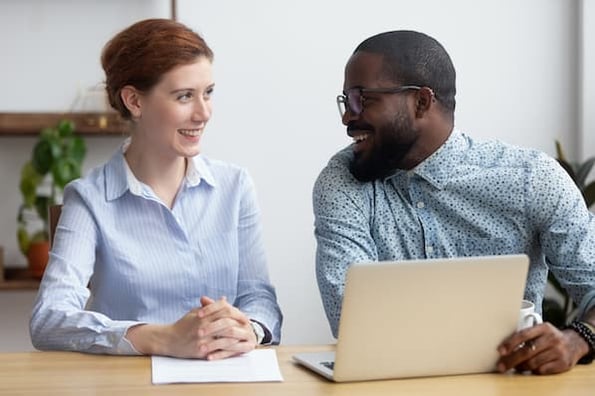 To help your sales reps build the skills they need to feel prepared and successful in their roles — which makes them less likely to jump ship — you need a structured sales performance management process.
Let's learn how to create such a process.
What is sales performance management?
Sales performance management (SPM) is the process of ensuring each member of your sales team is working to achieve organizational goals and objectives. A robust sales performance management process can include training your reps, monitoring their progress, and developing their skills.
Now that you're clear on what sales performance management entails, let's discuss why it is essential to implement it into your sales team operations.
Why Sales Performance Management Matters
Having an SPM process in place is crucial for your team's overall success. Sometimes, there can be a disconnect between the level of effort sales reps put into their work and the tangible outcome seen by sales management and the company at large. Let's talk about why your organization needs to implement a sales performance management strategy.
1. SPM helps you predict future sales trends.
Sales performance management tracking can provide valuable data, enabling your organization to forecast future sales trends and employee compensation rates — particularly for commission-based compensation structures. For example, if a sales rep earns a 15% commission for each deal they close and is projected to close $100,000 in sales for the quarter, your finance team will anticipate an allocation of $15,000 in commission payroll for that rep.
2. It allows sales reps to build their skills.
Whether you have sales reps on your team who are new to the field of sales or seasoned salespeople ready to learn more advanced selling techniques, employee development is a major perk of having a sales performance management process in place. A sales performance management plan adds structure and accountability to your training process.
Here are some elements that could be included in a sales rep development plan to help them build their skills:
Required training for sales enablement tools
Informational interviews with sales leaders within their company
Supplemental reading from sales thought leaders
Attendance at an upcoming seminar or conference
3. It reduces turnover.
Research shows that 58% of organizations experience an unusually high level of turnover among sales professionals. Although many things cause employee turnover, sales leaders can use a sales performance process to engage their sales team and look for progression or training opportunities to increase retention.
4. It builds a stronger sales rep pipeline.
With structured performance management plans in place, your organization will have the framework to build a pipeline of sales reps who have the valuable skills needed to effectively and efficiently drive sales for your company.
In addition, having clear, visible goals and incentives builds well-rounded sales professionals.
5. It improves the accuracy of performance-based compensation.
Organizations with SPM processes report more accurate compensation figures. In addition, having a set performance management plan keeps your compensation structure and overall business objectives aligned, resulting in a more motivated sales team.
How to Implement an Effective Sales Performance Management Process
You now know the importance of sales performance management. So, let's talk about implementing a sales performance management process that gets results.
1. Decide what performance metrics you want to assess.
To create an effective sales performance management process for your sales team, simplify your overall business objectives and make them relevant to the individual contributors on your team. On a macro level, you should already have a clear understanding of what high-level success metrics your team is being measured against.
Performance metrics should measure each individual's tasks and activities in relation to how well they serve overall business objectives. Here are some performance metrics to consider for your sales reps:
Individual Quota Attainment - The percentage of the sales target reached for each sales rep in a given month or sales period. This data can be helpful for benchmarking. If you find your entire team is having a hard time reaching their targets, the goal may be too aggressive. Conversely, if your entire team is hitting or surpassing quota without question, your goal may be too conservative.
Conversion Rate - The percentage of leads each rep converted to paying customers. For example, if a rep has 100 active leads and converted 20 of them to paying customers during a sales period, they would have a personal conversion rate of 20%. Keeping track of this metric for each rep (along with an average for your team) can provide valuable data about your lead's quality and if your team has the resources to nurture them properly.
Sales Productivity Metrics - Sales productivity refers to the amount of time it takes for your reps to reach their quota. Generally speaking, the faster reps reach their quota, the higher their productivity. To measure sales productivity, look at the following metrics:

Percentage of total hours spent prospecting
Percentage of total hours spent on data entry
Percentage of closed-won deals (how many closed deals resulted in a sale over a specific sales period)
2. Communicate objectives to your team and get their buy-in.
Now that you've established what metrics you'll use to understand your team's performance, it's time to communicate these goals to your team to get their buy-in. This is important for multiple reasons.
First, your team can't reach their goals if they don't know what those goals are. Second, this gives space for your reps to provide feedback on what and how they are measured.
If you experience pushback from reps about specific goals you've set, give them space to voice their concerns.
For example, reps may not agree with some of the benchmarks (maybe the goals are too aggressive or conservative) or may not agree with measuring some areas of performance at all.
If so, it's essential to consider the concerns of your reps and ensure your team understands how their individual goals relate to overall business objectives.
In this situation, work with your reps to adjust goals as needed, or include your team in the goal-setting process from the beginning. For each rep's performance plan, you can also allow space to set their own stretch or development goal based on areas they'd like to improve upon.
Some sample language you can use when getting rep buy-in include:
"These objectives are necessary to ensure we're reaching our goals as a team."
"We will be implementing this new structure this quarter, and can revise per your feedback after this trial period."
"This performance management process will keep our team aligned with the company at large."
3. Coach and develop reps to build performance-improving skills.
Once your team's goals and development plans are in place, make sure your reps have the tools and resources they need to succeed. Many reps have identified skills they want to build or improve upon, such as effective prospecting or presenting in front of groups. Seize upon these interests and teach them.
You don't have to be the person who teaches them, but you can be the person who creates space for your reps to learn and develop. That could include keeping reps accountable for attending training, introducing them to a mentor, or connecting them with a teammate who excels in the area they'd like to develop.
4. Provide performance feedback to reps on a regular basis.
Consistent performance reviews should be held for your sales performance management process to be effective. Including performance reviews in your regular operating rhythm is important to monitor and track the success of your sales team. A well-rounded performance review should include the following:
Documented goals the employee is being assessed for - Talk to your reps about how they performed regarding the specific metrics outlined in their performance review plan. Goals could include hitting 70% of their quota for the quarter or having a higher average deal value than they had the year before.
Relevant feedback from previous reviews or projects - This information is important to include if your sales reps have implemented feedback from a previous review or have shown growth in a specific area. For example, if your employee has developed their soft skills after receiving constructive feedback the year before, include that in their performance review as a win.
Direct feedback on employee successes - How have your employees' strengths benefited their performance? Provide examples to reinforce the behavior. For instance, if your employee has strong project management skills, document how these skills have helped their ability to close new business or supported the sales team with implementing a project.
Constructive feedback for the employee's opportunities for growth - What opportunities does your employee have for improvement? Provide examples of situations where they could have handled things differently and resources for achieving this growth. For instance, if your employee is struggling with cold calling, provide tangible advice or hands-on training that can help them improve in this area.
Summary or rating outlining the employee's overall performance - Provide an overall rating or summary statement. Did your employee meet expectations? Generally, it helps to rate employee performance on the following scale:

1 — Does not meet expectations
2 — Needs improvement
3 — Meets expectations
4 — Exceeds expectations
You can use this sales performance review template to guide you through the process.
Sales Performance Management Software
Using sales performance management software automates tracking your sales team's progress towards organizational goals and identifies processes that promote and/or inhibit the effectiveness of your sales reps.
Sales performance management software automates and integrates sales processes with valuable data to improve performance and efficiency across the organization.
To implement sales performance management software, consider some of the following features in your search.
Sales incentive compensation management - Tools to fairly and accurately pay your reps based on performance against their goals.
Business goals and objectives documentation - A platform that allows you to clearly document and share business and individual objectives with your team members to improve performance.
Quota management - Accurately track and forecast future quota targets based on relevant data.
Sales territory optimization - The ability to support strategic territory mapping and efficiency.
Advanced sales performance analytics - Clear, accurate reporting of the pertinent metrics that matter most.
Sales gamification - An interface that can turn performance data into a game to drive sales rep engagement — often includes features such as leader boards, top lists, and other recognition opportunities.
As more organizations make sales performance management a greater priority, more software solutions with a robust set of features will become available. Here are some recommendations.
Xactly seeks to automate and simplify the incentive compensation process for sales teams. They pride their software on being over 99% accurate for forecasting and performance management data.
With Xactly, managers can get all the information they need to design incentive programs that motivate their sales reps to be more effective.
Why We Like It
It offers accurate and error-free performance data for your sales reps.
It's simple to set up an incentive program to drive individual growth and increase quota attainment.
It provides high visibility across your sales team and sales leadership.
Anaplan's sales performance management software allows sales organizations to develop robust go-to-market strategies, using their team's performance to drive planning.
The software's proprietary Hyperblock™ technology allows users to make more sense of real-time performance and forecast future outcomes for better decision-making.
Why We Like It
It allows you to connect to different planning solutions used within an organization.
The company's customer service team is always ready to listen to feedback.
Anaplan is self-contained, meaning you can build models, mappings, and assumptions right within the system.
Varicent's sales performance management software solution helps sales teams improve performance and operational efficiencies. Their areas of expertise include compensation planning and territory management.
Teams also use Varicent to reduce costs associated with the compensation process.
In addition, the software's augmented intelligence solution, Symon.AI, helps users identify trends and outliers, among other things, to plan better.
Why We Like It
The software's shallow learning curve and intuitive design makes it easy to set up and use.
The tool's incentive compensation feature allows you to increase quota attainment and save time on payroll tasks.
It can handle large data volumes at once, making it a great fit for large teams.
SAP Sales Cloud focuses on helping sales organizations reach peak productivity. With tools to facilitate employee coaching, KPI tracking, and sales rep assessments, your sales reps will feel supported and included every step of the way.
As part of SAP's solution for sale automation, Datahug helps sales teams maximize revenues with smart forecasts.
Why We Like it
It focuses on helping sales reps understand their customers better.
It offers AI-powered recommendations to boost sales effectiveness.
The software keeps your information safe and secure while keeping it easily accessible for employees.
Oracle's Sales Performance Management application highlights sales rep accountability, guiding reps through skill-building task lists and training modules.
The tool also features a white space analysis feature, so sales teams can focus on accounts with the highest revenue potential, allowing them to achieve revenue goals.
Why We Like It
It's easy to set up, use, and manage for teams with multiple territories.
It's entirely based on cloud technology and doesn't rely on a central data center.
It allows users to access and track projects in real-time.
Optymyze offers a suite of solutions to help sales leaders and reps drive performance.
Their offerings include integrated compensation management, sales quota tools to keep reps engaged, and sales territory management software to maximize revenue potential.
Optymyze comes with an issue monitoring and notification feature that lets you know when any problem arises with your sales performance management process.
Why We Like It
It's excellent for non-technical users, as it doesn't require coding knowledge.
It connects to hundreds of data sources to improve sales performance across your team.
It's easy to scale up or down depending on your team's demand.
Sales Performance Management is Critical for Growth
You need to improve your sales performance management process to drive efficiency, improve the overall effectiveness of your sales team, and increase how much revenue your business can generate.
Once you've determined the performance metrics you want to assess, communicate them with the rest of your team, coach your sales reps to improve their performance, and provide feedback where needed. With a sale performance management process to track your team's progress, you'll be well on your way to exceeding your sales goals.
Editor's note: This post was originally published in October 2019 and has been updated for comprehensiveness.