There's a reason many people despise public speaking. Defining your presentation style, putting together engaging slides, getting your point across clearly, handling unexpected questions, and squeezing a laugh out of the audience is a lot to consider.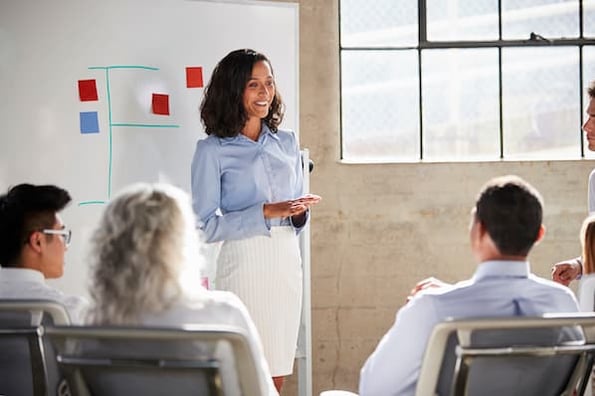 Still, nearly all of us have to give business presentations every so often — especially salespeople. And the most daunting part of preparing for any presentation is that there's always room to improve.
Even the most seasoned speakers headlining at conferences or reps who top the leaderboard every month can improve their storytelling, deliver their message more clearly, and perfect their physicality. And so can you.
There are an infinite number of presentation tips out there, so we've distilled the vast pool of tips down to what will make the biggest impact on your presentation — and we've left you with actionable takeaways you can apply to your presentations today.
How to Make a Business Presentation
1. Make a plan
Things won't go according to plan if you don't even have a plan in the first place. Before building your slide deck, create an outline that includes the main points and pieces of evidence you want to get across.
This outline will act as your anchor while you build a slide deck and give your presentation, pointing you toward the key arguments you know you need to touch on.
I like to start with the bare bones: introductory remarks, the three points I hope my audience remembers from my talk, and concluding remarks. Then, I add sub-points to each of those three points that comprise the meat of my presentation.
These bullet points become helpful later, too, when I'm putting together my slides. They show me how much material I have on each takeaway, which allows me to split my content into the appropriate number of slides.
A well-delivered, memorable introduction and conclusion are essential ingredients of a presentation. Don't overlook them in your outline.
Even a couple of quick bullet points on exactly what you plan to cover in each will help you set an engaging, confident tone at the start and wrap up in a way that helps your material stick in your audience's mind.
2. Choose a slide deck
Select a slide deck that matches the tone of your presentation. There are three primary factors that can influence your deck style:
The formality of your workplace. A good litmus test is your company's dress code. For example, if you wear business formal attire to work, stick with a slide deck with neutral colors like navy, white, grey, and black, and keep your fonts sharp. If your workplace is more casual or prizes creativity over ceremony, consider a more colorful deck, but keep it to two to three complementary colors to avoid creating slides that are too busy.If you're looking for a slide deck that's creative but not overwhelming, consider something like this (you can download this slide deck template for free here):
The content you're presenting. Serious research and financial data, for example, are suited for more professional decks. Informal recaps, brainstorms, and planning sessions may give you more bandwidth to use brighter colors.Here's an example of a slide that would be well-suited for data:
Download the Slide Deck Template for Free
Your personal brand. If you're known at work for your sense of humor or your GIF reaction time on Slack, you'll be able to get away with a more friendly font and colorful template. If you lean into professionalism and want to express rigor in your analysis or ideas, select a deck with few distractions — keep the colors neutral.
We had our designers here put together a set of free business presentation templates that you can start using today.
3. Lead with a story and a laugh
One of the reasons it's so easy to get wrapped up in TED Talks for hours on end is that nearly every presenter begins with a compelling story.
Whether it's the harrowing tale of a near-death experience or a heartwarming recap of the speaker's daughter's first day of preschool, a great story engages the audience's attention. It should also allow the speaker to build a personal connection with listeners and serve as a memorable cornerstone of the presentation.
When possible, begin your presentations with a story. The key, once you've shared your story, is to succinctly tie its main point back to the focus of your presentation.
Don't feel you must tell a story that's groundbreaking or unique — in fact, relatable stories will be most effective at breaking through to your audience.
For example, a marketing director at HubSpot recently began a presentation about her team's redesign project by sharing a personal anecdote about her struggles clearing weeds in her garden.
Finally, add humor where it feels natural. Getting a laugh out of your audience within the first minute will put them at ease and set a positive tone for the information they're about to take in.
4. Add verbal signposts
One of the best pieces of presentation advice I've ever gotten came from a college professor who believed our brains needed what he called "signposts": verbal cues that could stick in an audience's mind even as the details slipped away.
He challenged us to distill our presentations down to three key takeaways and come up with one-to-three-word phrases that represented each point. Then, we were to reference those three cues or signposts in our introduction — just before diving into their details — and once again at the end.
If there were slides involved, he also had us select a simple image for each signpost that would be repeated throughout the deck.
Here's an example: if you were giving a presentation pitching a website redesign, you might talk about all of the benefits a redesign would bring. Your website would be more visually consistent with your brand, the user experience would vastly improve, and you'd improve loading time to boost your search rankings.
The signposts for this presentation might be:
Brand Consistency
Improved UX
Load Time
Even if the audience forgot the mechanics of how each of these areas would improve with the redesign, they would walk away with three easy-to-remember phrases that summarized the value of your proposed project.
Since taking that professor's class, I've watched and created presentations completely differently. I always look for a speaker's signposts and incorporate my own into every presentation I build. Signposts help me retain more material and communicate my points more directly.
5. Rely on images and charts rather than text and tables
Humans process images faster than text. And, as a speaker, it's a disconcerting experience to see your audience squinting their eyes as they try to make out a hundred tiny words or numbers on your slides, scribbling down as much information as they can before you skip to the next section.
To avoid this issue, rely on images whenever possible. Keep the attention on you, the expert, by selecting an image or two to drive home your point. Don't try to squeeze all of your information on a single slide.
6. Incorporate audience interaction
We all dread sitting through boring presentations. And no matter how experienced a speaker you are, there's inevitably going to be a low-energy point of your talk during your first dry run.
To keep the energy up, add in a quick moment of audience interaction. There are many different ways to re-engage listeners with participation:
Quiz them and have them raise their hands to vote on options.
Ask a question.
Have them turn to a neighbor and share one reaction to what they just heard.
Have people stand up momentarily if they agree with a given statement.
Movement will engage attention in a new way and refresh the energy of the room, carrying you through to the end of the presentation.
7. Hold a couple of non-essential data points until the Q&A at the end
You will always want to use adequate data to make a business case and provide a meaningful, truthful presentation. However, it's okay if you're not able to fit every detail into your presentation.
In fact, if you intend to hold a question and answer session at the end of the presentation, leaving a couple of interesting but non-essential data points out during the presentation can give you impressive material to work with during the Q&A.
Anticipate several questions you're likely to get or have a colleague watch a practice run-through and come up with three questions for you. Then, choose a couple of pieces of evidence not included on the slides themselves and have them in your mental back pocket to support your answers.
Data always speaks more loudly than statements that don't have a specific piece of evidence behind them. Remember, you're an expert on your presentation topic — and additional, specific points can only help you when it comes to demonstrating your expertise.