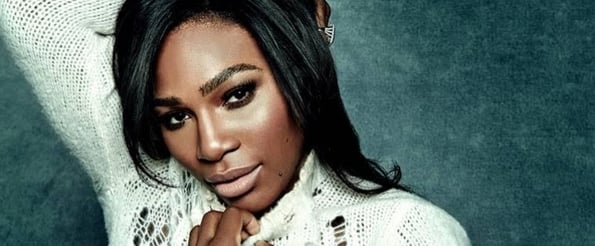 Did you see Serena Williams in her opening Olympic match a few nights ago against France's Alize Cornet? Holy smokes. I got tired just watching the first overtime set, which lasted a whopping 77 minutes.
Even as a spectator who knows only the basics about tennis (a.k.a. I'm terrible and my baby brother could school me when he was 14), I was glued to the television in a trance, tracing the ball back and forth, back and forth. So when I found out Serena Williams was speaking at INBOUND, I was stoked to hear from someone who's such a legend in her profession.
Fresh off her seventh Wimbledon win (not to mention an appearance in Beyoncé's "Sorry" video), Williams is one of the world's greatest athletes and a fashion and pop culture icon. She has 22 Grand Slam titles, over a dozen magazine covers, and millions of social media followers to her name. We're thrilled to have her coming to INBOUND to share the remarkable story of her success on the court and beyond. Here's a few lessons the sales world can learn from this all-time great.
1) Simply put, you've got to work hard.
When Williams was growing up in Compton, California, her dad began coaching her and her sister in tennis when she was just three years old. Since then, Williams has become the world's number one in tennis and logged thousands and thousands of hours practicing.
During the 2015 season, Williams aced a whopping 352 serves in 38 matches. An ace occurs when a serve is never returned. That means she earns nearly 10 points per match purely off her serve, which she consistently hits at more than 120 miles per hour.
She's able to do that because of the daily grind she's put in since she was three -- time spent on perfecting her serve, strength training, agility drills, and hours more of hard work that goes unnoticed to novice tennis spectators like myself. Those are both aspects of the game in her control that she's perfected through hard work. As Williams herself says: "Everyone's dream can come true if you just stick to it and work hard."
2) Champions are willing to take risks.
In July 2010, Williams accidentally stepped on a piece of glass. She experienced a life-threatening hematoma and later a pulmonary embolism as a result, took nearly a year off from tennis, and saw her ranking sink to 175. She then lost her first ever opening round in the 2012 French Open.
Instead of giving up, she shook things up and hired a new coach -- Patrick Mouratoglou. Since Mouratoglou has become involved in her career, she's won six Grand Slam titles. On Mouratoglou's website, it lists that he and Williams' ultimate goal is to break the 22 Grand Slam title record to make sporting history -- talk about risk takers.
3) Failure is a temporary state.
The Associated Press quotes Williams saying:
"[Failure is] the biggest factor for me. Like, if I lose, all hell breaks loose, literally. Literally! I go home, I practice harder, I do more. I don't like to lose. I hate losing more than I love winning. It could be a game of cards -- I don't like it. I really don't like it."
Our biggest growth happens outside of our comfort zones, where things are frustrating, messy, and maybe awkward. Failure doesn't define champions; it's temporary.
4) Don't fear the competition.
In an interview with ESPN, Williams said, "It's easy to go out there and say, 'I want to win,' then try to win. But you have to win seven matches. You have to win each match, you have to win each set, you have to win each point."
Every tennis match is made up of two to three sets. To win a set, you must win at least six games. To win a game, you have to win four points. That means you have to win a lot of individual points, and if you're fearful of the competition, you're going to get beat over and over.
5) You can't be successful on luck alone.
With regards to her incredible success, Serena is famously quoted as saying: "Luck has nothing to do with it, because I have spent many, many hours, countless hours, on the court working for my one moment in time, not knowing when it would come."
In sports, in sales, and in life, luck can only take you so far. The rest takes hard work and preparation.