Spend most of your time selling to small- and medium-sized businesses (SMBs)? Want to fine-tune your sales strategy to focus more on SMB customers? You're in the right place.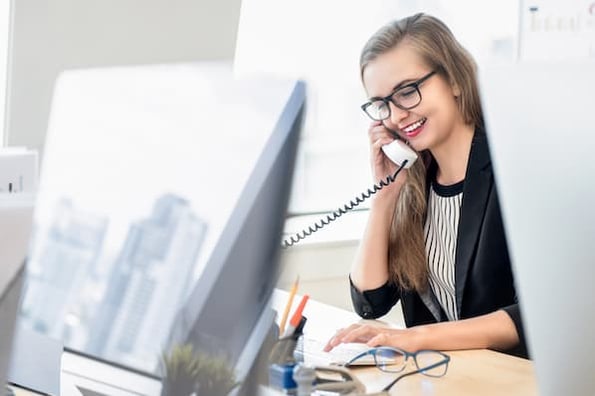 We're sharing proven sales techniques that will help you reach out and engage SMB businesses effectively. Which one will work for your reps?
What is SMB sales?
SMB stands for small- and medium-sized business. 'SMB sales' refers to salespeople selling products or services to small- and medium-sized businesses. These businesses usually have fewer than 500 employees and are often startups, local businesses, or small firms. SMBs usually have shorter sales cycles and cost less for salespeople to close than enterprise business, because these companies are more agile and have less bureaucracy.
Before we delve into how you can sell to SMBs, it's worth taking some time to define SMB sales, and talk about why SMB sales is important.
Simply put, SMB sales is the act of selling to SMBs. These businesses usually have 500 employees or less; some may be startups, and others might be small firms that have been around for quite some time now.
Why should you bother selling to SMBs?
Now, many businesses choose to ignore SMBs, and set their sights on closing larger customers, such as enterprise companies.
Intuitively speaking, you can see how this might work out well for you. Enterprise firms tend to have bigger budgets and more purchasing power. And at the end of the day, that's all it boils down to, isn't it?
Well, not quite. There are plenty of disadvantages of selling to enterprise firms, and advantages of selling to SMBs. For instance:
SMBs have less red tape, which results in shorter sales cycles.
It's easier to get in touch with key decision makers when you target SMB companies. In 74% of SMBs, the business owner researches new products or services themselves.

You can easily generate prospects and/or leads when selling to SMBs. According to a report by Deloitte, there are around 29 million SMBs in the US alone. This represents 99.7% of all US businesses and almost half of total private sector employment.
Also, keep in mind that SMBs don't always remain SMBs.
An SMB today might grow and evolve into a multi-million dollar company in a few years down the road. If you've captured this company as a customer early on, and you successfully retain them, this means you'll rake in the dough for years to come.
4 Sales techniques for selling to SMB customers
Now that you know why it's worthwhile to sell to SMB customers, we'll walk you through four tried-and-tested sales techniques that you can use to do just that.
1. Make sure you qualify properly
When you qualify your leads, you're determining whether a lead fits into your ideal customer profile and assessing their likelihood of converting into a paying customer.
Lead qualification is important regardless of which customer segments you're targeting, but it's especially important when you're reaching out to SMBs.
Obviously, you wouldn't want to reach out to an SMB that:
Just registered their business last week
Hasn't determined their business model
Has $0 in funding
You'll want to qualify your leads, to make sure you don't waste your time on chasing down leads who aren't a good fit.
How do you do this? Simple -- create a lead scoring model that allows you to assign scores to incoming leads using firmographics and other data.
With this model, your sales reps will be able to prioritize hot leads (who are more likely to convert) over cold leads (who aren't ready to buy). This, in turn, leads to higher closing rates and more wins for your sales team.
2. Understand your customer's mindset
If this is your first time selling to SMB customers, take some time to get to know your customers, and understand their mindset.
Once you have a thorough understanding of their underlying needs, wants and challenges, this makes it that much easier for you to build rapport with your customer, and eventually close the sale.
For instance, SMB businesses tend to be more concerned about cash flow than some other, bigger businesses.
To work around this, you might bring up your company's flexible payment options, and discuss how SMB businesses can use your product/service to generate revenue for their company within a short span of time.
3. Don't throw too much jargon at your customer
Picture this: you're a business owner who's new to PPC advertising. You reach out to a marketing agency because you want to get started with running Google Ads, and here's what they say to you…
"Yep, we can help you get started, no worries! We're experienced in all sorts of bidding, including Target CPA and Target ROAS. Actually, let's go ahead and run some A/B tests to figure out what works best for your account -- we might start off with relatively high CPAs in the first month or so, but we can definitely increase your CTR to push down your CPA in the long run."
Would you feel confused, intimidated, and out of your depth?
Yes, yes, and yes.
The bottom line? SMB businesses don't have as many tools, resources, and expertise as larger companies. When you're pitching to these businesses, make sure you speak simply and with clarity, and don't confuse your customer with too much jargon.
4. Set your customers' minds at ease
Generally speaking, SMBs are more risk averse because many are bootstrapped, and these folks must make every dollar count.
Bearing this in mind, do all you can to set your customers' minds at ease, and reduce the friction associated with them becoming a paying customer.
Here are some things that you could do:
Offer a free trial
Offer a money-back guarantee
Offer monthly payments instead of yearly contracts
Feature plenty of testimonials and case studies on your website for social proof
Which of these strategies will improve your sales playbook next quarter? Pick up a list of habits to drop with these stupid sales tactics to abandon in 2020.