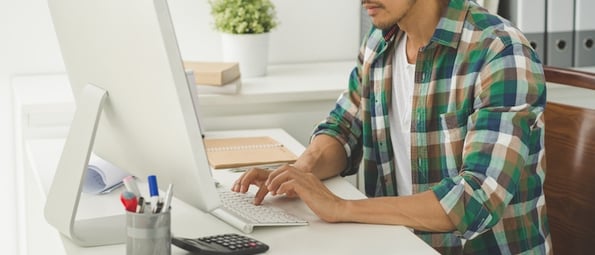 Editor's note: This post originally appeared on HubSpot's Marketing Blog. For more content like this, subscribe to Marketing.
Salespeople typically send and receive hundreds of emails a week. Often, those emails are sent to people you don't really know that well -- or don't know at all.
But how do you send cold emails without being seen as spammy and actually get results?
I've identified five elements of the perfect cold email, as well as expert examples to go along with each one. Ready to see them in action? Keep reading.
5 Cold Email Elements Used By The Pros
1) Relevance
I recently received an email from BackLinko's Brian Dean.
The pitch was simple. Aware that I had both shared and professed my admiration for his link strategy, The Skyscraper Technique, Dean thought it would be worthwhile to let me know that he had a new, related case study coming out.
Here's the exact script:
What I love about this outreach email from Brian is that it is relevant.
He phrases it as though he's just giving me a heads up. The article isn't even live yet and he's asking permission to send it to me when it's done.
He notes that I'm a fan of the strategy because he's seen me comment on the post and share it, and offers to let me be one of the first to see it.
In short: Everything adds up. Needless to say, I agreed to see the post when it was launched and ended up sharing that too.
Takeaway: Think about how your pitch relates to something relevant to the blogger or business. For example, mention an article they wrote, a recent social media share/comment, or a project they are working on.
2) Timing
Many people undervalue the benefits of an aptly timed pitch. This is because timing is very difficult to scale, and you can't force it whenever you want. Some opportunities just present themselves at the perfect time, and if you can capitalize on them, it will greatly increase your chances of success.
For example, I was recently browsing Product Hunt and came across Noah Kagan's new course, Traffic1m. After taking a look at the website, I instantly knew it was something I wanted to be a part of. They had 16 featured experts ... but no one was talking about influencer marketing. I wondered: Did they have room for one more?
So I shot them an email that looked like this:
There aren't a heck of a lot of words in this pitch, but in essence, it says everything it needs to say.
They're gearing up to launching this course. They want to make it as epic as possible. They're looking for experts. And here I am, presenting myself and our tool as something that could add benefit to their course.
Perfect timing.
A couple of back and forth conversations ensued, and I earned my spot as lucky #17. My write up was sent out to thousands of people on their email list and produced great exposure for us.
Takeaway: Think about how to relate your pitch to something that is top of mind to the recipient. Are they working on a new case study, or did they recently launch something? If you can tie your pitch into that, they will take it more seriously.
3) Creativity
I recently read an article by VideoFruit's Brian Harris that shared one of the simplest and most creative strategies for outreach I've read this year. The process is so simple it's easy to be overlooked, and everyone I've mentioned it to thus far has said, "I've got to try that."
Here's what you do:
Subscribe to the newsletter for the person/company you want to connect with.
Reply to the first email they send.
That's it.
Here's an example of Harris using it in action with Neil Patel from QuickSprout:
By responding to the newsletter, Harris is showing that he is a "true fan" of Patel and his work. Most marketers cater to their newsletter subscribers first and foremost, and the fact that the email is sent as a reply provides a subtle distinction that makes it feel less like cold outreach, and more like a conversation.
As a result of this conversation, Brian was able to secure video production work for KissMetrics.
Takeaway: In order to stand out from the hundreds of emails people receive weekly, you have to be creative. What's one channel that you can go through that most people are overlooking?
4) Credibility
When your pitch asks someone to expose their audience to your brand, you want to make sure you build in a lot of social proof. This is particularly important if you're looking for:
A guest post
A product review
An affiliate relationship
Or anything else that effectively turns the recipient into a carrier of your message and brand.
An example of this being done well is Alex Turnbull from Groove's pitch to Buffer for a guest post:
Can you see how Turnbull builds credibility into his pitch?
Firstly, he mentions that they have 7K subscribers. This is no small number and proves that they have a strong brand.
Secondly, he references the guest posts he did on KissMetrics and Shopify -- two well-respected brands.
Finally, he builds in additional credibility for the post itself by citing the 300% increase they received as part of this case study.
Above all, I like that it doesn't come across as bragging, but is mentioned in a very subtle fashion. If you aren't paying attention, you'd almost miss it entirely.
This outreach resulted in a guest post on Buffer's blog that sent them droves of traffic and sign-ups.
Takeaway: If you're asking someone to take a chance on you and your brand, build credibility by referencing your following as well as additional brands you've worked with.
5) Personalization
Of all the five elements, I imagine personalization is the one you could have guessed. After all, every outreach script you've seen so far has some degree of personalization -- some more than others.
But in this case I wanted to highlight an email that really does it right, which is from Gregory Ciotti of SparringMind to well-known entrepreneur, Derek Sivers.
Sivers has got to be one of the busiest people around, but this personalized email got his attention.
Can you see it?
It's beyond just relating to the fact that Sivers is a musician, and that Ciotti is acquainted with CDBaby. It's beyond the fact that he referenced Siver's philosophy on customer engagement. It's that he wrote an article entirely dedicated to it. This article was meant for Sivers, meaning that the outreach was planned before the article was even written.
That's personalization.
As a result, Sivers shared the post and it took off with zero additional outreach to thousands of visitors.
Takeaway: Just because you hear a lot about personalization, does not mean that it should be viewed as cliche. Take it seriously and you can dramatically reduce your outreach efforts by focusing on some key prospects.
Sending Your Own Cold Emails
It's unlikely that every email you send out is going to check the box on each of these five elements. Even the above examples don't.
Regardless, if you can keep these five elements in mind, you'll likely find more opportunities than you realize to improve your outreach scripts and inevitably your results.
What else makes for a good outreach script? Share your thoughts in the comments section below.