Ahh, the end of the month is here.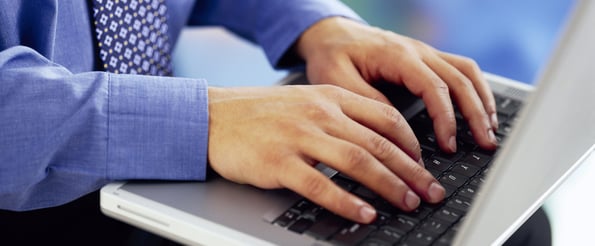 It's a unique time for sales reps because some have already hit their quota, while others are still coming across the "finish line" so to speak. For some reps, the final few days of every month are spent reaching out to new buyers and following up with prospects in their pipeline in hopes of closing a few more deals before the clock strikes midnight.
But while it is important to establish new relationships with prospects, reps can sometimes forget to send end-of-month follow-up emails to the most important people in their inbox: the customers who have already purchased their product.
The rep-customer relationship is built on steady flow of communication, and the end of the month is a great chance to reach out and touch base with customers. These are the people who have already committed to you and your product; it's important you say hello frequently, because they hold the keys to new business.
Texas Tech University found that 83% of consumers are comfortable making a referral after a positive experience. If you have 100 customers, imagine 83 of those people referring you to someone new because you took some time to reach out at the end of every month. And that's a big deal, because prospects are four times more likely to buy when referred by a friend, according to Nielsen.
But it doesn't stop there: those referred customers' lifetime value is 16% higher than non-referred customers. See what I'm getting at?
Staying in touch every month can be critical for a rep's long-term success. With this in mind, we've assembled a few email templates for you to use to check in with customers at the end of every month, depending on how the past 30 days went. These quick messages will show you care and that you value the person's business.
we did it!
Hey [customer name],
As the month wraps up, I wanted to send you a note and say great job. I've been following along with your company closely this last month, and it looks like you guys have continued to excel and put [product name] to good use.
It's always a treat seeing our customers and friends dominate their market, and we're pumped for another month of hard work. If there's anything you need from me, just send me a note.
Again, congrats!
All the best,
Mike
Hey [customer name],
So the last month went well. You adjusted to our product, and it looks like you have the basics down. Now I want to really put our foot on the gas and get to work. I noticed a few areas where I really think you and your team could dominate:
I think these are really unique opportunities that could help the business soar. As next month gets going, we should hop on the phone and talk about these ideas. Let me know when you have a second so we can chat.
Let's make it a huge month!
Best,
Mike
Hey [customer name],
I always love seeing our customers gain the knowledge they need to be successful with our product. I know you had a few support calls this month, and some might have been frustrating, but I just wanted to let you know we're in this together.
We talked at length about how our product can help take your business to the next level. If there are mistakes on our end, we'll fix them. If we can do something to make it easier for you, we'll look into it.
Let's take this last month as a chance to learn and improve. Together, we can really do some great things. If you ever need help with something, just give me a shout.
All the best,
Mike
plans on Monday?
Hey [customer name],
Wow, that month flew by. I'm sure you were busy. I know I was, so I wanted to send you a note to see if we could connect this week or next week. With the new month here, I think it's a good opportunity for you to give some feedback and chat about how everything is going.
I think it's important we do this and just get back on the same page. Shoot me some times that work for you, and we'll make a calendar invite.
Talk to you soon,
Mike

Building a relationship with your customer continues to be the foundation for success in sales. At the end of every month, simply reaching out and showing your support can go a long way in that effort.
Do you send end-of-month emails to customers? If so, what impact do they have?