After a long day at the office, Netflix is usually more appealing than cracking open a sales book or streaming a sales training video on YouTube.


Fortunately, there's a simpler way to learn new sales techniques without having to set aside extra time in your day -- through podcasts.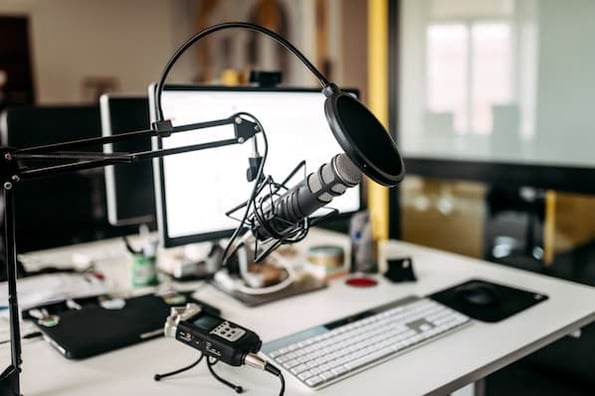 The next time you're walking the dog, commuting, exercising, cleaning, or doing any other task that doesn't require mental energy, pop in your earbuds, press "Play," and learn from sales leaders and experts.
Top Sales Podcasts
Conversations with Women in Sales
Your Sales MBA Podcast
B2B Growth Show
The Advanced Selling Podcast
Women in Tech Podcast
Sales Gravy
The Salesman Podcast
Sales Success Stories
In the Arena
The Ziglar Show -- Inspiring Your True Performance
The Sales Evangelist
Bowery Capital Startup Sales Podcast
Accelerate!
Get in the Door: Sales Prospecting Strategies & Tactics
The Sales Babble Podcast
The Art of Charm
Sell or Die
Sales Pipeline Radio
Make It Happen Mondays -- B2B Sales with John Barrows
The Sales Podcast
SaaStr
Conquer Local Podcast
The Failure Factor
The Sales Hacker Podcast
Dedicated to becoming the best resource in the world for female sales professionals, Barb Giamanco's podcast is a platform for female sales leaders to share their stories. Episodes highlight leadership, career management, overcoming adversity, and more -- all featuring female executives you need to hear from.
Notable Episodes:
Looking for a podcast with actionable advice? Look no further. Aparo and Hoffman produce weekly shows that dive into how to craft the perfect pitch, maneuver tire-kicking, and close deals faster -- a perfect listen for the rep who's actively selling and looking to scale their skill set.
Notable Episodes
This daily podcast is geared toward helping B2B sales executives achieve growth. Learn about sales team management, creative business development strategies, time-saving sales tools, B2B strategic partnerships, aligning sales with marketing, effective prospecting, negotiation techniques, and more.
Notable Episodes:
This podcast focuses on tactical tips and techniques you can implement immediately. One week, Caskey and Neale discuss lead generation; the next, they talk about communicating value or resolving objections about price.
You can get even more out of this podcast by downloading its app, which'll give you access to bonus content and the ability to ask the hosts questions. Listeners can also join the LinkedIn group for the opportunity to connect with other sales professionals and swap advice.
Notable Episodes:
How Not to Annoy Your Prospects: In this episode, Caskey and Neale interview the head of a digital agency to learn buyers' biggest pet peeves.
Commission Detachment: While money is always a powerful incentive in sales, reps must also genuinely want to help prospects. This episode covers techniques for balancing your motivations.
5. Women in Tech Podcast
Hosts: Espree Devora is producer of "The Girl who Gets it Done," host of "WeAreLaTech.fm," "Uniting LA Startups," and, of course, "WomeninTech.fm."
Length: 20-60 minutes
Get inspired by just a few of the top female executives in tech. You'll get tips on how to excel in your career, promote diversity and inclusion in the workplace, empower yourself as an independent business owner, and more.
Notable Episodes:
Excited about the idea of podcasts, but not sure when you'd have the time to actually listen to them? Try the Sales Gravy podcast. Most of its episodes are around five minutes, so you can easily fit them into your schedule.
Blount consistently shares practical and inspiring advice on everything from overcoming your fear of rejection to doubling your callback rate.
Notable Episodes:
3 Steps New Sales Managers Should Take Now: Transitioning from an individual contributor to a team leader is challenging -- especially in the sales world. Discover the three things you should do when you first make the jump.
If you're eager to learn more about the role of influence, body language, and psychology in sales, subscribe to this almost-daily podcast. Sales professionals at all levels will find value in Barron's interviews. He has a knack for asking questions and letting his guests take center stage.
Along with sales leaders like Dave Kurlan and Trish Bertuzzi, you'll hear from former FBI agents, Stanford University professors, and startup CEOs. Barron's questions are designed to elicit tactical advice you can implement right away.
Notable Episodes:
This podcast features interviews with the top 1% of sales professionals. Scott uncovers everything about the best sales professionals, including their favorite sales books, habits, routines, and tips.

Scott not only continues to produce a continuous stream of interviews with top performers but has also built the Sales Success Community to help listeners connect with like-minded sales achievers.
Notable Episodes:
Host: Anthony Iannarino, entrepreneur, sales coach, and founder of The Sales Blog
Length: 20-50 minutes
On this podcast, sales expert Anthony Iannarino interviews well-known sales professionals from both B2B and B2C companies. The topics run the gamut from social selling and sales automation to balancing your priorities and eliminating excuses.
Every guest provides a fresh perspective on sales, making this show a great choice if you want to expand your knowledge.
Notable Episodes:
This top-ranked business podcast is focused on self-improvement. Each week, Ziglar and Miller spend roughly 30 minutes to an hour exploring new ways to improve your career.
Most of the episodes are inspired by Zig Ziglar's philosophy; however, they're not explicitly focused on sales topics. To give you an idea, past subjects have included positive peer pressure, meditation, and purposeful procrastination.
Notable Episodes:
Sell With a Story -- Paul Smith: If you want prospects to remember your points, Paul Smith (yes, the same Paul Smith from #6. recommends framing them in stories.
Enjoy tips and actionable wisdom from a B2B sales pro who knows how to hustle in this daily podcast. Sales trainer Donald Kelly interviews experts in sales, business, and marketing, so you can learn how to take your career up a notch.
Notable Episodes:
Rethinking the Way You Sell: Sales expert Jeff Bajorek talks salesperson-centric versus customer-centric selling, the power of connection, strategies for scaling, and more.
Host: Rotating hosts from the Bowery Capital team, an early-stage venture capital firm focusing on technology startups
Length: 25-45 minutes
Listen on: iTunes
This podcast focuses on the unique challenges of startup sales. However, its tips are applicable whether you're working at a young company or a large-scale enterprise. Previous episodes have delved into subjects like writing emails that convert, perfecting your sales script, and balancing personalization with automation.
Like what you hear? Bowery Capital has been producing this show since 2014, so there's a lot in the archives.
Notable Episodes:
Six times a week, Paul interviews sales giants like Jeffrey Gitomer, Robert Cialdini, and Jill Konrath. You'll learn strategic insights to generate value for your customers and advance your career.
Notable Episodes:
What Do Buyers Want From Sellers: Deb Calvert, president of People First Productivity Solutions, breaks the code of how to tell what buyers really want from salespeople.
Get in the Door is a podcast that focuses exclusively on helping you connect with new accounts. During each episode, host Steve Kloyda interweaves practical suggestions with examples and stories taken from his own sales career. Kloyda believes strongly in serving the customer and thinking about the "why" behind your goals.
Notable Episodes:
Host: Pat Helmers, creator of Selling With Confidence
Length: 15-35 minutes
This show features selling tips for small and medium businesses and entrepreneurs. Helmers explains sales concepts in easy-to-understand, plain language.
The topics range from broad (prospecting, setting the right mindset, winning referrals. to specific (selling new or unproven products, pitching startups, selling to government institutions, and so on..
Notable Episodes:
If you can't form genuine connections with your prospects, you'll probably struggle. But all hope isn't lost if you're not naturally charismatic. Harbinger says he was lacking the social skills he needed to advance professionally -- so he decided to learn them. Now, he shares his insights with his podcast audience.
Each episode features several fresh, research-backed tips from guests like Simon Sinek, Nilofer Merchant, and David Burkus.
Notable Episodes:
Together, Gitomer and Gluckow have created a podcast that centers around the art and science of selling.
They invite leaders in sales, marketing, and personal development to join the conversation on each episode leading to lively discussions on dealing with rejection, artificial intelligence in sales, and more.
Notable Episodes:
The Toughest Sale: Gitomer interviews insurance industry expert Mark Steinberg as they discuss the toughest sales in their careers.
Host: Matt Heinz, president of Heinz Marketing
Length: 22-30 minutes
Have you caught the latest wave in sales growth? Industry favorite Matt Heinz is here to help. Each episode features an expert in B2B sales or marketing.
Learn about driving greater volume, velocity and conversion of sales pipelines, from demand gen to lead management and more. The goal? To help you find, manage, and win more business.
Notable Episodes:
Host: John Barrows, founder of JBarrows Sales Training
Length: 30 minutes
Listen on: iTunes
This sales podcast is recorded live on Facebook every Monday and covers everything in the sales cycle from calling to closing, along with career growth and success topics. Each episode features actionable takeaways and anecdotes from John's career.
Notable Episodes:
Host Wes Schaeffer answers questions about growing your sales, inbound selling, and the entrepreneurial mindset. Looking for a straightfoward, practical take on sales? This is your podcast.
Notable Episodes:
Michelle Weinstein is the Pitch Queen: Shark Tank veteran Michelle Weinstein shares her tips on adding value on top of value, anticipating and addressing objections in your pitch, and her secrets for practicing.
Hear weekly interviews of the most prominent operators and investors on how to attain success in the world of SaaS. You'll learn how to get from $0 to $100m ARR, how to scale, and how to hire. Sales, investing, and entrepreneurial tips meld effortlessly in this industry-favorite podcast.
Notable Episodes:
If selling to local businesses is your game, this weekly podcast is chock-full of tips and strategies that make it easier. In each episode, George Leith interviews sales leaders and talks about his own 30 years of experience in the industry.
Notable Episodes:
Rank Fishkin: Startup struggles & sales strategies: In this episode, George sits down with Rand Fishkin to talk about his experience growing Moz, and what he learned as an entrepreneur and CEO. Plus, Fishkin has a ton of valuable advice to improve your sales strategies.
Hosts: Megan Bruneau, therapist, executive coach, and Forbes contributor
Length: Approximately one hour
For salespeople, fear might look like worrying that if miss your quota again, you'll lose your job. Fear is part of a salesperson's career, and therapist Megan Bruneau has strategies to help you do more than cope with it. She shares how listeners can capitalize off their failures to achieve fulfillment and success.
Notable Episodes:
24. The Sales Hacker Podcast
Producer/Host: Sam Jacobs
Length: Approximately 50 minutes
Listen on: iTunes | Stitcher | website

The Sales Hacker Podcast is carefully designed to give you tangible, practical insights about B2B sales. Every Tuesday, top VPs of Sales, investors, and founders will gather 'round the sales roundtable to break down sales strategies, make you think, and help you deliver a gut punch to your sales goals!

They also have a shorter Friday Fundamentals episode each week. Learn actionable selling techniques, tips, and brush up on important basic processes every Friday with Sam and his guests.

Notable episodes:

Roughly one in five U.S. adults say they're monthly podcast listeners. If you're not already one of them, the shows on this list might convert you. For more sales resources, listen to our playlist of motivational songs next.