When identifying qualified leads, building relationships with potential buyers, guiding customers through the buyer's journey, and closing deals, every bit of information about your prospects helps. However, sales reps don't always have the time or resources to collect all of that information.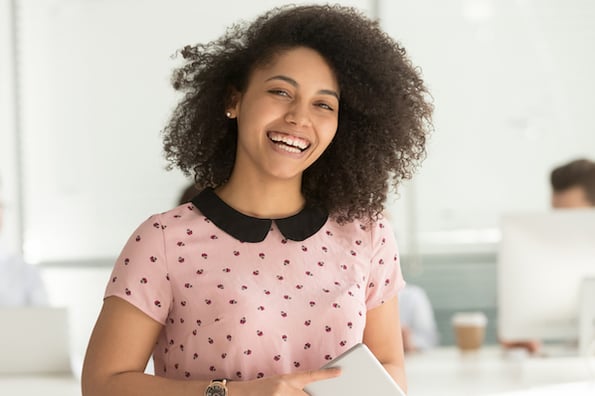 One way to make this process faster and easier is with the help of sales intelligence. In this blog post, we'll talk about what sales intelligence is and offer examples of some helpful tools you can turn to for support.
What is sales intelligence?
Sales intelligence is the process of collecting and applying in-depth insights and data about your prospects and customers — typically with the help of sales intelligence technology — to increase conversions and close more deals.
The main goal of sales intelligence is to help you better understand your prospects and customers.
Where does sales intelligence come from? Well, your sales intelligence data may surface after reviewing...
Why your current customers converted.
The intent of your prospects and customers throughout the buyer's journey.
The behaviors of your customers throughout the buyer's journey.
The specific needs and challenges your buyer personas and customers face.
The unique characteristics of your buyer personas and target audience.
The level of satisfaction and loyalty your customers feel toward your brand after a deal is finalized.
Since sales intelligence is meant to tell you about your prospects and customers, the data you obtain is going to be unique to your business. However, here are all-encompassing criteria to keep in mind when thinking about the various facets of your sales intelligence such as goals, strategy, data points, tools, and application.
Sales Intelligence Criteria
Use a variety of sources when collecting sales intelligence data.
Rely on sales intelligence tools to collect data in different ways.
Organize your sales intelligence data.
Ensure you're gaining insights in real-time.
1. Use a variety of sources when collecting sales intelligence data.
Most sales organizations are familiar with intent and engagement data. For instance, a rep may look at a lead's activity log to understand which web pages they visited on your website or review the actions they took while on your website/ after they opened your email.
Although these sales intelligence sources are helpful for any business looking to gain a better understanding of their prospects and customers, there's a lot of other useful information available.
For instance, there are many buying signals that offer valuable insight into who your prospects are, what they need, and more — check out the following examples:
2. Rely on sales intelligence tools to collect data in different ways.
Depending on the software or tool you choose to implement on your team (we'll review options shortly), there are different ways of gathering your data.
Here are a few examples of how sales intelligence tools can help you collect data in different ways:
Crawl websites and social networks to identify key events that may indicate buying interest from certain prospects.
Analyze the content consumption patterns of people on certain websites.
Use cookie data.
Determine when a prospect is showing heightened interest in a certain topic or product category with a sales intelligence tool's algorithms.
When you gather data in more than one way — and look to more than one source when gathering that data— your team will be able to surface more prospects who are likely to be receptive to your outreach.
3. Organize your sales intelligence data.
To drive meaningful actions, sales intelligence should be organized in your sales engagement and/or CRM platforms. There's value in having a single sales platform that can automate communication, manage contacts, prioritize activities, capture and distill data, surface insights, publish reports, and more.
This will also help inform your team's other strategies and decisions by offering more context and support around the status of your sales intelligence success.
4. Ensure you're gaining insights in real-time.
For sales intelligence to be useful, the information needs to timely. Meaning, you should be collecting data in real-time. Otherwise, you might just miss your opportunity to contact a prospect, reach out with relevant information, or update a strategy that needs improvement.
For instance, sales intelligence data that's collected via social media buying signals usually require timely actions from reps. So, by integrating intent-based insights from social networks (and pairing them with contact data in your CRM), reps can take action right away to increase chances of effectively reaching and converting prospects.
Next, let's review five options for tools that will help you with your sales intelligence strategy.
Sales Intelligence Tools
Here are seven examples of powerful sales intelligence tools.
HubSpot Sales Hub is a sales CRM with analytics, engagement, and configure-price-quote (CPQ) tools.
HubSpot's all-in-one nature makes it highly-valuable for users. That's because it eliminates friction, which is a natural result of growth. By supercharging your sales process with efficiency, precision, and expertise, Sales Hub combats this issue for you.
Sales Hub will also support your sales process and intelligence strategy by:
Automating the sales process using the information obtained from your sales intelligence data so reps are able to more effectively connect with prospects.
Giving you total visibility into sales intelligence data with in-depth analytics and reporting.
Streamlining and personalizing outreach.
Closing more deals faster with the support of CPQ.
Image Source
Clearbit is a B2B intelligence tool that gives sales teams access to clean and precise datasets across millions of companies. With the power of AI, Clearbit allows go-to-market teams to track buying signals across the web, identify high-fit leads, and seamlessly convert intent into pipeline.
With Clearbit, you can quickly identify when new leads are showing intent and trigger an alert for your sales team, enabling your business to focus on the highest-quality leads. You can also connect with key decision makers across your accounts to ensure you're reaching your best conversion opportunities with the right action at the right time.
Plus, Clearbit fits right in with your tech stack by offering integrations for your existing customer data platforms.
Exciting news: HubSpot has entered into an agreement to acquire Clearbit. Learn more about the agreement here.
6Sense is an account management and sales intelligence platform. The tool helps you identify your most valuable accounts by uncovering insights about your customers. With this sales intelligence data, reps will be able to reach out to interact with prospects and customers at the right time. Not only that, but they'll be able to do so with an effective message that makes them more likely to convert.
With 6Sense sales intelligence data, your sales team will have the ability to understand where customers are in the buyer's journey, how they've interacted with your brand in the past (and how they like to engage with your brand), and which actions they should take in order to increase the likelihood of prospects converting. Additionally, you can view and access all of your sales intelligence data directly from your CRM.
Owler Max by Meltwater is a competitive intelligence and sales intelligence platform that provides real-time data, news, and insights about companies worldwide. They offer a variety of features and tools to help businesses stay informed about their competitors, industry trends, and market dynamics that are also very helpful for sales prospecting.
The software makes it easy to find competitors, leads, and up-to-date news. Owler, a Meltwater offering, collects information from diverse sources, including news articles, press releases, company websites, and social media, and presents it in a comprehensive and easily digestible format.
Some key features of Owler include Company Profiles, News and Alerts, Competitive Insights, Community Participation, Data Export and Integration. Sales teams use Owler for prospecting and lead generation, competitive analysis, sales triggers and alerts, account research and personalization, and collaboration.
Owler offers integration options with customer relationship management (CRM) systems and sales tools. This allows sales teams to seamlessly incorporate Owler's data and insights into their existing sales workflows, ensuring a more efficient and streamlined sales process.
Demandbase Sales Intelligence Cloud puts real-time Account Intelligence into sellers' daily workflow — inside Microsoft Dynamics 365, Salesforce, or your browser. Company firmographics, contact data, technology profiles, and connections point you to the best accounts to target and help you connect with the people on the buying committee.
News, social insights, and intent data help you understand what matters to them and where they are in the buying journey, so you can engage at the right time with a message that will be relevant and welcome. Bottom line: having all this intelligence at your fingertips boosts productivity and gets you to President's Club faster.
LinkedIn Sales Navigator combines the powerful network for professionals with specific sales capabilities to make prospecting and engagement on the platform easy. It offers sales intelligence insight to improve your social selling strategy on the platform and increase your chances of connecting with highly-qualified leads.
This will allow you to target the right individuals and businesses, understand their specific needs and challenges, and then reach out with relevant and personalized content and information. You can also view all of your sales intelligence data and sales process information from your CRM with HubSpot's LinkedIn Sales Navigator integration.
Vainu is a real-time sales and marketing platform meant to help businesses and teams identify ideal customers and prospects and then effectively engage them. The tool specializes in sales intelligence, prospecting, and account insights.
With Vainu, your team will get actionable sales intelligence and account insights so reps can determine who the most ideal prospects and accounts are. From this intelligence data, Vainu encourages timely and relevant engagements and interactions with prospects to increase chances of conversion. You can also connect Vainu to your HubSpot CRM for easy access to contact information, sales process details, data, and more.
Sales intelligence is powerful — it gives insight into who your prospects are so you can more effectively reach and connect with them. So, determine how you'll gather you sales intelligence data and how you'll apply your findings to grow your base of customers and increase conversions.
Editor's note: This post was originally published in August 2017 and has been updated for comprehensiveness.