A lot of the tactics and responsibilities effective sales leaders need to understand and fulfill aren't exactly intuitive. They can be tough to nail and navigate — especially if you're just settling into your role.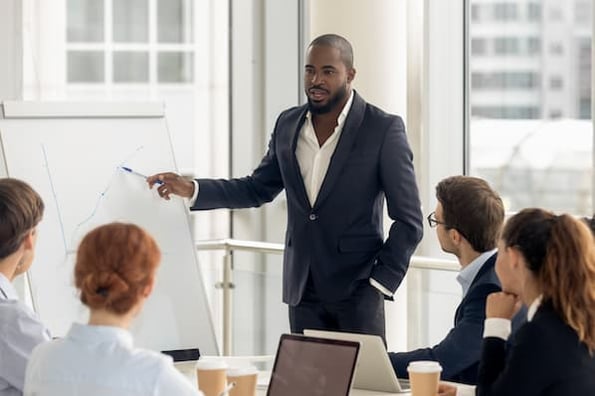 While there's no be-all-end-all playbook for effective sales leadership, there are some tricks and strategies you can employ early on to set yourself on the right track.
That said, resources that cover that kind of insight can be hard to find. That's why we asked some HubSpot managers to offer their perspective on how new sales leaders can get the most out of their first six months.
Here are the tips they came up with.
Things New Sales Leaders Should Do in Their First Six Months
Get to know your team, and set standards.
Assume positive intent, and try to get the same out of your team.
Don't be afraid to ask your peers for insight.
Develop an understanding of relevant data and what you'll be reporting.
Start to master the art of hiring.
Establish and commit to a pipeline.
1. Get to know your team, and set standards early on.
Sales leadership is a personal game. You need to get to know who you're managing — being too distant might undermine your ability to properly direct them.
Diarmuid Walsh, HubSpot Principal Sales Manager, said, "You need to get to know the team you manage, and make sure you start to build trust with them early on."
HubSpot Senior Director of Sales Ed Barret agreed — and also stressed the importance of making early inroads with your team.
He said, "For a sales leader to succeed, they need their team to be skilled, motivated, and clear on their objectives. That's why getting to know your team — understanding their strengths, and feeling out their weaknesses are critical to helping them (and you) succeed."
And once you establish that trust, you need to let your team know what you expect from them. Walsh advised that new sales leaders "set expectations early and begin to understand what they need to be more successful."
2. Assume positive intent, and try to get the same out of your team.
Encouraging positivity is also important for managers who want to keep morale high and build a sustainably constructive team culture. As Walsh put it, "It's always easy to blame someone for doing something that doesn't sit right with you. When that happens, you need to pause and ask yourself the question, 'Why have they done this?'"
He suggested that "new sales leaders should take an empathetic approach with their teams. Don't immediately assume the worst of an underperforming team member."
Walsh said that "[a rep that made a mistake is] doing their job, so you should give that person the benefit of doubt. Then, talk to them and resolve your issue. Negative energy does not help a team sell more!"
3. Don't be afraid to ask your peers and higher-ups for advice.
Being a sales leader doesn't mean you don't have room to grow and more lessons to learn. One key to being an effective sales leader is projecting authority that's tempered by humility — you also need to maintain a commitment to consistent personal improvement.
That often means asking for advice. Walsh said, "Don't be afraid to lean in and ask questions from your peers. Ideally, you'll be able to get aligned with a buddy manager who can help guide you as you grow into your role."
Your professional development doesn't end with your ascension to sales leadership. You can always be doing better — particularly in your first few months. Don't be reluctant to talk to your peers and superiors. Many will be happy to help and set you on the right course.
4. Develop an understanding of relevant data and what you'll be reporting.
Knowing how your success will be measured and the KPIs you need to focus on is central to thriving as a sales leader — and Barrett advised just as much.
He said, "Know your key funnel metrics. What's the lead-to-opp rate? What's the discovery-to-close rate? What's the demo-to-close rate? What's the sales cycle? What's your average deal size? With these figures in mind, you can plan your business and help your reps understand how they can improve theirs."
Going over reporting with your peers can also be central to nailing your first few months as a sales leader. As Walsh said, "Reporting is a key. If you have a buddy manager, work with them and sales operations to understand all necessary reports you'll be referencing. Data — like conversion rate and discount rate — is key to helping identify areas that can be improved."
He also suggested you work with your managers to better understand and approach reporting. He said, "Work with your boss, make sure you have a clear understanding of the metrics you're going to be measured on. And seek actionable feedback."
5. Start to master the art of hiring.
Your sales leadership skills will only go as far as your team can take them, so you have to surround yourself with the right kind of talent. That's why developing hiring skills is crucial to your success as a new sales manager.
As Walsh put it, "You'll need to understand and become an expert in hiring as quickly as possible. Hiring is key to success as a manager. A wrong hire can be very expensive in terms of time, effort, and money. So you have to believe in and understand the hiring process."
But how do you get there? What does it take to become an exemplary hirer? Well, as Walsh framed it, the necessary insight often comes from your peers. He said, "Pay close attention to your colleagues' feedback when they interview candidates for your team."
You also need to know your sales org and the qualities that define the reps that keep it running smoothly. He argued you need to "understand the skills and attributes that you want to hire for — as well as the questions you need to ask to uncover them."
Once you understand what you want out of a candidate, Walsh suggests "working closely with your recruitment consultant and giving clear instruction on the qualities you are seeking."
6. Establish and commit to a pipeline.
Salespeople need a framework to operate by. There has to be some established structure and progression reps can reference to understand how they're performing at any given time and how they should proceed when they find themselves in tricky positions.
Putting a solid, functional, accessible pipeline in place and developing a routine to keep it full are absolute musts for new sales leaders.
As Barret put it, "Salespeople can't close if they don't have a pipeline. Building a pipeline early — so your team has deals to work on — is critical. If you don't build a pipeline, no amount of closing coaching will help."
For some insight beyond these tips, we also reached out to Dan Tyre, HubSpot Sales Director, for his take on how new sales leaders should take on their new positions. Here's the four-point framework he offered.
HubSpot Sales Director Dan Tyre's Four-Point Framework for Successful New Sales Leaders
1. Learn about your team members.
According to Dan, "The first six months are the most critical of any professional relationship. They're when people form ideas, opinions, and connections, so getting off to a good start is important. The first time I meet someone on the sales team I ask, 'Tell me about you,' or 'What's your deal' — because I want to understand a bit about their background and experiences."
2. Start to build trust by learning how they want to build trust.
From there, Dan recommends working with your reps to build trust.
He says, "Trust is important in any relationship. I would go so far as to say if you don't have trust, you don't have a relationship — and I think most people would agree. So I ask my team, 'How do you want to build trust?' That question freaks a lot of people out. They usually respond, 'Ah...I don't know.' And I respond, 'please think about it, and let me know the best way for us to do it.'
3. "What kind of manager do you want me to be?"
After that, Dan poses what he refers to as "another weird question".
He asks, "'What kind of manager do you want me to be?' New salespeople usually say something like 'a good one,' and I respond by saying — without any lack of ego — 'I am the best manager ever, and a manager today has to be responsive to the team. So think about the best and worst managers you've ever had. Then, tell me exactly what you need.'
He said he "encourages them to think about factors like the frequency of one on one meetings, if they need me to praise them in public or private, how they can work with him to find their motivation, and, finally, the best way for me to get them to be the best person and producer they can possibly be."'
4. Cover how to set goals with your team.
The last part of Dan's four-point framework has to do with goal-setting.
He says, "I ask my sales team if they set goals — I tell them the science behind goal-setting and share my annual and five-year goals. From there, I try to see if they are comfortable sharing their goals. That way they know that I know what their aspirations are, so I can help them craft their career from there."
A new sales leadership role can be imposing, but thriving in one is far from impossible. There are plenty of strategies you can leverage to boost morale, establish a productive work culture, build and grow an exceptional team, and generate sustainable success.