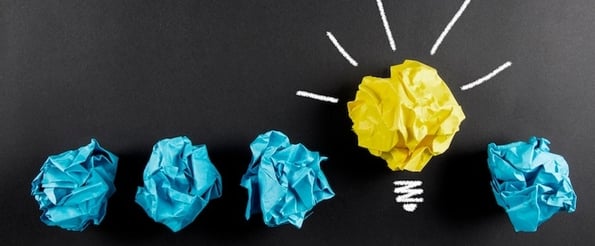 The age-old alignment of motivation and behavior in professional sales management has never strayed far from a reliance on cold, hard cash. "Pay for play" remains a universal standard, but surprising new research from Aberdeen points to the need to augment simplistic approaches to sales performance management with more nuance.
References to steak knives may be getting old, but they still matter: Plenty of sales leaders still don't get it.
It's almost too easy to present sales effectiveness research findings and mention lines from Glengarry Glen Ross, but so many modern sales organizations still pursue 20th century management styles that the metaphor is far from irrelevant.
Cash Is Still King, But There Are Plenty of Viable Crown Princes
This aggressive posture is born out of fact, not opinion. No one debates that the smartest way to drive results among B2B sales professionals is through variable financial compensation. When survey respondents in Aberdeen's latest research report were asked to name the most effective way to optimize sales results, "individual financial compensation" was chosen 59% more often than the next leading option, "internal recognition for positive performance." But when comparing these answers to previous years' responses, we find a significant shift of priorities among modern sales managers (Fig. 1)
Figure 1: Dramatic Changes in the Relative Importance of Financial vs. Other Sales Performance Motivators: 2013 through 2015
Only two years ago, a mere 2% of best-in-class companies didn't name cash compensation as a top-three motivator. This slice grew to 24% in 2014, and 36% today.
Why? According to Aberdeen's research in Young & Talented but Lazy? Not So Fast, Millennials are the Real Deal!, corporate leaders who emphasize employee engagement, work-life balance, and teamwork see measurably stronger business results than old-fashioned firms that only focus on how staff contribute to the bottom line.
Fig. 1 is the hard data backing up the benefits of the softer side of sales management – motivation through non-cash incentives such as recognition, engagement, and personal development. Money still matters the most, but by itself is diminishing as a sole methodology of driving desired enterprise sales results.
Even Hardened Salespeople Appreciate a Pat on the Back
Let's take a deeper look at the second most popular sales motivator, which has held steady at second place but increased in percentage over the last two years: Simply being told, "good job!".
When the business outcomes of respondents indicating internal recognition as a top-three motivator are compared with non-adopters, we see that such "internal recognizers" achieve a series of stronger key performance indicator (KPI) results:
22% higher Marketing-to-Sales lead acceptance rate (60% vs. 49%)
21% stronger customer retention rate (75% vs. 62%)
8% better annual team attainment of total sales quota (67% vs. 62%)
2x the annualized improvement in customer relationship management (CRM) adoption (6.8% growth vs. 3.4% growth)
While these hard numbers should provide plenty of motivation to bolster warm-and-fuzzy internal recognition efforts, the benefits of back-patting go beyond performance metrics and move into the heart and soul of effective, customer-driven selling (Fig. 2).
Figure 2: Smart Selling Proficiencies Improve with Engaged, Recognized Sales Management
These competencies – which, on average, the best-in-class report as 75% stronger than all other firms – represent crucial sales effectiveness strengths identified by Aberdeen as crucial to top sales results. Improvements in these areas can be motivated by better sales employee recognition practices -- while millennial sellers are no less interested in reaching President's Club than their predecessors, they also perform better when they feel appreciated and engaged. They see higher quota attainment while effectively digging into the nuances of their buyers' needs. They also expect a greater degree of sales mobility than ever before.
Marrying Motivators, Recognition, and Results: Gamifying Your Sales Team
A common thread that runs through Figures 1 and 2 is the importance of data: To increase effectiveness, sales leaders need to leverage the myriad ways in which sales analytics solutions can improve manager- and rep-level decision-making. One popular tactic is using gamification.
The 83 (32%) of survey respondents who indicated that sales gamification tactics are formally deployed in their organizations, report a 30% shorter average sales cycle (233 vs. 336 days), a 20% stronger lead conversion rate (37% vs. 31%), and 13% more reps achieving individual annual quota (56% vs. 50%). These enterprises also deliver stronger year-over-year results when compared to non-adopters (Fig. 3).
Figure 3: Better Performance Results Accrue to Gamified Sales Teams
What does all this mean for you? Check it out in the full report.