Did you know that just 24.3% of sales representatives exceeded their quota last year? According to the study from Sales Insights Lab, many sales reps simply are not getting enough prospects to enable them to hit their quota attainment goals.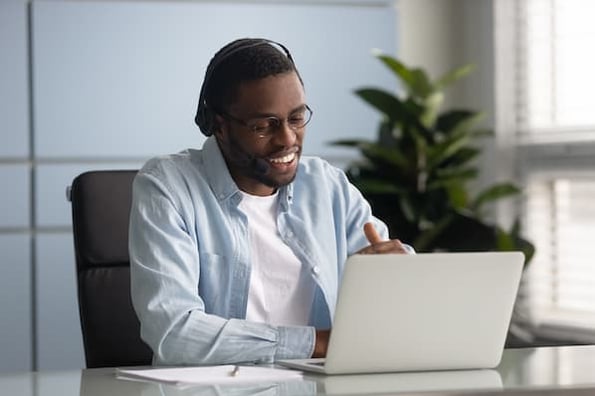 This data comes from a 2021 survey of nearly 400 sales professionals who opened up about their challenges. We'll discuss the main reasons why salespeople miss quota and how you can remedy them.
What is quota attainment?
Quota attainment is a metric used to measure whether or not a sales representative has met their sales target. Typically sales quota attainment is measured monthly, quarterly, or annually.
This number is widely expressed as a percentage and can be calculated by dividing the number of actual sales by the quota amount given. For example if you sold $275,000 and your quota was $300,000 your quota attainment would be 91.6% (275,000 ➗ 300,000 = 0.916).
Missed quotas not only lead to missed company objectives, but could also be a sign that your sales reps need more support or a change in strategy.
Reasons Reps Don't Make Quota
Lots of things can affect your team's ability to hit quota, but the main factors that impact quota attainment are:
Not having enough opportunities in the sales pipeline.
Working with an inefficient sales process.
Having an inadequate training program.
The salesperson fails to communicate value to the prospect or customer.
Many sales leaders chalk up missed quotas to the fact that salespeople are not spending enough time prospecting, whereas salespeople are more likely to say their lack of quota attainment is because they don't have enough leads flowing into the pipeline. Sales leaders also report that they have a defined sales process, and sales reps don't follow it.
Salespeople who said they were likely to miss quota tend to receive moderate-to-low levels of sales training (both on product and skills), lack the support of a formal sales coaching program, and lack formal training on how to communicate value to customers. Clearly, salespeople who aren't coached or trained properly tend to fall off the quota attainment track.
Let's talk about ways you can overcome these common obstacles to make your monthly quota.
How to Overcome Your Obstacles and Attain Quota
While the formula for quota attainment will always be unique to each salesperson and sales team, here are critical steps you can take to improve.
1. Fill your sales pipeline.
It's no surprise the results of the Sales Insights Lab survey show sales leaders and salespeople agree that filling the sales pipeline is a challenge. To keep the sales pipeline full, organizations must focus on both lead generation and a disciplined approach to prospecting by the sales reps themselves.
Many sales leaders believe reps neglect their prospecting efforts. To address this issue, there needs to be a consistent framework and you must have patience and discipline in the prospecting process, including scheduling non-negotiable time blocks on your calendar to prospect.
Persistence will pay off if you do your homework to uncover the needs, wants, desires, and problems of your prospects. When you link your message to the company's top-line issues, you are more likely to get a response.
When prospecting, adapt your cadence across multiple communication channels. For example, you could start with an email with value-added information, and then follow up two days later with a phone call, leaving a message if you get their voicemail. Wait two days and send a LinkedIn InMail asking to connect, and then call again three days later.
Most sales reps give up too soon. A study from Rain Group found that it took an average of eight touches to get a meeting (or conversion) with a new prospect. Persistence and creativity are key for successful prospecting.
2. Implement a simple sales process.
With a solid pipeline in place, salespeople need a simple sales process they can follow easily. The keyword here is "simple" and this is much easier said than done. Many sales teams make the mistake of creating a process that has too many steps or inadvertently causes their reps to devote time to non-selling activities. As a sales rep, if you feel your sales process isn't easy to follow, ask your sales leaders for additional coaching to understand how to implement the process with consistency and discipline.
One way to reduce friction in your sales process is to automate repetitive actions with a CRM. According to HubSpot's Global Sales Enablement Survey, 61% of overperforming teams use their CRM to automate parts of the sales process which allows reps to focus on selling instead of paperwork and data entry.
The pandemic has greatly impacted the sales industry. HubSpot's study also found that 64% of sales teams that invested in remote teams met or exceeded their revenue targets. Adapting your sales process to real-world challenges is a must.
3. Create a training program that sets up new reps for success.
Salespeople who do not receive the proper training or coaching tend to underperform and miss their quotas. If reps truly grasped how to sell value and received proper training on this skill, they'd likely be closer to achieving quota and goals.
Standardize the training process for new salespeople so that training is consistent across the board. It's also helpful to have them shadow top performers so they can learn best practices in real-time on real calls. Once they've gone through the training process, make sure to set appropriate sales quotas that allow your new hires to fully ramp up.
For current salespeople, consider creating regular check-ins and coaching opportunities that will address any challenges or obstacles they're facing on the job.
4. Consistently communicate value.
Buyers today are very clear that they are looking for reps who can provide value. Communicating value is a major contributing factor for sales professionals who are on track to attain quota. You need to know how to speak the language of business and add real value beyond a product's features and benefits.
When sales teams empower salespeople to convey value, reps can gain more traction with their prospects. This typically results in higher levels of motivation to prospect more frequently and routinely, which leads to an uptick in overall sales results.
Communicating value requires some effort and a curiosity about your prospects and their businesses. You must be prepared with insightful questions that make people stop, take note, and engage. Also, invest the time to learn the basics of business and financial terminology.
When you gain an understanding about what's going on with your prospect companies and their industries, you'll begin to gain business acumen. This will let you tie your objectives to the company's business goals and explain the valuable impact of what you're selling to executive buyers.
Hit Your Quota Like a Boss
When it comes to quota attainment, pipeline, process, training, and communicating value are key. Sales leaders can help ensure quota attainment for their teams through consistency in prospecting efforts, simplifying the sales process, and emphasizing value in communications.
This article was originally published August 31, 2020 and has been updated for comprehensiveness.