When I was a junior in college, I knew I wanted a meaningful career, but, like most college students, I didn't where to start. As I observed my peers, several career paths rose to the top as the careers to pursue if you were an ambitious woman with a business degree: accountant, consultant, or banker.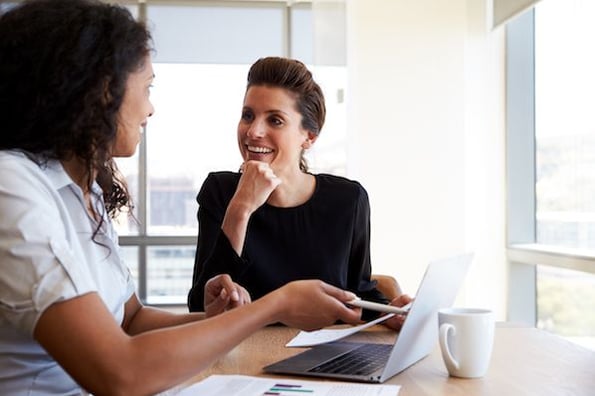 None of my friends ever mentioned or pursued a career in tech sales, so neither did I.
After my first job as a consultant, I started recruiting firm Will Reed, focused exclusively on placing sales talent at high-growth technology companies like Qualtrics, Box, AppDynamics and MongoDB.
There are still few women in sales, despite higher rates of success
In partnership with our clients, we work hard to help diversify sales organizations. Despite women having an 11% higher close rate than their male peers, we still see the gender gap in full force in an industry where only 31% of sales reps are women and 18% are sales leaders. Why is this? Women often miss the onramp for this career path coming out of college because they simply don't know it exists, and it can be difficult to break into later on.
Word-of-mouth sales recruitment is crucial
While Sheryl Sandberg, Oprah, and Karlie Kloss are moving the needle in reshaping the female narrative in their respective industries, research shows celebrity influence is waning for millennials. In its place? Peer-to-peer influence.
For example, in 2004, 20% of all American advertisements featured a celebrity. By 2012 the number dropped to 9%. Alternatively, a 2014 study discovered close to 70% of millennials were more inclined to purchase a product after seeing it on a friend's social media page. By 2017, 78% of millennials reported either being indifferent or disliking celebrity endorsements.
With the rise of social media and the demand for authenticity, advertisers and companies are now investing more in ways to harness the power of word of mouth marketing and referral programs to grow sales.
With this in mind, Will Reed tested two hypotheses:
Top college women would be interested in tech sales if they knew about it
The most compelling way to tell them about it is through their peers
In summer 2018, we launched the Will Reed Women's Sales Fellowship in partnership with MongoDB and AppDynamics. We selected eight campus influencers (and overall top-performing women) from a competitive group of applicants to participate in a 10-week program where they received sales training and exposure from notable industry leaders.
These eight fellows used their new sales chops to reach more than 600 top women leaders across 13 different universities including Texas A&M, University of Texas, Vanderbilt, and University of Oklahoma. They shared firsthand about their summer experience with tech sales.
As a result, over 200 of these top campus leaders expressed interest in learning more about sales and, subsequently, competed to be included in a resume book dubbed "The Portfolio" to be shared with top tech companies.
Unsurprisingly, one third of those initially contacted were interested in a career in tech sales. Many of these candidates expressed gratitude because they never knew this was a career option.
We're just getting started but are excited to continue partnering with top tech companies to help more women enter this industry after graduating. To do that, we must leverage the trust created through peer-to-peer relationships.
If you're like me and you're past your "intern years," here are a few conferences happening this fall that will reignite your vocational spark.
Top Women's Conferences in 2018
Date: September 23-25, 2018
Where: Spokane, Washington
What: "Work Well, Live Well." The National Association of Women Business Owners (NAWBO) is a "one-stop resource to [propel] women business owners into greater economic, social and political spheres of power worldwide."
Date: September 14, 2018
Where: New York, New York
What: This is a conference meant to celebrate successful women and help create relationships with other like-minded women. Speakers from last year's conference include Sara Blakely, the founder and CEO of Spanx.
Date: September 26-28, 2018
Where: Chicago, Illinois
What: This is the leading conference for retail, consumer goods, financial services and tech industries. The Summit promises to offer real-world, career building, world-class keynotes, and sessions that help you amplify your impact and advance gender equality in your organization.
Date: September 30 - October 3, 2018
Where: Palm Springs, California
What: Hosted by Bullish, a website started by Jennifer Dziura, this conference is "at the intersection between careers and feminism." It offers a place where career-focused feminists can meet to network, share ideas, and have an amazing time.
Date: September 26-28, 2018
Where: Houston, TX
What: Hosted by AnitaB, The Grace Hopper Celebration is the largest gathering of women technologists in the world. AnitaB is a computing and technologically innovative community for women. Although the event is already sold out, those interested can participate via livestream and social media.
Date: October 18-19, 2018
Where: New York, New York
What: This summit focuses on topics such as how women can reach their full potential, how women can include and engage with men, and how to build a life devoted to advancing women and young girls. Last year's speakers included Donna Karan, Sophia Bush, and Tony Porter, CEO of A Call To Men.
Sheryl Sandberg continues to make huge waves for female empowerment, and we believe when it comes to making a tactical career decision, it helps to see other women actually do it. I know that would have moved the needle for me.