Customer relations should always be a top priority for any business. And, with 2020 arriving, now is a good time to find new solutions that meet the needs of your target audience.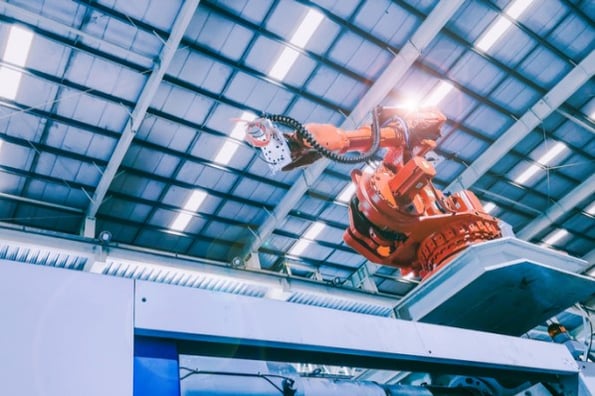 This year, automation could be your secret weapon for ensuring healthier client relationships.
While automation may sometimes bring to mind stories of robots taking over, in reality, most software exists to streamline and simplify your day-to-day responsibilities.
When automation takes care of routine tasks, your team has more time to connect with customers. Customer service automation can improve productivity and customer satisfaction by giving your reps more time to troubleshoot and optimize your customer experience.
By embracing automation, your business will be equipped to build long-term bonds with its customer base. But, if you're not sure where to start, here are four tools you can automate this year.
Customer Relationship Automation
1. Online Chat
75% of consumers believe short response times is the most important factor for evaluating customer service — ranking even higher than the need for a knowledgeable staff. We can see this explained in the chart below.
Customers want answers fast, and as a result, more would rather have their cases resolved through a web chat than over a phone call. This is where chatbots come into play.
Machine learning and modern tech improvements have led to a dramatic increase in chatbot usage. In fact, Invesp estimates that by 2020, 85% of customer interactions will be handled without a human, allowing companies to save up to 30% in customer support costs.
However, you can't rely on chatbots to automate every customer conversation. Though AI is well-equipped to handle frequently asked questions, it'll take time before machine learning can address complex problems. Because of this limitation, businesses should also have a system in place to quickly transfer issues to a human agent.
When AI and human customer service representatives work in sync, it ensures a much faster response and better overall service for customers. Reducing wait time and providing efficient solutions will dramatically improve customer satisfaction and retention.
You can get started by using a free chatbot builder, like the one in the example above. Templates and visual editors make it easy to build a bot that can communicate with your customers and transfer conversations to your reps.
2. Email Marketing
While social media may get a lot of attention these days, there are several other automation-friendly formats that deliver content.
Email marketing continues to be one of the best ways to promote to customers. 59% of consumers say their purchasing decisions are influenced by emails, with 73% of millennials stating that email is their preferred way to hear from a business.
It should come as no surprise, then, that for every dollar spent on email marketing, the average business will achieve an ROI of $40 — far outpacing ad categories like SEO and banner ads. Using an automated email tool to send a drip series of actionable tips will influence customers over an extended length of time.
3. Webinars
Webinars can also serve as a powerful form of automated customer empowerment content. Webinars can be used to host VIP meetups, present tips by industry influencers, educate your audience, and more. You can even build webinar content from previous blog topics or the questions and concerns your support team deals with most often.
Automation tools like ClickMeeting make it surprisingly easy to get your webinar up and running. Features like an automated webinar timeline allow the platform to run videos and events like surveys and calls-to-action. The system even automates simultaneous streaming on YouTube and Facebook, as well as making the event available for on-demand viewing afterwards. Expanding the reach of your webinars ensures that more people will benefit from your content.
Webinar automation is also an effective way to empower new customers who have just signed up for your product or service. A tool like eWebinar lets you scale your customer onboarding and training webinars by making them available when it's convenient for your customers. Even though the presentation is pre-recorded, you can use integrated chat and pre-programmed, interactive elements to create a personalized experience.
Empowering customers by giving them useful information fits perfectly within the flywheel principle. When you're continuously creating positive interactions, customers are truly at the center of the process. This not only builds your brand authority but it also serves as a way to spark conversations among your target audience, generating referrals that'll help drive sales.
4. CRMs
For many B2B brands, a sale won't be completed through an online checkout experience. Instead, it'll require consistent nurturing of a lead, guiding potential clients through free trials, informational meetings and other key steps prior to becoming a paying customer.
With so many activities taking place (and so many potential clients to work with), it's all too easy for even the most skilled sales teams to have leads slip through the cracks. And, the problem can be easily compounded when a prospective client engages with multiple sales agents.
While not always thought of as automation tools, CRMs actually provide a form of automation by facilitating more effective sharing of customer data. Everything from email interactions to phone calls is stored in the same convenient database. By automatically updating and sharing this information with the entire sales staff, everyone is kept on the same page to better guide leads through the flywheel.
CRM tools prove to be even more valuable thanks to automated reporting and analytics. These tools evaluate several facets of customer behavior to better predict future wants and needs.
Some tools even "score" leads based on their behavior, indicating who's most likely to convert. This allows the sales team to take a proactive role in reaching out to the right people with the right messaging at the right moment.
As noted in a report by McKinsey & Company, "Integrating pertinent customer data and making it accessible across the business not only cuts down on duplicate information gathering and manual data entry but can also lead to offering customers lower prices, greater convenience and improved experiences."
Remember, studies show that 90% of consumers use customer service as a deciding factor in whether they'll do business with a company, while poor customer service causes American companies to lose $1.6 trillion when their customers abandon their brand.
Automating data does much more than make it easier for your sales team to keep track of leads. It enables them to deliver higher quality service that increases sales and loyal customers.
Automation is already in use all around us. The real question is whether you're taking full advantage of the tools that are available.
At the end of the day, the primary goal behind any automation tool should be finding ways to more fully satisfy your customers. When you make their satisfaction the guiding priority in your efforts, you'll have greater confidence that everything will fall into its proper place.
For more customer service tech, read how augmented reality can improve the customer experience.