Take off your business hat for a moment and put on your customer hat.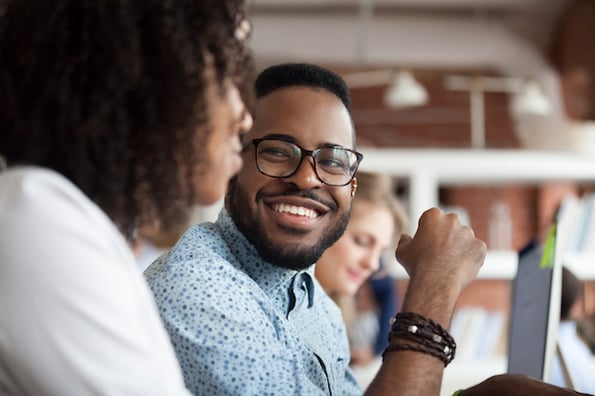 Let's think about the brands you've previously purchased from that have gone above and beyond. Remember the experiences you've had with these companies and why they motivated you to tell your network about them.
When you promote a business as a customer, you become a brand advocate — and brand advocates are what you want your customers to become.
You've heard about the power of word-of-mouth (WOM) marketing — over 90% of consumers trust WOM marketing recommendations over any other type of marketing. Moreover, customers referred by other customers have a 37% higher retention rate, making customer advocacy a particularly strong acquisition play.
Keep reading to learn more about how you can market to these customers who are integral parts of your growth and success.
Advocacy Marketing
Advocacy marketing is the process of inciting and equipping customers to generate buzz around your brand through social mentions, reviews, and word-of-mouth marketing. In other words, it's providing products, experiences, and customer service so good that customers can't help but share.
Advocacy marketing is a marketer's dream — cost-effective and high-yielding. Did you know that, on average, brands see a 650% ROI for every dollar invested in advocacy marketing? This method is one of the best ways to attract new customers and increase revenue at a very low cost.
Brand advocates are highly valuable brand assets. Not only do they often spend more than the average customer, but they're also typically well-versed on your brand and products, making them a great source of information for leads and potential customers. Customer advocates also contribute positive reviews and generate natural conversation around your brand, boosting awareness and organic traffic.
Advocacy Marketing Strategy
Advocacy marketing isn't as structured as other similar marketing methods like influencer or ambassador marketing. Instead of a step-by-step formula, I've compiled these advocacy marketing principles to help inspire your strategy.
1. Provide an excellent product or service.
It doesn't matter how fantastic your marketing or customer experience are — without a top-notch product or service, customers won't become advocates and fans. More importantly, an excellent product or service can make up for not-so-great marketing or negative customer experiences.
Before working on how you're marketing, focus on what you're selling.
2. Deliver an unforgettable brand experience.
Whether it's what your customers first see when they walk in your brick-and-mortar store, open your product packaging, or talk to your customer service team, every interaction they have with your business contributes to their experience. These unforgettable experiences make it easy for customers to promote your business among their peers and share positive stories about your brand.
3. Operate with a customer-first mentality.
A customer-first company culture creates a natural sense of loyalty and reciprocity between your brand and your customers. One key way to build this culture is to genuinely listen to your customers and make them feel heard in the process. You can do this by publicly responding to social media questions and comments. Publish blog posts or social media content that reflects how your company is instating certain customer suggestions. Add questions to your FAQ or knowledge base that were asked by real customers.
Another way to build this culture is by consistently sticking to your word as a brand. Ship your products on time, respond to support queries as quickly as possible, and always fulfill promises of discounts and sales. When customers feel they can rely on a brand, they're more likely to advocate for it.
Moreover, advocacy is born and fostered by customer service and support, as reps talk directly to your customers on a consistent basis. So, make sure your support teams are on board and understand your customer-first mentality goals.
4. Make it easy for customers to advocate.
When it comes to advocacy marketing, you can split your customer advocates into two groups: those that are so thrilled by their experiences with your brand they'll do whatever it takes to share them, and those who love your brand but will only share their experiences if it's easy — or incentivized.
Neither group is better than the other. In order to capture both, however, it's best to make it as easy as possible for your advocates to share information and experiences about your brand. What do we mean by "easy"?
Here are some ideas:
Create a branded hashtag that customers can include in captions and comments when posting about your products or services.
Offer some pre-written content that customers can copy and paste on social media. ClickToTweet is a helpful tool for this.
Incorporate social sharing links on every website page.
Provide "Instagram-worthy" photo or video opportunities.
5. Actively seek out advocates.
You can't use brand advocates to spread awareness and excitement about your brand if you don't know who they are. Take the time to identify your customer advocates so you can reach out to them when it's time to run a campaign or ask them to provide feedback on your messaging or products in the meantime.
Here are a few ways to do this:
Advocacy Marketing Examples
1. Apple's Advocacy Marketing
Apple is arguably one of the most popular global brands. It releases new products yearly and most Apple stores battle a humongous line of customers waiting for the latest smartphone, tablet, and watch upon their release. Apple has created a brand that people love to share, and the company took advantage of that in their campaign for iPhone X.
Worldwide, customers came face-to-face with billboards, TV commercials, and paid ads featuring gorgeous images and the copy "Selfies on iPhone X." That was it. What set these ads apart from others, however, was that the featured photos and videos were captured by real customers and real iPhones.
The authenticity of these ads skyrocketed their popularity and impact, propelling more iPhone customers to share their own footage. The company also followed up with instructional information to help customers make the most of their new devices and contribute their own content.
2. Uber's Advocacy Marketing
Uber's approach to advocacy marketing mirrors your basic loyalty and rewards program, which makes it easy for the company to identify and leverage its customer advocates. The brand offers the program to both riders and drivers, allowing customer advocacy to help grow both segments of its business.
By simply sharing your code (as a rider or driver), you can give a friend a discount — and receive your own. Uber has made this refer-a-friend program seamless and incredibly easy to use. It's built right into the Uber app and benefits both parties.
3. Southwest's Advocacy Marketing
A 2017 CX Solutions study found that over 50% of Southwest Airlines customers were highly engaged, as compared to 41% of Delta customers and just 26% of United Airlines customers.
The study found that, while pricing was a major differentiator, Southwest customers also found the airline provided the easiest, most memorable experience and employees. Southwest Airlines is well-known for its friendly staff and fun branding — two things that are the most talked-about on social media and by frequent customers.
Southwest creates experiences that are easy and fun to share — like a witty napkin on Instagram or a rapping flight attendant on YouTube — therefore transforming happy customers into brand advocates.
Advocacy marketing isn't as much a marketing strategy as a way of doing business. When you offer a top-notch product, unforgettable customer experience, and customer-first culture, it's easy for customers to fall in love and tell others why they feel the way they do — and customer advocacy is the best marketing.