If you have a cell phone, then you use an automated attendant nearly every day of the week. If you miss a call or if your phone shuts off, your contacts are immediately forwarded to your voicemail. It will play your personalized greeting first — if you have one — then say something like, "To leave a message please stay on the line. To leave a callback number, press five."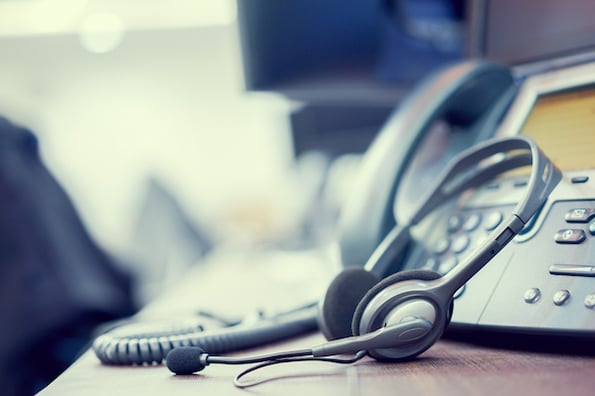 When you're leaving a voicemail, you might not even think about this message. But, it's a basic example of an automated attendant and what it can do for an individual user.
On a larger scale, auto-attendants are used by customer service teams to direct callers to resources that can help them solve their problems. This eliminates the need for receptionists who manually transfer calls between your internal departments.
In this post, we'll explain everything you need to know about automated attendants, including what they are, how they're different from virtual assistants, and how they work within your company's phone system. Then, we'll wrap things up by giving you a list of the best auto-attendant phone systems available, including the best options for small businesses.
What Is an Automated Attendant?
Automated attendants are digital receptionists that transfer service calls without the need for an operator or customer support rep. These attendants typically are the first response to customer inquires because they connect users with service personnel who's best-suited to help with their problem.
When customers call your business, a recorded greeting gives them a series of options to choose from. After a number is chosen, the attendant transfers the call to a rep based on the customer's selection. In most cases, each option connects the customer to a different agent, team, or department at your business. This allows your customers to be transferred directly to someone who can troubleshoot their problem, rather than having to explain their situation first, then being transferred to someone that can help.
It may be a small difference, but that order of operations is essential. Research shows that 26% of customers have been transferred between reps without receiving a solution to their problem. Customers don't want to waste time going through this maze of transfers to reach someone who can help them. They want to have a direct line to the most relevant resource that can assist them, and they want to be connected quickly, too.
This is where auto-attendants become an asset to your customer service team. Rather than assigning reps to distribute calls — which occupies your workforce and delays the customer experience — an auto-attendant does this work automatically.
Auto-attendants should not be confused with virtual assistants. While both are used to support customers, each one performs different functions for your customer service department.
Auto-Attendant vs. Virtual Assistant
While auto-attendants transfer calls to customer service reps, virtual assistants help customers solve problems via digital communication channels like live chat or video. Unlike auto-attendants, virtual assistants act as real-time contact points between the customer and your business that can both transfer calls and troubleshoot problems.
Here's an example.
Let's say I want to buy a Netflix subscription, but I have a few questions before I purchase. I can go to Netflix's website, but if I can't find what I'm looking for I'll search for customer support. Before starting a conversation with a human rep, Netflix's virtual assistant intervenes and asks me the questions below before it initiates a live chat.
If the virtual assistant can help me, then I'll leave satisfied and the case can be closed. If not, the assistant can transfer me to a human rep who can pick up where the conversation left off.
While virtual assistants have their use, automated attendants are much more straightforward in how they're programmed and operate. They're a simple, but effective tool for growing businesses and they're easily integrated into your call center's phone system.
Below are some of the best auto-attendant phone systems available this year.
7 Best Auto-Attendant Phone Systems
Ring Central
8x8
Phone.com
Nextiva
Versature
Ooma
Vonage
Ring Central's auto-attendant has an array of options for customization. You can personalize greetings and route calls based on business hours, or forward customers directly to a voicemail if your team is out of the office. Ring Central also allows customers to translate greeting messages into different languages, so you can use consistent messaging as you continue to grow your customer base.
Pricing: 20$/user/month for Essentials plan, 28$/user/month for Standard plan, 35$/user/month for Premium plan, 50$/user/month for Ultimate plan
Vonage is different from other phone providers on this list because it lets you create multiple auto-attendants under the same account. The benefit of this is that you can customize your support system based on the numbers that customers dial. For instance, if someone has a question about pricing, they can dial a support number specific to pricing inquiries. This is useful if you have a large customer support department where you can assign an auto-attendant to each subsection or team.
Pricing: 20$/month for Mobile plan, 30$/month for Premium plan, 40$/month for Advanced plan
If you're looking for a platform with a variety of features, Phone.com is a business phone system that has plenty of tools to choose from — including an automated attendant. One unique perk that Phone.com offers is its video calls, which are available to all its users. You can use this platform to communicate face-to-face with customers or collaborate with teammates internally.
Price: 13$/user/month for Basic plan, 20$/user/month for Plus plan, 30$/user/month for Pro plan
Nextiva is a small business phone service with a unique, "call pop" feature that displays caller information from your CRM whenever someone reaches out to your business. That way, reps have all of the customers' information on hand before they even pick up the phone. This is important because 59% of customers say that having an experience personalized based on their past interactions with your company is very important to winning their business.
Pricing: 19$/user/month for Essential plan, 23$/user/month for Professional plan, 33$/user month for Enterprise plan, 58$/user/month for Ultimate plan
One feature that makes 8x8's auto-attendant stand out is its ability to exclude callers from its phone system. If you have a customer that's breaking company policy and calling your team too much, you can forward them to a voicemail where they can leave a message. While the customer may still want to contact a real person, this is better than leaving them on hold or ignoring their call altogether.
Pricing: Pricing available upon request
As one of Canda's fast-growing companies, Versature is a customer-centric brand that offers users a cloud-based, auto-attendant phone system. Its users are provided with 24/7 phone support and product experts can be reached at any time by dialing "611" from a Versature phone.
Pricing: 30$/month for Essentials plan, 35$/month for Professional plan, 45$/month for Enterprise plan
Ooma's auto-attendant not only greets customers but can also tell them information about your business like its hours of operations and office locations. Ooma also provides a quick-dial feature that allows callers to enter an extension number before the opening greeting is complete. This can reduce friction in the service experience by allowing customers who've already called your support team to skip the introductions and get connected immediately with a support rep.
Pricing: 20$/month for Office plan, 25$/month for Office Pro plan
If you're managing a service team at a growing business, then your needs may be different than a large, international organization. In which case, take a look at the phone systems below that are ideal for small to medium-sized businesses.
Auto-Attendant Phone Systems for Small Businesses
GoToConnect's auto-attendant helps your support team control both call volume and call flow throughout the workday. Calls can be directed to an extension, external phone line, or voicemail, and greetings can be translated into a variety of languages to help customers make the right decision when reaching out to your support team.
Price: $20/user/month
Auto-attendants are just one of the many features that Dialpad offers. It also has virtual faxing and business text messaging which you can use to communicate internally or with customers. There's also a recurring conference feature that lets you schedule repeat appointments with a saved group of contacts. This is handy if you're working in customer success or on a long-term support case and need to meet regularly with the customer.
Pricing: 15$/user/month for Standard plan, 25$/user/month for Pro plan
Image Source
Grasshopper's "Ruby" feature is a virtual receptionist that can both transfers calls and set up meetings with customers. When installed, team members are given individual extension lines so customers have direct access to every part of your support department. You can also upload a pre-recorded greeting message or use Grasshopper's voice studio to record your own greeting for an additional fee.
Price: 26$/month for Solo plan, 44$/month for Partner plan, 80$/month for Small Business plan
eVoice is an interesting option for small businesses because it hires professional voice artists to record your opening greeting. eVoice will also record the names of your teams and their extensions so you can set up a dial-by-name directory for your customers. Even if your office only has one location, having more than one extension for your customer support team can make your organization look larger and more responsive.
Price: $14/user/month
For more ways to improve the customer experience, read how you can make the most of every interaction with customers.