Short message service (SMS), or better yet, texting, is woven into the fabric of everyday life, but not many businesses are taking advantage of this platform. According to Twilio, while 89% of consumers wish they could text a company, less than half of businesses surveyed were equipped to handle SMS customer support.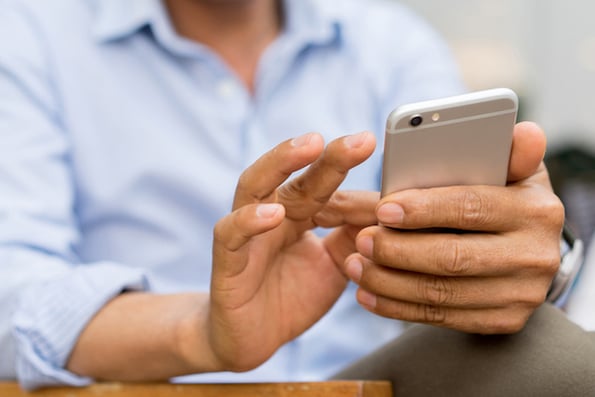 Consumers enjoy SMS messaging because it's convenient and direct. Most people own a smartphone or have access to social media, which gives them an immediate channel to communicate with your business. For business owners, this means you have a lightning-fast system to proactively support customers. And, SMS messaging is relatively cheap compared to other marketing communication mediums like video or paid ads, especially if you're using a free provider, like Facebook or WhatsApp.
But, texting as a business can be tricky if you haven't done it before. There are some fundamental "do's and don'ts" that can make a big difference in whether or not you'll be successful using this platform.
In this post, we'll review those tips and more to get your business on the right path for business texting.
What Is Business Texting?
Business texting is when a company sends SMS text messages to its customers from a business phone number. Typically, these are messages that are sent to the entire customer base and they update users with new information about products and services.
Business texting is both a proactive and reactive customer service function. For example, you can use it to send updates regarding when a new product or service will be launched, or you can use it to notify customers when a support ticket has been completed. Mastering both sides of business texting will allow you to optimize its value to your business.
Reasons Why Should Your Business Text
Below are a few more reasons why you should consider adopting a business texting platform.
People Are More Likely to Read a Text Than an Email.
Email is an oversaturated channel. Think about it, how many unread marketing emails do you currently have sitting in your inbox? (Your spam folder counts, too.)
Important emails can easily get buried, making it difficult to create a dialogue with your customers. Text messages, on the other hand, have a 98% open rate. Customers prefer being contacted on their mobile devices, and SMS is a great way to do this. When you text your customers, they're more likely to read your message.
Business Texting Is More Personal.
Texting adds a personal touch that's difficult to match through other forms of communication. While email offers a similar advantage, consumers have become accustomed to promotional emails. Gmail has even started filtering these emails out of its users' main inboxes and putting them into a separate "Promotions" tab.
Text messages, however, aren't viewed in the same light. Most text messages are sent by friends and family members, so when a business contacts you through a text, it feels more personal than an email. It's also difficult to respond to a promotional email, as oftentimes their sender's email address can't be replied to. Texting a customer opens the door to a live conversation, making them much more inclined to respond to your message.
Business Texting Establishes Two-Way Communication.
Instead of getting lost in a comment thread on Facebook or having a live chat end abruptly when a customer steps away from the computer, communication over text is easy to maintain over time. Conversation history is easy to track and you can text from your home, the office, or on-the-go.
It's hard to see the value of these benefits if you're not sure how you can use business texting to your advantage. So, in the next section, we'll review a few different areas where texting can enhance the customer experience.
When to Use Business Texting
Appointment Reminders
Appointment reminders are a great use of business texting. You can include important information like the date and time of the appointment, your company's address, and the purpose of the meeting. This way the customer will have all of the information they need right at their fingertips, like in the example below.
Customer Feedback Requests
Do you have trouble getting customers to respond to surveys or reviews?
Try sending them requests through SMS text. Not only are customers more likely to see the message, but if you include a link to the survey or review request, all they need to do is click it. By sending customer satisfaction surveys through text, you'll receive more feedback and boost engagement.
Special Offers and Promotions
Use texts to keep customers in your loyalty program informed about upcoming sales or promotions. Sending customers occasional offers via text can make them excited about future campaigns and keep them consistently engaged with your brand.
Customer Inquiries
Use texting to address follow-up questions or requests from your customers. It's fast, personal, and can help to resolve inquiries quickly.
Now that you understand the benefits and use cases for SMS, below are ten business texting do's and don'ts you can use to provide excellent SMS support.
10 Do's and Don'ts For Effective Business Texting
1. Do: Keep Texts Within Business Hours
If you want to establish texting as a professional mode of communication, then keep texts within your business hours. Customers don't want to hear from businesses after 5 PM or over the weekend, unless they reach out to you first. And, texting people outside of your normal working hours can seem unprofessional and possibly even rude. You don't want to damage your credibility, so stick to business hours when texting with your customer base.
2. Don't: Overdo It
When you're business texting, less is more, so choose the texts you want to send wisely. No customer wants to be bogged down with multiple text messages from the same business in the same week. Keep texts to a minimum, ideally no more than once per week — unless you're providing live updates.
Remember, one of the benefits of business texting is having an easy way for customers to reach you. Don't squash future opportunities to connect with customers by overwhelming them with too many messages.
3. Do: Be Approachable
You should use a conversational tone when texting with your customers. If your texts are overly formal, the customer may think it was sent by a bot, which would discourage them from responding. This defeats the purpose of using business texting to create more personalized communication.
Build a stronger relationship with your customers by being approachable in your language. Here's an example:
Don't: Hello. Fill out this survey about your appointment at Fix It Auto on 5/3/2020: http://fixitauto.com/survey/
Do: Hi Jackson, thanks for stopping by Fix It Auto today! Please take a moment to let us know about your experience: http://fixitauto.com/survey/
4. Don't: Use Too Many Abbreviations or Emojis
While it's important to be approachable, you don't want to go to the other extreme, either. Only use emojis if they fit your brand, and even so, use no more than one or two in a message. Don't shorten your words or use abbreviations like, "Nvm," "Lol," or "Nbd." While the character limit for a single SMS is 160 characters, most modern phones and networks can support larger messages, so there's no need for slang or abbreviations.
5. Do: Respond Promptly
If a customer texts you, they're expecting a quick response. Texting is a more immediate communication medium than email and customers will expect a response from your business within 24 hours. And, some research shows that even waiting 20 minutes to text someone back can make you seem unprofessional.
As a business, your response time has a little more wiggle room than a family member or friend. However, it's still important to keep your customer's expectations in mind and respond to them as soon as possible. What can start out as a minor inconvenience can turn into a major annoyance if the customer doesn't get a prompt response.
6. Don't: Use Business Texting to Replace Other Forms of Communication
While texting is convenient and preferred by many, it shouldn't completely replace your other forms of communication. Sometimes conversations are too complicated to have over text and will only lead to more confusion if they're not handled over the phone or through live chat. A good rule of thumb is if you have sent more than three text messages back and forth with a customer and the issue is still not resolved, you should switch to a phone call or video call to find a solution.
7. Do: Give Customers the Opportunity to Opt-Out
Although texting is convenient and fast, there will always be some people who don't want to receive texts from your business. It's important to respect these customers' wishes and provide them with an option to unsubscribe from SMS communication, like in the example below.
8. Don't: Send Serious or Complicated Messages
If you need to send a message that's more serious in nature, send it through email. Business text messaging is not ideal for messages like this because character limitations may make it difficult to get your point across. If customers have additional questions, it can be challenging to have a detailed discussion over text.
Instead, use text messaging to send reminders, updates, and promotions. Keep text messages lighthearted, and if there needs to be a more detailed, serious discussion, move it to an email or a phone call.
9. Do: Be Patient and Ask for Feedback
If texting is a new mode of communication for your business, remember that it's new for your customers as well. It may take some time for your customers to become accustomed to texting and you might not see lots of engagement right away.
Be patient. If you aren't receiving responses or are getting negative feedback, keep cool and see if you can figure out why engagement is low. Try repositioning your messages or sending them at different times to see if you can get a stronger response from your audience. You should also collect qualitative feedback as your customers might simply prefer other forms of communication over texting. If that's the case, then you may want to reconsider how you'll implement business texting into your greater customer service strategy.
10. Don't: Use an Unfamiliar Number
When you text customers, you should use a phone number that they'll recognize. This gives your message more credibility and leaves fewer chances for a customer to mistake your text as spam.
Typically landline phones aren't designed to send text messages, but, there are services that can make your business phone textable. Companies like TextMagic, Twilio, and BirdEye can help you send texts using your existing business number.
Businesses of all shapes and sizes can benefit from business texting. It's a way to connect with customers on a platform that they use multiple times each day. Keep these tips handy and you'll be able to successfully support customers through SMS.
Now that you've mastered business texting, read about social media customer service.