According to TechCrunch, Americans spend about five hours per day on their cell phones. 92% of this time is spent on apps like social media, messaging, and entertainment, while a mere 8% is spent on a web browser.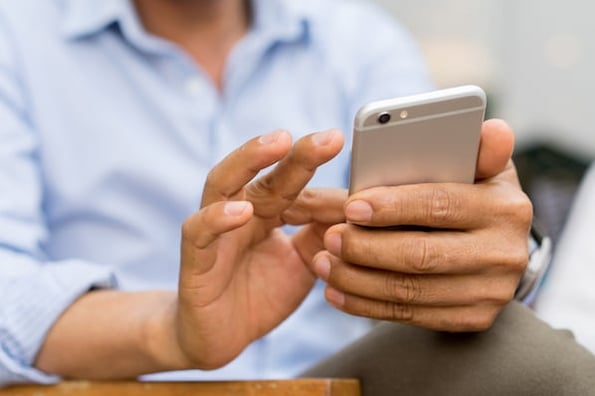 Today, businesses use a wide range of methods to interact with customers. From a VoIP phone system to personalized emails, brands aim to create an omnichannel experience that best serves their consumers.
That's why messaging, via, short message service (SMS) or instant message service (IM), has become a channel that many customer service teams are beginning to adopt. Especially when platforms like Facebook and WhatsApp offer free messaging tools that businesses can use to communicate with customers.
If you're unfamiliar with these channels, read on for an explanation about why you should use them for text customer service. Then, check out some simple ways to adopt and optimize support messaging at your company.
What Is SMS Customer Support?
SMS customer support is any support provided by a company to a customer via text messaging. It's completely virtual and requires no face-to-face interaction or verbal communication.
According to Gigaom, text messages are opened, on average, 98% of the time, but emails are only opened 22% of the time. So, if your company wants to actually be heard by your customers, it makes sense to meet them where they already are: texting on their phones.
Benefits of SMS Customer Support
Messaging is far from new as people have been communicating by text or "instant message" for years. WhatsApp alone has existed for over a decade and has more than two billion active users who converse on the platform daily.
But, most digital messaging is still conducted on a 1:1 basis. We use SMS or IM to chat with friends or relatives, but there isn't as much B2C or B2B communication.
That's changing rapidly as companies are discovering the potential benefits of using messaging for customer service. Here are a few.
Consumer Demand
Given how popular text messaging has become over the years, it's not hard to see that a lot of people enjoy messaging as a communication channel. With over 5 billion people sending and receiving SMS messages on a daily basis, it's hard to ignore messaging if you're looking to create an omnichannel experience.
Additionally, eWeek reports that 52% of people said they'd likely text with a customer support rep if given the option. And, 52% would prefer to text a customer support rep over their current preferred mode of communication.
Cost Efficiency
It's much cheaper to handle customer inquiries by text than over the phone. According to Forrester study, the average customer service phone call costs about $16, whereas the average text thread costs between $1 to $5 per interaction.
Having a messaging service can also divert a high volume of calls your agents would otherwise need to handle. This reduces stress on your team and lets you tackle more cases with fewer reps.
Customer Satisfaction
SMS customer support connects with your customers on a more personal level. While emails or phone calls feel distant and professional, texting is much less formal.
And, texting is much faster and more accurate than phone or email. With SMS, reps can exchange information quicker leading to speedier solutions for your customers.
Below, we have compiled a list of the best ways to incorporate SMS customer support into your business.
12 Tips and Best Practices for Using SMS Customer Support
1. Clarify your goals.
To get the most from customer service messaging, you need to be clear about why you're offering the option to customers. Clarify your goals to ensure you get the most out of the service. In terms of objectives for messaging, here are three main things to think about:
Cost Reduction
Employee Productivity
Customer Satisfaction
It's worthwhile, though, to drill down into which of these three is most important to you. That way, you can prioritize the elements of your messaging that relate most to that goal.
2. Select the right SMS support channel.
Messaging is a broad term and you'll have a range of channels to choose from when selecting a platform for your business. Your options include SMS, direct messaging via social media, and specialized commercial messaging platforms.
The challenge is to find the correct channels to use and to get the most out of them. Try to find out from your customers which messaging apps they prefer. Then, get to grips with the unique features offered by those channels. That way, you can ensure your customer service agents make the most of the platform they're using.
3. Balance automation with human input.
One reason messaging is more cost-efficient than other customer service options is automation. There's far greater scope to automate customer service messaging as AI-driven chatbots can solve many customer queries without the need for an agent to get involved.
But, you don't want your customer service messaging to be entirely automated. Customers enjoy SMS support when it's as personalized as a phone interaction or conversation on social media. Text messaging is a very personal form of communication, so it only makes sense that customers would want the same experience as speaking directly with one of your support reps.
No matter how sophisticated chatbots and machine learning becomes, technology still can't replicate the personalized support that human agent can provide.
4. Categorize and prioritize incoming messages.
Once your messaging support gets rolling, think about how best to handle demand. If you start to get a high volume of messages, you'll need a definitive system for managing them.
You could choose a first in, first out (FIFO) approach, which means answering queries in the order that they're submitted. But, in most cases, a system for prioritizing messages is more appropriate.
Try to find a way to categorize the support requests and messages you receive. Segmenting them by customer value and the urgency of their inquiry is typically a sensible approach.
You can also hand off simple queries to chatbots, which can provide a faster response than human agent.s This can free up flexibility so reps can scan for high-value orders and field these cases right away.
5. Leverage SMS to collect customer feedback.
According to Groove, only one in 26 customers actually complains or gives feedback about a negative customer experience. 91% of the remaining 25 out of 26 customers will move onto a competitor.
A way to avoid this gap is by offering options for customer feedback over SMS customer support. Providing feedback is easy for customers, typically only requiring them to send one-word or number responses. It also encourages them to give negative feedback in a neutral channel where they might not feel as awkward doing so.
On the plus side for your company, you will get honest feedback -- in a less aggressive, frustrated tone than what might occur in online reviews or on social media. Customers will appreciate the fact that you are giving them a voice and taking their opinion into consideration.
6. Familiarize your agents with SMS customer support.
Your customer service agents will most likely be familiar with SMS and IM channels. They'll use them regularly in everyday life, so training for customer service messaging isn't about teaching people how to use the technology. It's about how to use the channel professionally for business.
Every message sent by your agents must create a positive impression of your brand. Depending on your brand identity, that means some texting norms -- like emojis or shorthand -- won't be appropriate. You'll need to educate staff on the type of language and message features you do and don't want them to use.
7. Integrate SMS with other support channels.
If you're involved in customer service, you might be familiar with the concept of omnichannel support. Its premise is to offer a seamless experience throughout the customer journey regardless of the channel a customer uses. For genuine omnichannel support, you must integrate and unify all your channels, including SMS.
This is something to keep in mind when implementing customer service messaging. You'll want to integrate messaging into your help desk, or ticketing platform as much as possible. Doing so makes it easier for your team to deliver consistent service.
8. Go above and beyond by following up with customers.
It's easy to speak to a customer when they ask you a question. All you really have to do is find an answer in a reasonable amount of time. What's harder is showing you care by following up with them later.
In this example, a fictional day spa shows they care about their customer by reaching out when they haven't visited in a while. They even offer a discount to show how much they miss that customer's business. This type of text message is easy for customers to respond to, but also shows customers that your business is willing to go above and beyond for them.
9. Send reminders about upcoming appointments.
With SMS support, you can send customers timely reminders about their appointments. This can be done anytime in advance, and a customer can simply confirm with a one-letter or one-word response, as shown in the example above.
Since your customers might be very busy, reminding them via text could be a lot more efficient than trying to disrupt their lives with a phone call or send an email that may be left unread.
10. Avoid unnecessary case transfers.
The best part about SMS customer support is that you can conduct all of your troubleshooting over one platform.
For example, live chats are often redirected to phone calls, and social media support can lead to email conversations. According to Harvard Business Review, 57% of customers have to switch from web support to phone support, which is a recurring complaint many have with customer experiences.
But, SMS customer support allows you to complete an entire conversation over one channel. Reps can send images and videos to customers, who can reply instantly and confirm or correct information. Neither side has to jump between channels or change devices if they want to utilize different communication tools/mediums.
11. Be clear and get straight to the point.
Texting is all about being concise. Leave the long-winded explanations and flashy language for email. In SMS customer support, you should be writing a brief summary of whatever message you're trying to convey.
In this example, a fictional car company is trying to inform its customers that it has a brand new model out. They have perfectly scripted their text, highlighting the key points in a short message. For more information, customers can click the link.
For outbound SMS customer support, you don't want to bore customers with an essay. Also, the channel doesn't allow for easy reading of lengthy messages. Keep it brief and engaging, and that'll have more of an impact on your customers and increase the likelihood that they read the entire message.
12. Promote your SMS customer support service.
Once you've built a superb messaging support service, make sure to publicize the fact that customers can reach you by SMS or IM. Your ability to offer support on these channels shows your commitment to excellent customer service.
The following are effective ways to get the word out about customer service messaging:
Phone
Add details of your messaging service to recordings customers hear while on hold when they call your company.
On-Site or In-App
Include links and details of how customers can receive support to your web pages and in your apps.
Social Media
Add info about your customer service messaging to social media bios. This makes a lot of sense if you use a channel associated with a particular network for support messages.
Using these tips, you can effectively adopt an SMS support channel and build a messaging service that will delight your customer base.
Now that you've mastered SMS support, read about social media customer service.