Regardless of whether you're a freelancer, running your own agency, or working on a customer success team, one of the most important aspects of a business is collecting payments from your customers. After all, client payments are what literally keep the lights on. And, if you put in hours of work for a project and a customer never pays for it, you've wasted your time in more ways than one.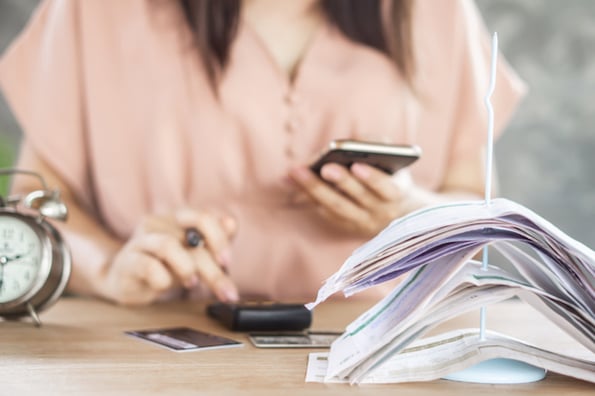 According to SmallBizTrends, 54% of businesses said it took too long for them to receive payments from customers, and 45% said their clients didn't pay on time. Another study found that the average small business in the United States is waiting on $84,000 in unpaid invoices — with 81% of those invoices being over a month past due.
Unpaid invoices can put companies in a tricky situation. While it's important to maintain strong relationships with your clients, those relationships won't do you much good if you aren't getting paid.
Broaching the subject requires you to communicate directly, but also deliver your message from an empathetic position. In this post, we'll explain how you can find that balanced approach and collect late invoices from your clients without damaging their customer experience.
How to Collect Payments From Customers
1. Ask for Payments Upfront.
Quite often, you can avoid invoice challenges by clearly establishing a payment system before you begin working with a new client. Asking for payments upfront may seem a bit strange for some agencies and freelancers, but the concept is similar to how many SaaS providers work.
When the client pays up front, you won't have to worry about sending an invoice afterward. Of course, now the onus is on you to deliver the completed project by the agreed-upon deadline.
Ashley Victoria Owen, a freelance writer for Freelancer Map, advises,
"Decide how much you want to charge per project, per hour/week/month, or per word before approaching a client about a job. Then add 10-25% to the original number that you came up with, depending on what seems appropriate and reasonable. When you pitch to your potential client, lead with an inflated price, but then offer them a discount of 10-25% if they pay upfront in full."
While not every customer will be willing to pay upfront, many will be open to paying a portion of your fee, ensuring that even if there are troubles later, you'll have already received some payment for the work.
2. Clearly Communicate Your Expectations.
Regardless of when you get paid, it's important to iron out all issues regarding payments before you start working with a client. Will you get paid via direct deposit? Paypal? Another online payment program? And, how soon after the project will you send an invoice, and how soon do you expect to receive payment?
Part of your goal should be to provide "a mutual level of convenience." Online scheduling platforms can integrate credit card processors like Stripe which can require payment before scheduling an appointment. This helps businesses get serious, long-term clients, while also eliminating the need for manually invoicing at a later date. Simply put, this technology streamlines the payment process for everyone involved.
Late fees and early payment discounts are also effective at motivating clients to pay invoices on time. Fees and discounts that are only a small percentage of the total project rate can be a surprisingly powerful motivator to encourage on-time payment. However, such terms must be communicated clearly and in advance, as dropping a surprise fee on a client will only hurt your relationship with them.
3. Send Polite Follow-up Emails.
There are many reasons why a client might not pay an invoice on time — and it's not always because they're trying to avoid you. Sometimes, the person in charge of processing your invoice might be on vacation, or has left the company and the business is trying to fill the vacant role. Or, your email might just have accidentally ended up in someone's spam folder because the email address they provided had a small typo.
If you want to maintain a positive relationship with your customers, it's important to give them the benefit of the doubt — at least initially. If more than a week passes and you still haven't been paid, sending a polite follow-up email is a good starting point.
When sending this email, it may be helpful to re-attach the invoice. You should also maintain a non-accusatory tone, but clearly state that you haven't been paid for the work. You can also remind them about the terms included in the original contract to encourage a timely response.
Sometimes, however, an email alone isn't enough. If you don't get a response, you might need to reach out with a phone or video call. After all, it's hard to miss these more direct communication attempts.
4. Offer a Personalized Invoice Schedule.
If you consistently receive late payments from an account, but you're still getting paid, it might be helpful to ask if you need to adjust your invoicing schedule. For example, rather than charging a customer $1,500 upfront, you could charge them $500 monthly for three months. For some clients, it's easier to pay a series of invoices rather than saving up for a single lump sum.
In these cases, you should try to make your suggestions feel collaborative. Don't push a deal onto a customer if you know they won't be able to make payments on time — especially if you're charging them with late fees. While you never want to turn away an interested customer, it's more important to foster trustworthy relationships with your customer base that will always lead to payment.
5. Contact Other People at the Company.
Sometimes the issue with getting invoices filled is that you're not working with the person in charge of payment processing. For example, anyone who's worked on an advertising project has most likely been paired with someone from the company's creative team to ensure that information was shared effectively between both parties. While this can streamline your day-to-day work, it puts information regarding invoices and payments at risk of getting lost in the shuffle.
As with many other invoicing problems, this can be avoided if you establish payment protocols before starting work. If you didn't take this step, though, you may benefit from reaching out to someone else at the company — typically the business manager.
To avoid future issues, it may be beneficial to have future invoices managed directly by the business manager. But, be mindful of how you address this step with your current contact. You don't want to make them feel like you've gone over their head or that you think they've been doing a poor job. Be sure to present this change as a win-win that will make things easier for both of you so all other project communications can keep performing well.
6. Consider Customer Value.
Sometimes, after all your good faith, a client may still ignore you in an effort to avoid payment. At this point, it's time to assess if this client relationship is worth continuing. While you may be able to recover the money you're owed in a court case, the costs associated with such legal action might actually outweigh the money you stand to recover.
It's a waste of time and resources to chase down payments for projects when you could be doing work for another client instead. And, in some cases, cutting out a delinquent client can actually turn into a net positive. It opens up the opportunity to find new clients who will actually pay on time, or who are willing to pay more for your services.
If you're looking for another difficult topic to discuss with customers, read these tips for announcing a price increase.