Did you know that 84% of consumers say experiences are more important than a brand's product or services?
And brands who create the right types of experiences - those that are helpful and tailored to the individual - see a 20% lift in business impact.
Essentially, this means that customer experience is one of the best ways to acquire and retain customers.
That's because customer experience is important. But how can you measure it?
Below, let's review customer experience analytics to measure and tools to help you do it.
Customer Experience Analytics
Customer experience analytics are metrics that help measure the customer experience. These analytics tell you whether the buying process is enjoyable for customers and can help you predict whether people will continue doing business with you.
Additionally, these metrics can help you decide how to run your customer service department. It'll tell you what's important to customers, what they care about, and what keeps them coming back for more.
In a way, customer experience analytics are the only way to truly get to know your customers, so you can understand them on a deeper level and provide products and services they love.
These analytics could be net promoter score, customer churn rate, first contact resolution, or customer satisfaction score. Many of these metrics are gathered through customer service surveys or support ticket trends.
How to Track Customer Experience Analytics
Tracking customer experience analytics involves several components. In this section, we'll go over them.
Create a customer journey map
Creating a customer journey map is a key step to understanding how your customers interact with your business. By creating a customer journey map, you will be able to pinpoint customer actions and emotions, and understand what the points of friction are.
Conduct surveys
Conducting surveys is a great way to delve deeper into customer experience analytics. Sending out surveys after a customer makes a purchase collects valuable feedback. You can also administer surveys after a customer interacts with the support team to gain information about how satisfied they were about the service they received.
Employ Customer Journey Analytics
Customer Journey Analytics plays a role in tracking customer experience. It builds off your customer journey map and answers questions about your customer's motivations and pain points, using data. This data is actionable — you can leverage findings to better improve the customer journey.
But, there are also customer experience analytics solutions that you could use. Let's review some below.
Customer Experience Analytics Solutions
HubSpot
Zendesk
Zoho Desk
Clarabridge
Glassbox Digital
CSG
Get started with customer experience analytics.
With HubSpot's customer service software you can deploy NPS, CSAT, CES, and custom surveys to gather feedback that can be used to build a better customer experience.
You can also use the analytics tool to analyze your service team's productivity. You can review tickets closed, average time to first agent reply, average time to close, and more.
By looking at these numbers and conducting these surveys, you can personalize your customer's experience and focus on continuously improving it.
Features: Measure touchpoint quality with conversion rates, customizable dashboards
Zendesk, another customer service software, can also help you measure customer experience and satisfaction.
With this tool, you can monitor every customer support interaction, from those that happen on email, chat, phone, or your social media channels. These reports can integrate data from every channel so you can properly measure the customer experience.
Features: Messaging solutions that enable personalized conversations, integrated ticketing system
Zoho Desk is a customer service software that is best-known for its customer experience analytics solution. You can quickly engage with customers through a multi-channel environment, automate routine tickets, and measure customer service metrics.
You can track issues, manage complaints, and monitor social media conversations right in the software.
Its reports and customizable dashboards help you track issues, monitor your teams performance, and keep track of time spent on every issue. All of this will help you better understand the customer experience and how to improve it.
Features: Ticket management, templates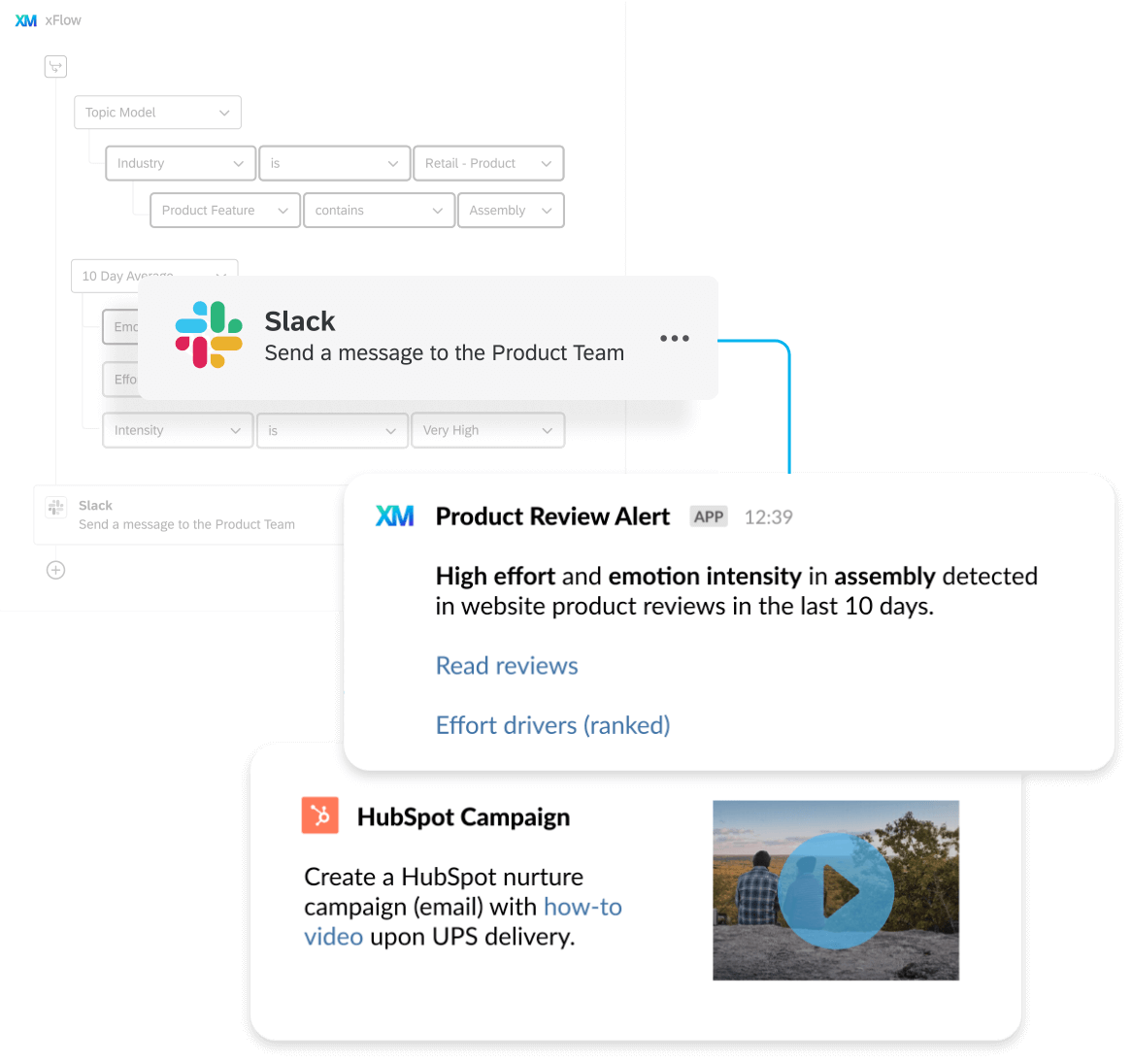 Clarabridge is a customer experience management platform that can help you deliver innovative customer experiences.
Whenever you get feedback, no matter the channel, Clarabridge will funnel it so you can optimize your website according to it.
Additionally, this software offers sentiment analysis, alerting proper stakeholders in real-time when unusual activity is happening.
With these insightful reports, you can tailor your customer experience to your actual customers.
Features: Conversational analytics to determine topics and sentiment, automated workflow and actions
Glassbox Digital is a customer experience analytics platform that can offer solutions that don't just tell you what a customer is doing, but also why.
Its insights are built on using deep customer behavior analytics to give you powerful and instant automatic insights to improve your business's digital customer experience.
Its best features include session replay of both web and native or hybrid mobile applications on a single platform. You can access historical customer experience analytics at any time to find the answers to your questions to help you improve the customer experience.
Features: Interactions maps, performance analytics
Source
With CSG, another customer experience analytics solution, you can combine your data into an intuitive customer journey. This means that interactions that happen across channels and departments can be combined to help you track and analyze the entire customer journey.
Features: Send personalized messages, manage entire customer lifecycle
The idea being that your entire company owns the customer experience, not just customer service. Every interaction shapes how your customers feel about you. That's why this software will help you combine data from all departments so you can truly understand your customers and improve their customer experience.
Now that you know about the software that can help you keep track of your customer experience, let's review other types of analytics that can help you understand your customers.
Predictive Customer Experience Analytics
Predictive customer experience analytics are metrics that can help you predict and understand your customers. These metrics will help you provide personalized marketing and forecast customer needs so you can get ahead of the problem before it happens.
You might be wondering, "How does that work? Does this software have a crystal ball?"
Well, the answer is kind of. Predictive analytics software can help you detect precursors to change in customer behavior, allowing you to be more proactive in your customer service approach.
For instance, predictive analytics can forecast the volume of inquiries and the complexity, so your team can be prepared to provide the best customer experience.
Additionally, this type of software can identify customers who are at a high risk for churning, or leaving your business. This can help your sales or service team assist before that happens.
Ultimately, predictive customer experience analytics can help you understand customer needs, give you real-time product feedback, identify customers who are at a high risk for churning, and implement the resources you need.
Customer experience should be one of your top priorities. It's the reason that people stay with your company and continue to work with you or purchase your products and services. To measure this, you can use several metrics and analytics tools.