The customer journey is a long, winding, complex process.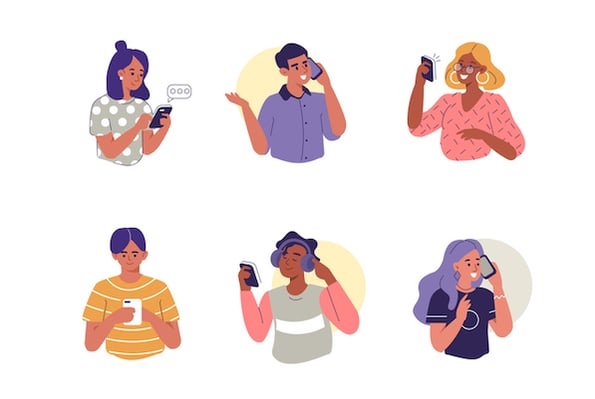 Between hearing about your business from a friend, engaging with your content online, considering a sale, and becoming a customer — not to mention finally using your product and everything that comes afterward — each step is a different experience in its own right.
When a customer interacts with your business, their emotions might range from curiosity to indifference to excitement or even frustration. Because the customer experience is filled with various needs, touchpoints, and states of mind, it's beneficial for your business to map out its customer experience for one or many of the most common interactions users would have with your product, brand, website, or customer support team.
Making a customer experience map can help your team understand these peaks of joy and sorrow, when and why they occur, and what can be done to ensure a consistently positive customer experience.
In this post, let's discuss what customer experience mapping is, then look at how you can map individual customer experiences at your business.
What Is Customer Experience Mapping?
Customer experience mapping is the process of visually outlining the steps a customer takes during an interaction with your business. This map usually includes a description of each step, the emotions that a customer is feeling during that step, as well as additional insights on the design, intent, and/or implementation of that step from the business's side.
Unlike a holistic customer journey map, a customer experience map tends to narrow in one specific interaction with your business. For example, you might have individual customer experience maps for each of the following scenarios:
Reading your blog or exploring your website
Interacting with a customer support agent
Visiting your store or your ecommerce site
Using your product at home or at work
Interacting with sales during the process of becoming a customer
How to Create an Experience Map
A customer experience map template can help you better visualize and plan your customer experience.
Download this collection of seven customer experience and journey map templates
and use them to outline the actions, feelings, and touchpoints of your customers as they pertain to your business.
From there, use the following sections to identify what should be changed about your customer's experience and why.
2. Choose Your Experience.
Since a customer experience map usually focuses on one experience, your first step should be to choose an interaction of focus, which you will soon analyze for experience gaps and areas to improve.
While it's tempting to cover multiple experiences with your map, try to hone in on one specific experience which you'd like to improve for your customers. The rationale for choosing an experience can be anything from customer comments, to an employee observation, to a high traffic number, or even a part of your website that you want to make sure is fully optimized.
That said, we suggest prioritizing low-effort, high-impact opportunities with your customer experience mapping and improvement projects – those that can be addressed swiftly but will have a measurable positive impact on the customer experience.
3. List Your Touchpoints and Customer Actions.
After narrowing your scope, you should break the experience down into the actions that your customers will take, in addition to what the interaction with your business looks like during each action.
For example, let's say you're mapping out the process for a customer seeking support over the phone. The touchpoints might look something like this:
Step 1: The customer experiences a pain point with your product or service and determines reaching out to support is the necessary next step.
Step 2: Your customer visits your website, looking for (and eventually finding) your customer support phone number.
Step 3: Your customer calls support and gets in touch with a support rep.
Step 4: Your customer explains the pain point, and the support rep works to solve the problem.
Step 5: The support rep solves the customer's issue over the phone, and the call is finished.
Like in the example above, touchpoints should be sequential and interconnected, but unique enough to be their own steps in the overall customer experience. This process makes it easier to identify what's going right or wrong in each individual step, in addition to what the customer might be feeling at each part of the process.
4. Determine Customer Thoughts or Feelings.
One of the key components of the customer experience map is to look beyond what customers are doing and attempt to understand their emotions during each step of their experience. For example, feelings of curiosity or excitement can easily be diminished by a broken link to your "About Us" page.
During your mapping process, tie your customers' mindset to the actions they're taking. There's no universal way to gauge these opinions, but below are a few common strategies.
User Testing
If your experience map is for a product or a website, you should consider conducting user tests regularly. These tests allow you to observe customers interacting with your product or website and help you make changes based on their actions.
During these tests, ask your customers to explain what they're doing, why they're doing it, and how they feel to add context to their actions as they're doing them.
Customer Feedback
If you're unable to observe customers in real-time, reach out to sales, support, and/or customer success employees to speak on any customer feedback pertaining to the experience in question. While the evidence might be more anecdotal, this path still provides you with the insights that you may otherwise have been unable to gather.
Educated Guess
If all else fails – or if you're building an experience for a new product, service, or business – employ your skills of empathy and critical thinking by making educated guesses on the feelings your experience may provoke. This extra step helps you take a second look at the work you're doing to help justify your actions.
5. Plan Out Improvements to the Customer Experience.
With all customer thoughts, actions, and touchpoints mapped out, the next step is to add potential improvements to your customer experience.
Based on your feedback, test results, and/or educated guesses, go through each step of the customer experience and ask yourself, "what can be done to improve the customer experience at this stage, and why?"
On top of your conversations with customers, consider doing some competitive analysis to see how the other players in your industry handle a similar customer experience.
It's understandable if you come into this step with attachment to the way things are, but remember that customer experience maps identify areas of improvement in your customer journey. If the data or feedback you've received are telling you something needs to change – then listen.
Customer Experience Map Templates
Mapping out your customer experiences is more organized, effective, and clear when using customer experience map templates.
Developed to capture seven different types of customer experiences and journeys, these templates will help you outline every part of the customer experience – and help you identify the biggest opportunities for improving it to delight and retain more customers.
Download the templates now to get started on building a better customer experience.