Today, buyers have options — a lot of them. No matter how niche the product or service you sell is, there's often a competitor (or a few) out there with a target audience that closely resembles yours and a product or service that's at least somewhat similar to yours.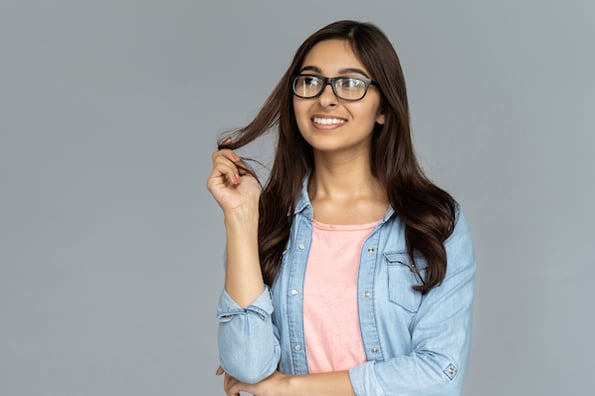 So, how do you break through the noise to reach your target audience and ensure your product or service stands out among the rest?
The answer: Gathering and understanding as much detailed information you can about your customers.
That's exactly what customer intelligence (CI) — and CI software— can help you accomplish.
Customer Intelligence
Customer intelligence (CI) is the process of collecting and analyzing information about your customers to understand them on a personal level. It helps you offer a great customer experience (CX), reach your audience more effectively, and increase loyalty (and more).
By leveraging customer intelligence, you have the ability to understand your customers and prospects on a level that helps you target that group in everything you do — from marketing to sales to service and beyond.
It gives you the information needed to create a personalized and highly-targeted customer experience that makes your prospects and current customers want to convert and continue coming back.
CI data may come from any of the following customer characteristics and attributes:
Likes and dislikes
Geographic location
Demographic information
Challenges and needs
Purchase history
Customer interactions (e.g. on social media, email etc.)
Goals
Where and how they spend their time
If they've used your product/ service in the past
If they've used a competitor's product/ service in the past
Here are some examples of places you may pull the above customer intelligence data from:
Current customer data and analytics (e.g. from your CRM and/or CDP)
Focus groups
Campaign results
Marketing/ sales email results
Social media
Why is customer intelligence important?
Customer intelligence offers insight into who your customers are on an individual level so you can adjust different aspects of your business —such as your customer experience, support, content, or buyer's journey — to positively improve growth, revenue, retention, and loyalty.
Here are some more benefits to customer intelligence:
Increase conversions and sales by analyzing customer behavior on an individual level.
Determine the specific needs of a prospect so you can tailor an offer to them and improve chances of a conversion.
Use real-time data to watch prospect/customer behaviors so you can reach them at the time they're most interested — and, therefore, likely to buy.
Segment your customers into groups based on attributes and behaviors so you can efficiently match prospects to specific profiles and reach them with the most relevant and personalized offer possible.
Tailor your marketing campaigns and outreach to target your audience wherever they are (e.g. your social media profiles).
Show customers you intimately understand their needs, challenges, and goals with highly-relevant and timely ads, campaigns, outreach, and targeting.
Customer Intelligence Software
Customer intelligence software — or CI platform — is how you can effectively gather, manage, monitor, and analyze your customer intelligence data.
Pro Tip: By combining customer intelligence software with your customer relationship management (CRM) platform, and even a customer data platform (CDP), you'll have all of the necessary information and tools to improve and personalize your customer experience, buyer's journey, customer service and support, marketing and sales strategies, and so on. As a result, this alignment on all things customer will help you increase loyalty, revenue, relevance, brand awareness, reach, and more.
HubSpot's Service Software is a powerful tool capable of helping...
... your marketing team identify best-fit customers to target them effectively.
... your sales team communicate with prospects and customers in a one-to-one, personalized way with context around happiness, engagement, and readiness so they can prioritize specific leads and/or accounts.
... your service team organize and track customer communications, target and delight customers, help customers efficiently, and provide personalized and targeted self-help content.
All of these capabilities and features create a frictionless customer experience. Not only that, but the software also gives you a 360-degree view of your customers plus valuable context about them so you can more effectively support them.
This customer intelligence data comes from a number of sources within HubSpot including your CRM records, deal and email timelines, conversations inbox, and workflows for ticket routing. You can also gather customer data via surveys — with automation and customer segmentation — within HubSpot to get real feedback and information from and about your customers (e.g. their needs, likes/dislikes, where they spend their time).
Signal, by TransUnion, gathers, organizes, and displays first-party, real-time intelligence data from every customer engagement. This customer data is also cross-channel meaning it may come from different locations such as a website, mobile, email, CRM, or call center.
All of this information is meant to help you create highly-relevant and targeted customer experiences and campaigns so that you can improve conversion rates, engagement, customer retention, and customer loyalty.
Intercom is a customer data platform with solutions specifically meant for conversational support, engagement, and marketing. The tool's customer intelligence capabilities make it easy to track, segment, and get to know your customers on a personal level.
Create and review customer profiles to understand each individual and track a person's actions while they engage with your brand. In doing so, you'll be able to effectively filter, target, and reach specific customers at the right time as well as segment them based on shared characteristics/ behaviors.
Close more deals with chatbots and live chat, and sync your intercom data with HubSpot.
Asseco Customer Intelligence is an analytical system — meant for businesses in any sector — that provides insights and data about online customer behavior, whether on your website, app, social media.
Once customer data is collected, Asseco will match individual customers to one of your specific customer profiles (which the tool helps you generate) so it can recommend the most relevant offer or message for each customer. To do all of this, Asseco uses artificial intelligence (AI), machine learning, and algorithms.
Clarabridge is a CX platform that offers insight into who your customers are and what their interactions mean.
The tool uses AI-powered natural language processing (NPL) to measure characteristics and attributes of your audience — including intent, emotion, and effort — all based on what they're saying in comments and conversations. These conversations may take place via phone call, email, chat, survey, social interaction, rating, review, or forum — all of that data is complied into one place for easy access and analysis.
From there, categorize all of your customer data, display it in a pre-built template, and even dive deeper into your emotion analytics. This way, you'll have the necessary context to tap into empathy in order to create highly-personal experiences and offers for your target audience.
Customer intelligence has the power to help you increase conversions, loyalty, retention, and growth. Now that you understand the many benefits that result from investing in customer intelligence, think about how you want to begin collecting and analyzing your data with CI software.