According to the Customer Service Report 2021 by LiveChat, the average customer satisfaction score dropped by more than 2% in 2020 compared to 2018.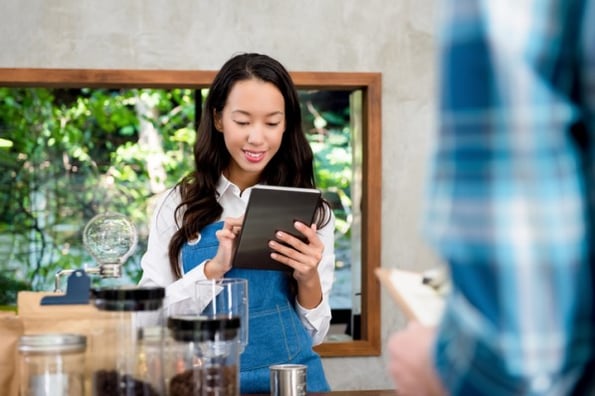 I don't want to worry you, but the report is based on data from over 25,000 companies representing 30 industries using live chat and tickets for customer service and sales. All in all, we've analyzed data from 594 million chats and 18 million tickets, so I think we can trust the outcome.
To be clear, it's not my intention to go on and on about how bad things are in customer service. But it's my job to let you know about the state of things and offer immediate advice on how to work on them.
We've got all that and more in this article. We'll break down exactly what customer satisfaction metrics you need to focus on to keep your business healthy and customers happy. Then we'll show you a few examples of companies that are doing this well. Are you ready to delight your customers?
What are customer satisfaction metrics?
Customer satisfaction metrics measure how pleased customers are with your business. If the goal of customer service is to satisfy customers, metrics help you measure your progress toward that goal.
Let's take a deeper dive into each of these customer satisfaction metrics to understand what they are, what they measure, and how to make decisions with the data.
Customer Satisfaction Metrics
Net Promoter Score
Customer Satisfaction Score
Customer Effort Score
Customer Health Score
Abandonment Rate(s)
1. Net Promoter Score
Net Promoter Score, or NPS®, is a very popular metric that's used to measure customer satisfaction. That's because NPS is a simple, one-question survey that provides your business with both quantitative and qualitative data about the customer's experience with your brand. Having both types of data wrapped into one metric makes it easier for businesses to categorize and identify specific trends in customer reviews.
NPS is a survey that determines how likely customers are to refer your brand to another person. It asks customers to rate their experience on a numerical basis as well as provide a brief explanation for their rating. You can then organize and review the ratings that are the highest and lowest to see what people like and don't like about your company.
2. Customer Satisfaction Score
Customer satisfaction score (CSAT) is another survey that your business can use to determine customer satisfaction. Similar to NPS, the customer satisfaction score asks customers to rate their experience on a scale, however instead of inquiring about referrals, CSAT focuses on a specific product, service, or customer interaction.
Customer satisfaction score is one of the most fundamental surveys used to measure customer satisfaction. Unlike NPS, businesses can ask customers multiple questions, each regarding different aspects of the customer experience. This makes it easier for your company to obtain customer feedback about specific features of your product or service.
3. Customer Effort Score
Customer Effort Score (CES) is a survey that determines how user-friendly your products and services are. These surveys are typically one-question prompts that are displayed immediately after a customer performs an action. For example, e-commerce sites may ask customers how difficult it was to locate and purchase an item they just bought on the site. This way your business can remove any roadblocks that may be impeding the customer's journey.
Customer Effort Scores are valuable because they give your company immediate feedback regarding the usability of a product or service. Many customers who are having trouble using your product will be reluctant to provide feedback that specifically addresses their pain points. Instead, they'll give up and cancel their subscription without ever telling you why, or they'll say your product is too confusing. Since customer effort scores are proactive, you can reach out to these customers and correct usability issues before people begin to churn.
4. Customer Health Score
Customer Health Score provides an overall summary of a customer's satisfaction with your business. It combines all of your historical data — like CES, CSAT, and more — on the customer and displays a color that symbolizes how the customer feels about your company. Green means they're content, yellow means there's room for improvement, and red means they're at risk to churn. Your customer-facing employees can use this color code to ensure they're providing the best service possible to customers who have had poor experiences with your company.
Not only does the color code make it easier for your employees to spot unhappy customers, but it also highlights people who may present a financial opportunity. The customers who are marked yellow represent a chance for your company to provide added value to their experience. Marketing, sales, and customer service teams can target these customers and provide offers that improve their opinion of your business. If successful, these customers can be converted into customer advocates who will refer your company to other potential leads.
5. Abandonment Rate
Abandonment rate is the percentage of customers who terminated an interaction with your company before an action or request was completed. Depending on your business and the services you offer, abandonment rates can measure a few different aspects of your company. For example, most companies that have a call center will measure the abandonment rate for customer service calls. If your company has an ecommerce site, you can measure the abandonment rate of shopping carts on your online store.
Abandonment rates give you a good idea of how satisfied customers are with their interactions with your business, regardless of the product or service they're using. By comparing the abandonment rates of different components of your business, you can determine if you're providing a consistent, omni-channel experience for your customers. If your rates are high, you can pinpoint where exactly customers are dropping off and remove any roadblocks that may be preventing their success.
The Reasons Why Customer Satisfaction Metrics Are Down
In 2020, businesses experienced a 36% increase in chat demand in comparison to 2019's numbers. This means that for every 100 customers contacting these companies, there are now an additional 36 customers requesting live chat assistance every month. If your team isn't prepared for the influx of customers requesting live assistance, you could experience low customer satisfaction metrics.
You can work with the existing resources on your team to not only measure customer satisfaction but improve your customer service, too. Read on to find out how.
1. Your first response time needs help.
People might think they can do several tasks at the same time, but can they do them all effectively? Not usually.
Let's say you're talking or live chatting with one customer — Ben. You dove into his case and you were eager to resolve it as soon as possible. But then, along comes another customer — Kate — and she really needs to know if you can send her an invoice for your product ASAP. The best thing you can do in this situation is to take a break from Ben's case to answer Kate: "Hi Kate, Yes I can do it for you. Give me a moment so I can download the invoice for you." You then go back to Ben, but in the meantime, you also download Kate's invoice.
Why is it so important to answer Kate so quickly? First response time is important for building trust and not overusing the customer's patience. It's one of the first steps that contribute to the customer's overall experience.
2. You can't solve cases in one interaction.
One of the most successful industries surveyed in LiveChat's report were tech companies: software, web hosting, and IT companies achieved 81.2% customer satisfaction — higher than the global average of 79.7%.
What's interesting is that these businesses have some of the longest average resolution times — an average of 436 hours to be exact. Looking at their happy customers, it's clear that the length of time it takes to solve a customer's problem doesn't impact overall satisfaction — if you manage to solve the case in one go.
That's an important fact that deserves highlighting. For a long time, customer service team members believed that a quick handle time made customers happy — but the data proves something else.
If the first response time is quick, and the bond between the rep and the customer is created, then when the case is solved, it won't really matter that it took a little longer. The result is that a customer is satisfied with your service.
3. You don't have a customer service strategy for the future.
A lot of customer support teams start hiring more reps when things start picking up — and when more customer tickets are coming in. But that isn't always the right approach to hiring to meet customer demand.
This strategy can work in the short term, but when your organization reaches a hyper-growth stage — when you're rapidly acquiring new customers and making changes to your product or service that your customer support team can't keep up with — you'll see customer churn increase when there aren't enough reps to meet demand.
Instead, you should plan to scale your team before the demand storm arrives — using this formula to figure out exactly how many reps you need.
One thing is for sure: You can never have too many satisfied customers. It takes consistent work improving communication skills and using customer service tools efficiently.
4. Your customers' needs are changing.
You might experience issues with customer satisfaction if your customers' needs are changing faster than your business can solve them. This isn't an ideal situation for any company to be in, and the best approach is to be proactive in your customer service. Meet your customers where they are and listen to them.
Focus groups are a great way to start this process. You can uncover the reason why your company is performing poorly on particular metrics and get ideas from the customers themselves on how to improve them.
5. Your flywheel isn't spinning.
The Flywheel model is a concept that describes the momentum your business will gain when your entire company is aligned around the customer experience. There are three parts to the flywheel: attracting customers, engaging them, and finally, delighting them. When all three of these pieces are in motion, you'll notice great improvements in your customer satisfaction metrics.
To get your flywheel spinning, take a look around your company. Are your marketing, sales, and service teams aligned and focused on the customer? Where might the customer experience the most friction when they do business with you? Understanding the answers to these questions will help you solve for the customer and delight them during every interaction.
Now that you understand the customer satisfaction metrics, you might be wondering, "How exactly do I collect the data?" Well, there are a variety of ways you can measure customer satisfaction metrics to see if your efforts are actually fulfilling the needs of your customers. Take a look at the next section for some examples of how a couple of businesses keep an eye on these metrics.
Customer Satisfaction Metrics Examples
Look no further for a great example of customer satisfaction metrics than The Hustle's newsletter. Each newsletter includes a section at the end asking for feedback on the content. When the user clicks an option, they're prompted to share more about their experience. The Hustle's team can then review the responses and measure how satisfied their readers are.
The metrics measured in this example are customer satisfaction score and customer health score.
SMS isn't just for promoting new products and services. You can use this method of gathering customer satisfaction feedback to monitor your customer's experience.
In the example below, Care Station Medical Group sent this patient a survey to complete. The survey measures several customer satisfaction metrics like the customer effort score and net promoter score.
These metrics should provide you with a complete picture of customer satisfaction at your business. And, if you can come up with the right strategy that provides effective customer service, you will significantly improve customer satisfaction.
Net Promoter, Net Promoter System, Net Promoter Score, NPS and the NPS-related emoticons are registered trademarks of Bain & Company, Inc., Fred Reichheld and Satmetrix Systems, Inc.
Editor's note: This post was originally published in May 2019 and has been updated for comprehensiveness.