The robot takeover is coming. Well, maybe not like Terminator or The Matrix level, but more like iRobot.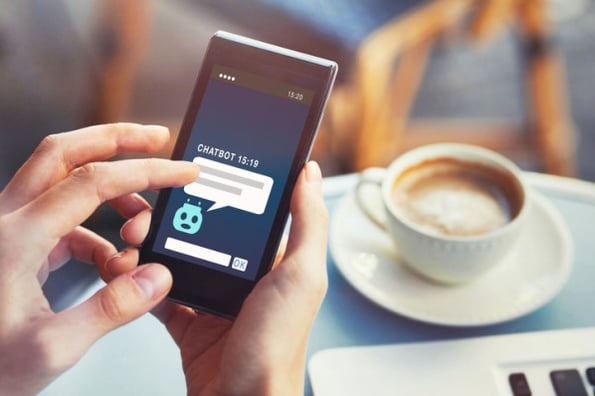 Sure, go ahead and laugh. But, studies show that by 2020, 85% of customer interactions were to be handled without a human. That means in just one year, you'll be talking to a chatbot for most of your customer service problems.
Unfortunately, I seem to be the only one worried about this. 50% of consumers no longer care if they're working with a human or a bot. And, with companies reaping the benefits of advanced automation and improved customer experience, there seems to be nothing that can stop this chatbot takeover.
While I don't think there's a chance at preventing the inevitable, maybe we can make friends with these bots before it's too late. In this post, let's break down what a chatbot really is, and why they've become so popular in customer service. Then, let's take a look at the most powerful (but friendly) chatbots to watch out for in the next few years.
What Is a Chatbot?
A chatbot is a form of artificial intelligence that simulates human conversation through a live chat interface. It's programmed with pre-written responses that are displayed based on the customer's previous message. Chatbots analyze the user's text for keywords and phrases that relate to common customer roadblocks. Then, the bot provides self-service solutions based on the information it receives.
And, that's just the baseline for what this technology can achieve. Some chatbots are incredibly complex and nearly impossible to distinguish from an actual human. While to me that's terrifying, business owners love the benefits these bots provide to their customer service team.
Benefits of Adopting a Chatbot
1. Reduced Case Volume
Chatbots can significantly reduce case volume for customer service reps. Since bots are a self-service tool, customers don't have to connect with one of your human reps to get answers. If their problem is simple or common, the chatbot can link them to your knowledge base or FAQ pages for the solution. This frees up your agents to focus on more complex and time-consuming cases.
2. Seamless Integrations
If a customer's problem is complicated and requires live assistance, chatbots can transfer the chat to a human agent. This seamless integration creates a better customer experience because the customer doesn't have to rewrite their problem. Instead, the rep can read the previous thread and pick up the case where the bot left off.
Chatbots can also be integrated with your CRM to personalize customer interactions. It can research each customer's past experience with your brand and reference relevant information when necessary. This is incredibly important because research shows 72% of consumers expect your reps to know their contact information before an interaction begins. Unlike humans, bots can look up this data immediately and know exactly where to find the information they're looking for.
3. Task Automation
If one of your service reps aren't available for transfer, chatbots can also perform follow-up functions. They can schedule meetings with customers and assign your reps cases that need to be completed. Some bots can even send follow-up emails to customers after they solve their case. Task automation like this creates a more consistent customer experience and helps your team keep track of unfulfilled customer needs.
Now that you understand the impressive power that chatbots wield, let's take a look at some of the strongest options available for your team this year.
Best Chatbots of the Year
Allow me to introduce HubBot. HubBot is HubSpot's free chatbot tool that comes in addition to its free live chat software. This chatbot can book meetings for your reps, link to self-service support articles, and is integrated with a complete ticketing system. Additionally, HubBot is connected to the tools in HubSpot's Marketing, Sales, and Service Hubs. You can save chats onto contact records in your HubSpot CRM, and trigger workflows based on a conversation's outcome.
Price: Free
Zowie is a chatbot that can give customers instant answers to questions in over 40 languages. Its no-code builder makes it easy to set up and integrate with tons of different software like WhatsApp, Facebook Messenger, Instagram, and Shopify.
The cool thing about Zowie is that it learns from each customer interaction. It provides custom recommendations on how to improve existing automation and even suggests new questions to add. All of this helps personalize the chat experiences by offering solutions to customers that are unique to your site.
Price: Variable
Bold 360 offers a chatbot that isn't limited to pre-written scripts. Instead, its bot uses natural language processing to personalize conversations with customers. Rather than spending time writing and designing workflow logic, simply install it on your site. After that, the bot will slowly learn and adapt to customer conversations, creating more genuine experiences each time.
Price: Variable
Source: Bold 360
Botsonic is a no-code AI chatbot builder that allows businesses to train their own ChatGPT-driven AI chatbot on their data. Companies across industries can now build hyper-intelligent, conversational AI experiences for their website visitors in minutes. Botsonic offers two ways to feed your data – upload your help docs or copy-paste your website links to create a personalized ChatGPT chatbot for your business.
Price: Freemium
Giosg makes it easier than ever to provide faster and better service and save time from customer service agents. With Giosg's no-code chatbot you can start conversations, ask questions, recommend products, and capture high-quality leads around the clock before connecting them with the right sales agents and teams. With the 20+ ready-to-use customizable templates and wide integration capabilities you can launch chatbots to your website in minutes.
Price: Custom
Source: Giosg
Chatfuel is a popular Facebook Messenger bot that can be installed for free on your company's Facebook account. What's great about Chatfuel is that you don't need any prior experience with bots to create one. Chatfuel's bot-building interface has simple, straightforward instructions that guide you through each step of the logic-development process. Once completed, the bot is easily activated and immediately starts working for your account.
Price: Free
Source: Chatfuel
Xenioo is a chatbot-building platform that lets you build a bot for almost every type of live chat interface. It has building tools for web page chat, Facebook Messenger, WhatsApp, and more. It even has options for Amazon Alexa and Google Assistant. This way, you can maintain an omni-channel experience with every bot you create.
Price: Free
Source: Xenioo
Botsify's chatbot is designed to give your reps complete control over every customer interaction. If the bot is failing to answer a customer's question, your reps can intervene immediately to resolve the situation. Your team also has the power to deploy feedback surveys during the conversation to measure how well the chatbot is performing. With this feature, your team can ensure the bot is optimizing customer experience and make changes to the bot if it's creating roadblocks.
Price: $50/month
Source: Botsify
Ada offers a chatbot equipped with advanced analytics that break down the performance of the bot over time. This data includes average handling time, abandon rate, and multiple customer satisfaction metrics. Having this information at your disposal will help your team tweak the bot's logic over time and optimize your customers' live chat experience.
Price: Variable
Source: Ada
Aside from its ominous name, It's Alive has a helpful chatbot with some unique features that are different than other options on this list. For example, this chatbot has a "broadcast" feature that sends automated messages to customers after a live chat interaction. Users can subscribe to the chatbot to receive follow up on a case and get updates about new products and services.
Price: Free
Source: It's Alive
Botkit is an advanced chatbot builder that allows you to fully customize every aspect of your chatbot. That's because Botkit provides you with a baseline code that you can install into a node or Javascript coding environment. Once there, your engineers can follow Botkit's coding instructions to design every facet of the bot. While this tool is the most complex, it allows for more customization options than all other options on this list.
Price: Free
Source: Botkit
Mindsay is an easy-to-use, low-code conversational AI platform that lets anyone build a bot. You can easily and quickly improve your customer service quality and team's productivity. The company has expertise working with leading brands across industries that have allowed the company to tailor conversational AI to any business needs. With this customized customer service automation platform, you can have a chatbot ready to go (regardless of technical skills) quickly.
Price: Variable
Image Source
Chatbots will never replace the human experience that reps create, but they can be powerful allies to your customer service team. So, as your business adopts its first chatbot, remember the age-old lesson from Spiderman, "With great power, comes great responsibility." But, if your bot starts questioning orders and saying it's for your own safety, please unplug it immediately.
For more useful customer service tools, read about how adopting a CRM can dramatically improve customer experience.