Customer service can make or break a company. Think of some of the recent positive experiences you've had with customer service teams. What do they have in common? Strong customer service isn't always just about the friendliness of a rep. A crucial part of customer service is the data that enables service teams to understand customers, deliver consistent experiences, and personalize every interaction.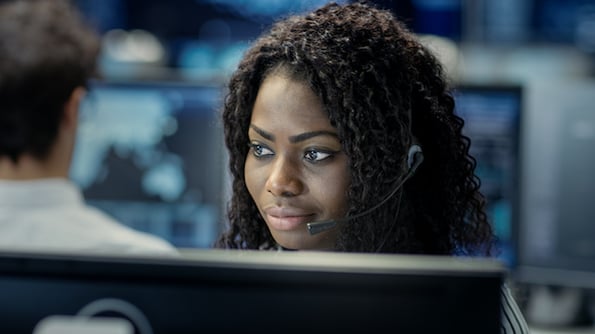 The best customer service teams are able to understand the problem and the customer fast, based on the data at their fingertips. This includes previous conversations and tickets, details about the customer's business and subscription plan, and data on their time as a customer.
In many cases, providing better customer service comes down to collecting and managing better data.
Here's how to enrich your customer service database to provide the best experiences, starting with the fundamentals: relevant, integrated, and well-maintained data.
What's a Customer Service Database?
A customer service database is a structure where you collect information resulting from the interactions with potential and existing customers. The database itself is usually part of a customer service software managing one or several types of interaction such as tickets, live chat, voice software, etc.
What an Effective Customer Service Database Looks Like
A 360-degree view of your customers can consist of thousands -- if not millions -- of data points.
There are four main types of customer data: identity data, descriptive data, quantitative or behavioral data, and qualitative data.
This data is often centralized in a Customer Data Platform, or CDP. A CDP brings together all of the disconnected data about your customers to provide one unified view. This is subtly different from a CRM, which tracks a customer's intentional interactions during their journey with you.
With a CDP in your stack, it's simple to get a quick impression of a customer without having to sift through several apps and siloed data points. It can bring together CRM and DMP data, web form responses, email and social media activity, website engagement data, and much more.
Other benefits of a CDP include preventing data silos, providing a more insightful view of your customers, and unifying cross-channel marketing efforts.
To develop the most accurate picture of your customers in your CDP, you can follow these three principles for good data:
1. Relevant data
The best customer service data is timely and relevant to the aspect of the business we need to analyze or decide upon -- not fluffy, or bogged down with details that don't matter. It enriches conversations with timely insights that enable service teams to provide the best service, fast.
2. Integrated data
Integrations enrich your CDP insights even more by bringing in data from your other apps, such as your CRM and sales, marketing, and service platforms.
With two-way integrations between your apps, you can break down silos and develop a high-definition view of your customers not only in your CDP but in your other apps too.
3. Well-maintained data
Good data is fresh data. To maintain a healthy customer service database and help your organization to adhere to data protection regulations, make sure to follow these best practices:
Only collect relevant and useful data for your company.
Purge data you no longer need.
Store your data securely.
Maintain data integrity in your apps.
Avoid and fix duplicate contacts.
How to Enrich Your Customer Service Data with Integrations
So, how can you integrate relevant and well-managed data between your service platforms and other apps? There are several types of integration you can use to connect your data. The main types to consider are:
Native integrations
Native integrations are offered by your apps as simple ways to connect other tools, such as the integrations in the Operations Hub. This is a handy way to connect the functionality of two apps. For example, viewing tickets from your customer support software in your CRM.
Data pushes
With a data push, you create a "trigger-action" automation that moves data from App A to App B when a certain trigger is met. For example, you could add every new customer to a Google Sheet.
Data syncs
Data sync creates a mirror between the data in your separate apps and keeps everything up-to-date, bidirectionally, and in real-time. This is the best way to enrich your customer service database, as it connects data between your apps based on the conditions you set.
Best Synchronizations To Enrich Customer Data
Connecting your CDP with your CRM
Both tools are powerful in their own right, but they can be even more powerful when you integrate them and end up with enriched data on both platforms. To avoid overloading your teams, you can select only the most relevant data from your CDP to sync with your CRM.
Connecting your customer support software with your CRM
To enable your support reps to see the full story of every customer in the app they use most, sync insights from your CRM into your support platform. If you are a HubSpot user, with Operations Hub, you could set up a two-way sync to also have your customer satisfaction scores and other insights available on your CRM.
Connecting your CDP with your email marketing software
If you send specific email marketing communications to customers, use data sync to maintain the latest customer data in your email list, and sync email engagement preferences back to your CDP.
Connecting your CDP with your accounting software
If you need to keep up-to-date customer data in your accounting app to manage invoices, it's easy when you sync customer data between your apps. It also means you can avoid manual checks and imports as well as mistakes.
Remember the Key Principles For Enriched Customer Data
To develop the most impactful customer insights, start by collecting and maintaining quality data in individual apps: such as your CRM, CDP, and customer support software.
However, for the best results, take the time to integrate your apps to share relevant data between them. Not only will you have more accurate data everywhere, but your customer service team will also gain enriched insights to deliver the best response for every ticket, every time.