Without the right tools, trying to identify and cater to the right customers is like trying to find the hay in the needle stack.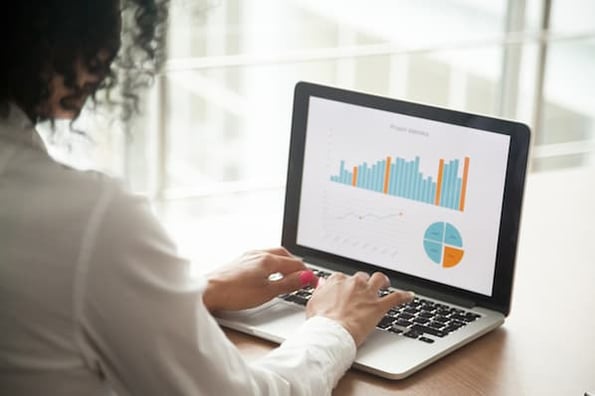 You think you have an idea of who you're trying to reach based on general demographics, but it's not easy — unless you have the help of an identity graph.
In this post, we'll break down what an identity graph is, how to select the right one for your strategy, and give you a better visual of what it means to gain a comprehensive, ever-evolving view of your target audience.
What is an identity graph?
An identity graph is an online database of all the personal data related to an individual customer. It helps businesses to personalize advertisements based on individual devices and IDs.
During an entire customer relationship, you'll come across many details about a customer that can be stored in a unified customer profile. These details include names, phone numbers, home addresses, email addresses, associated customer ID numbers, usernames, etc. All of these identifiers are collected and stored in the identity graph and readily accessed for your business to better understand and target customers based on the most updated information.
Along with this personal data, identity graphs can also store anonymous data related to customer behavior, such as device IDs, browsing history, and more.
Steps to Selecting an Identity Graph
Many third parties own identity graphs. These include social networks and ad partners, among other vendors. It can be difficult to choose the best identity graph to meet your company's needs. So, use the following tips to make the best decision.
1. Compare match rates.
Match rate is a metric used to compare your brand's first-party data with that of an onboarder's identity graph. Match rates measure the number of users that an identity graph can discover and analyze. Match rate is a great tool for understanding the size of your audience.
However, with match rate, you always want to ensure that you're not compromising accuracy for the number of results. High match rate accuracy is essential; you don't want tons of data if it's actually inaccurate in predicting the size or demographics of your audience. So, make sure you choose a vendor who can promise both accurate and high match rates.
2. Check if the identity graph works in real-time speed.
We live in a modern world where customers expect to be offered the right solution immediately. Marketers need to be able to provide accurate, effective results to meet customer needs. Thus, marketers need an identity graph that can work in real-time speed to offer those immediate, consistent data analyses.
You can only meet customers at the right time with the right campaigns if your identity graph is constantly collecting and analyzing customer data. It's most efficient if your identity graph can sync data across different touchpoints in real-time. Thus, ensure that the identity graph you're considering can work in real time.
3. See if it works with persistent customer profiles.
Along with real-time speed, identity graphs should also work with real-time customers. You can't judge who your current customers are if your identity graph works with outdated information or that only analyzes identity only at times of the campaign.
A strong identity graph works with persistent customer profiles through authenticated IDs. This way, whenever a customer provides such authenticated data — like email addresses or usernames — the identity graph can immediately link that data to the customer's profile. As more and more data is created, the customer's identity grows, making for a real-time, accurate depiction of your customer base.
4. Ensure vendors are sharing all the data they analyze.
The issue with using third-party vendors for your identity graph is that you're putting a lot of trust in them. After all, you can't always see the data they're collecting, storing, and analyzing. Often, you have to trust their word on what they've received and the conclusions they've made.
However, analyzing customer identities isn't a matter to be taken lightly. You want to trust that your identity graph vendor is being transparent, whether or not the results are what you want to hear. To ensure you select a vendor who is completely open with you, ensure that they share all the matched data sets and campaign insights that help you get to know your customers better on a more personal level rather than just sharing information on audience sizes.
5. Gain as much ownership as possible.
Along the same path, the issue with using third-party vendors is that you don't technically own the data. You know that these vendors have the capability to discover more data insights than you can, but that also means that you're at their mercy, in terms of the information they can offer you.
It can be frustrating when you feel like your customer identities are not in your hands. So, look for a vendor who can offer you as much control as possible. And, if possible for your company, look into creating your own identity graph.
For better understanding of the success your business can derive from using this tool, let's discuss a real-life example.
Identity Graph Example
When you think of an identity graph, picture it as a web of an individual's personal data and trackable behavior. Below is a simplified reflection of a typical identity graph.
Identity graphs can also be much more complex, particularly when business models evolve and tailor products or services according to customer data.
For example, let's focus on a popular platform like Netflix.
Netflix records the type of content that each user enjoys from its own unified identity graph and uses that data to continuously recommend and present content that specific demographics will enjoy. Even in the front page previews, users of different positions in the identity graph will be shown different advertising (like previews) according to what they're most likely to click.
This company has proven that personalizing its content and advertising according to user data can yield higher customer satisfaction than other streaming platforms, and maintain a competitive edge in its market.
Get a Better Grasp of Your Customers' Identity
When you own your identity graph, you can have full access to all insights gained about your customers. Owning the key to your customers' experiences is worth the hard work, as it'll position your business in front of who it needs to.
Editor's note: This article was originally published in December 2018 and has been updated for comprehensiveness.