When it comes to learning, everyone has a different style.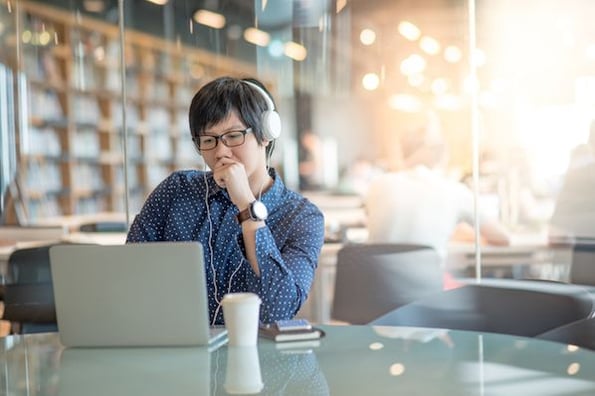 Some people have to read information to absorb it. Others need to hear it. Some people need a combination of visual and auditory instruction in order to fully understand something.
For those of us who can't go back to school full-time to learn more about our industries (as fun as that sounds), podcasts are a nice way to learn on the go. Whether you're listening during your commute to work or at the gym, they're a nice way to squeeze in some extra insights on the go.
So we've rounded up a list of customer service we recommend you listen to for inspiration and learning from some of the experts in your field. Keep scrolling to learn more about each podcast and listen to episode previews on Spotify.
11 Top Customer Service Podcasts to Start Listening To
1. The Modern Customer Podcast
Blake Morgan's podcast features interviews with leaders at different brands who are doubling down on technology and investing in teams to set themselves apart from an increasingly crowded field of competitors. Featuring interviews with folks from Wayfair, Allstate, Zappos, Morgan's podcast shares lots of helpful insights about building customer-centric companies and leveraging technology for customers' benefit.
Listen Now:
2. Creating Disney Magic: Lessons in Leadership Management, and Customer Service
Former Walt Disney World EVP Lee Cockerell shares his wisdom about building one of the brands best-known for creating a memorable experience for its customers at resorts and parks around the world. Each episode is fairly short, making it another quick listen, and offers practical advice for crafting a great customer experience and building a meaningful career.
Listen Now:
3. Experience This!
Hosted by Joey Coleman and Dan Gingiss, Experience This! features stories of companies and individuals that go the extra mile to create an exceptional customer experience. Each episode features a positive customer service story, as well as actionable takeaways listeners can use to improve their own service.
Listen Now:
4. The Official SaaStr Podcast
SaaStr's podcast isn't specifically dedicated to customer service, but it covers a variety of different topics that customer-facing professionals can learn a lot by listening to. The podcast covers topics like the most important SaaS metrics to evaluate, CAC:LTV, and how to reduce customer churn, among others.
Listen Now:
5. Repeat Customer
Zendesk's podcast features an in-depth look at a different company every episode, and how they were able to disrupt their industry by providing a superior customer experience. Companies profiled include MoviePass, Slack, and Sephora, and most episodes are around 10 minutes in length, making them perfect for listening in between meetings.
Listen Now:
6. The Customer Support Podcast
Although there are only a few episodes available, SAP's podcast features several interesting discussions about how technology is changing and improving customer support. The hosts usually interview a couple different business leaders to discuss the ways they're adapting customer service technologies within their own companies.
Listen Now:
7. Amazing Business Radio with Shep Hyken
Customer service expert Shep Hyken's podcast features different interviews with customer experience leaders joining Hyken to talk about how to create a consistent and memorable customer experience that fosters customer centricity. He's even interviewed HubSpot's own Michael Redbord in a fascinating discussion about how to turn happy customers into your loyal advocates.
Listen Now:
8. The Intuitive Customer Podcast
BeyondPhilosophy's podcast is hosted by a customer experience thought leader and a consumer psychology professor, and they spend each episode trying to break down an aspect of customer behavior -- and how businesses need to adapt to best serve them. They talk a lot about emotional and psychological experiences that impact customer behavior in fascinating, thought-provoking discussions.
Listen Now:
9. The SaaS Revolution Show
This podcast is another one that isn't specifically geared towards customer service, but it features a lot of insights about the SaaS world that are helpful for SaaS customer service and success professionals to think about. Topics include reducing customer churn rate, empowering Voice of the Customer, and user onboarding tips.
Listen Now:
10. Frank Reactions
Tema Frank's podcast is all about customer service and experience, and each episode tackles a tough challenge or question that's facing the industry and tries to unpack it. Frank interviews a different business leader in each episode to try to answer the question and provide helpful advice along the way.
Listen Now:
11. ChurnFM
ChurnFM is a podcast dedicated to understanding churn and how the fastest growing companies retain their customers. In an interview with our company's General Manager of Service Hub, Michael Redbord, they discuss how HubSpot turns customers in loyal advocates by creating a delightful customer experience.
To find more resources, read our list of customer service blogs to read next.