People skills are essential. No one is born an expert, but the quickest way to master them is to surround yourself with right resources -- and to practice. How do you do that?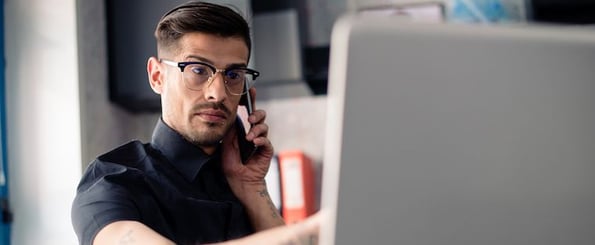 Work in a customer-facing role.
It's no secret that those who work in the customer service space interact with all kinds of folks. We are friendly and helpful by default, but we also have to know our audience on the spot and adapt our actions to best serve the customer. How well we accomplish that can make or break a customer's experience.
Here are four skills I've learned from being a customer support representative are essential to making the customer's experience a positive one.
What skills do you need to be a customer support representative?
Empathy
Rapport
Intuition
Effectiveness
1. Empathy
People are naturally wary of customer support representatives. They are used to long wait times, being put on hold, and hearing, "Sorry, we can't do that for you," over and over again. The same mistrust can apply to salespeople -- there is a stigma surrounding both professions. Most people automatically assume negative stereotypes like impersonality and laziness, but it is possible to debunk those with one positive interaction.
Whether you're communicating with someone in person, over the phone, or via email, you need to be able to connect with them on a personal level. If a customer or client is visibly upset, don't just say, "I understand your frustration." Instead, genuinely ask them why they are upset and what you can do to help. Focus on making their interaction with you pleasant first -- then, you can work together towards a goal.
2. Rapport
A lot of the time, customers view sales and support interactions as "me vs. them" situations. Start a customer interaction off right by positioning yourself as their ally. Instead of saying, "What's the problem?" try "What are we working on today?" This immediately puts them at ease and shows them that you're in this together.
Don't wait until there's an issue -- be on their team from day one by building good rapport.
3. Intuition
Everyone reacts to things differently. Some people love enthusiastic emails with exclamation points, while others find it insulting and unprofessional. But even though it's easy to edit an email multiple times, it isn't much help if you don't know how to phrase things in the first place.
I'm a specialist in a very specific part of the HubSpot Marketing software (the workflows and lists tools), and I work with customers almost exclusively over email. Some of these customers are workflow masters, and others are just getting started. Unsurprisingly, they like to be written to in different ways.
Sometimes it takes me longer to respond to the simple questions than it does the intricate ones because I want to make sure that beginners have the resources they need. It's not uncommon for me to link to three HubSpot Academy articles, send annotated screenshots, and provide a workable example in the same message. And people who are just getting started with HubSpot love the extra instructions.
But doing the same thing with a customer who's a product veteran can be seen as patronizing. Know your audience and cater to them. If a customer responds to a peppy email pitch in a more serious tone, then lower the pep level in your reply. People are much more comfortable when their tone is matched.
4. Effectiveness
Many customer support representatives spend their time quickly helping customers solve the specific issue they called in about. But then the same issue happens again, and again, and again. Why? Because only the symptoms were treated, and not the cause of the problem.
Sure, it may take less time to fix the initial problem, but it's more effective to spend extra time solving the root of the issue. Similarly, a lot of sales reps might get stuck if they just spend their time helping the customer in general and not focusing on helping them with the solution their business offers. Hone in on the problems you know your product can solve, and deliver on that solution 100%.
These are four of the most valuable lessons I've learned in my time as a customer support representative, and they have all helped me improve my people skills. There's a lot of trial and error involved, but with enough practice, you'll master them in no time, too.