Customer service expectations are higher than ever before. Today, consumers view your standard of service as a key differentiator in their decision to work with your brand over its competitors. In fact, more than 50% of customers purchase more from companies that they believe provide outstanding customer service.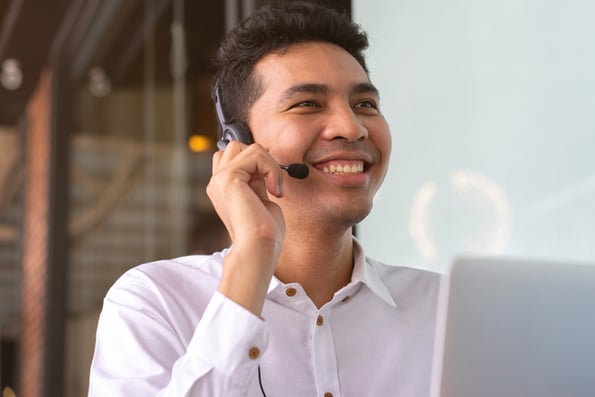 Given that, businesses can't be lax about the service they provide. You must keep innovating and improving to keep consumers happy and stay on top of the latest customer service trends. That said, it's essential to understand how the sector is evolving if you want to stay ahead of the curve.
In this post, we'll take a look at ten enterprise customer service trends to look out for in 2021. Understanding these trends and incorporating them into your customer service strategy will help your business modernize and continue delighting your customers.
Enterprise Customer Service Trends
Crisis Management Customer Service
Chatbots & Artificial Intelligence
Remote & Freelance Customer Service Agents
Higher Focus on Customer Success
Customer Self-Service
Social Media Customer Service
Real-Time Customer Support
Personalized Customer Service
Video & Streaming
Omnichannel Support Systems
1. Crisis Management Customer Service
The COVID-19 pandemic has called for increased focus on crisis management . Businesses should have the ability to quickly adapt to wide-spread issues. This type of customer service involves taking proactive action, like drafting procedures that detail courses of action when problems arise.
The most critical component of crisis management customer service is understanding that customers want transparency. They want you to keep them updated, they want to know how your business plans to respond to the crisis and how your decisions will impact them.
Best Buy, an electronics retailer, has pivoted to crisis management customer service in response to COVID-19. They've created a banner for their website (pictured below) that directs customers to a landing page that details their response to the crisis.
On the landing page, Best Buy acknowledges the COVID-19 pandemic, and reassures customers that they'll be able to continue shopping at Best Buy through their online platform, or via in-store shopping with adherence to safety precautions.
Erin Murphy, Support Team Lead at HubSpot, says that a best practice for leveraging crisis management is following the three A's: acknowledging the problem at hand, align with customers to create a shared goal, and assure them that you're the best resource in solving their issue. Murphy says, "Nothing ever goes perfectly in the service industry, and we need to be equipped with the tools to resolve these issues and keep customer experiences positive."
2. Chatbots & Artificial Intelligence
Many businesses are opting to use AI-driven chatbots in their customer service strategy. These chatbots bear similarity to virtual assistants, as they answer customer questions and bypass the need for human agents.
These AI tools employ algorithms to recognize and respond to customer questions. They can also perform simple service tasks like offering price estimates or directing customers to knowledge base resources . In short, chatbots can deliver a well-rounded, real-time support option for a fraction of the cost of a human representative.
Machine learning — the science of analyzing data to identify patterns — makes it possible for chatbots to improve the quality of their responses over time. This means the more interactions a bot has with customers, the better it becomes at solving their issues.
Here's an example from Vergic, a customer experience company, utilizing an AI Chatbot to guide a customer through the process of creating an account. The AI bot allows the customer service representative, Sophia, to focus on other tasks rather than more rote processes.
3. Remote & Freelance Customer Service Agents
Another customer service trend is remote work. As call center software becomes more refined, more customer service teams can work from home. For example, cloud-based calling is a phone system that runs through the internet, eliminating the need for a direct, in-office phone line.
These advancements allow for more widespread hiring, as representatives can work remotely from their current location so long as they have internet access. In turn, having remote representatives from various locations can ensure that there is someone available across various time zones to answer customer questions.
The chart below demonstrates how customer service has become more remote-friendly since 2019.
4. Higher Focus on Customer Success
Another developing trend in customer service is a shift in how companies view customer success. Traditional customer service is about responding to customers and answering their questions. That is, by nature, a passive and reactive process.
Forward-thinking businesses are combining the traditional aspects of customer service with an added emphasis on customer success. These companies take a proactive approach and tailor their service methods to ensure they're doing all they can to help customers reach their desired outcomes, no matter the issue.
The world's fast-growing companies are already installing dedicated customer success teams, and 83% of those teams grew in size in 2018. Focusing on customer success guarantees that they're providing value to customers at every stage of their brand experience while simultaneously solving issues as they arise.
5. Customer Self-Service
Customer self-service is no longer confined to self check-out lines at the grocery store. Now, more than ever before, consumers prefer to solve issues themselves, with as many as 81% of them troubleshooting issues independently before reaching out to service teams.
Self-service customer support also saves time for businesses. Since customers want the opportunity to solve problems on their own, customer service representatives spend less time troubleshooting one-off issues and more time solving broader, complex ones.
Given its advantages, self-service customer support will only continue to grow. A straightforward way for businesses to get on board with this trend is by building a knowledge base. A knowledge base is a collection of resources, like FAQs and troubleshooting guides, that help customers assess their issues.
Using HubSpot's Knowledge Base (shown below), customers can find answers to their questions before speaking one-on-one with a support rep.
6. Social Media Customer Service
Social media is not solely for advertisements and promotions.. Instead, businesses should embrace it as a means to interact more directly with customers and build rapport.
A recent study found that 59% of global social media users have a more favorable view of brands that respond to customer service questions on social media. As global social media use continues to rise, consumers will expect to be able to ask questions and troubleshoot with your business via your social media accounts.
You can offer service via social networks in a variety of ways, including:
Responding to complaints and solving issues publicly on a Tweet or post. Doing so displays your commitment to service and brand transparency.
Answering customer queries and sharing links to useful resources.
Getting ahead of problems by explaining issues on your social accounts. This is particularly helpful if a new product has confusing elements or faces a setback.
Thanking followers for kind comments or positive reviews. For example, many businesses take the time to respond to Google Reviews .
7. Real-Time Customer Support
According to the graphic below, 33% of customers getting service help are frustrated by waiting on hold, and 19% are frustrated by slow response times. This data tells us that now, more than ever, customers want quick responses to their customer service queries.
Given this, more businesses are turning to real-time support. Visit any commercial website and you're likely to find a live chat option. Features like these ensure a customer can get immediate support for urgent issues, especially if incorporated with AI and chatbot software.
This kind of instant support helps boost customer satisfaction and positively impacts your conversion rate. If a customer can solve their issues while on your site, they're more likely to follow through with a purchase.
8. Personalized Customer Service
Personalization is common in marketing and sales, and customer service is following suit. Businesses are now providing unique product recommendations and promotions to customers after they make purchases.
Collecting and processing data is crucial for customer service personalization. You can capture customer data throughout their journey with your brand, and doing so provides many opportunities for tailored, individualized customer service.
For instance, if you're a retailer with both online and brick-and-mortar stores, it would be incredibly valuable for in-store staff to access what visitors have browsed or bought online. Your employees can use that information to offer personalized in-store recommendations.
Customer Relationship Management (CRM) tools can help businesses track this kind of activity. For example, HubSpot's Lead Management Software gives detailed lists of customer activity, contact records, and communication history. You'll get a summary of each customer's journey and be able to provide personalized service.
Benjamin Lawlor, Principal Customer Support Specialist at HubSpot, believes that being able to view the history of interactions between a customer and your organization is vital. He says,"An issue that a customer may be having now can often be traced back to a problem they had in the past. Having this information easily retrievable will help you demonstrate to the customer that they aren't just another support ticket."
9. Video & Streaming
Video is a highly effective means of communication. It's an engaging channel that helps brands convey complex information quickly. To date, video and live streaming have been used mostly for marketing, but businesses are beginning to leverage its power for customer service tools: "How To" videos are a common example of this.
There are various ways to offer video as an alternative (or supplement) to phone or email support:
Q&A live streams to answer customer queries.
Webinars or video courses to explain product features and applications.
Embedded videos in emails that show customers how to troubleshoot an issue they're experiencing.
Marta Gonzales-Hidalgo, a HubSpot Customer Support Specialist, says that customers are often surprised and glad to receive visual support. She says,
"Sharing your screen with customers or sending a recording their way can substantially reduce unnecessary back and forth." - Marta Gonzales-Hidalgo, HubSpot
10. Omnichannel Support Systems
Consumers often use different devices and channels when interacting with companies. That has led to an increase in omnichannel support systems, where service reps are ready and able to answer questions and troubleshoot issues regardless of where the communication occurs.
Omnichannel support requires companies to take a holistic, customer-centric view, as the most important factor is delivering a consistent customer experience. The key to developing an effective support system is having an efficient communication setup. Many businesses turn to unified communications solutions to support omnichannel customer service.
The graphic below depicts the benefits of an omnichannel support system, centered on its most important factor: the customer.
Staying on Top of Customer Service Trends
Like all areas of business, customer service never stands still. The sector evolves and develops in response to advances in tech and changes in consumer demand.
Today, customer service is as vital as ever. Consumers have many choices and will use your customer service as a means of deciding where to do business. Understanding popular trends and capitalizing on the opportunities they present will help your business stay ahead of the competition.