Have you ever noticed that negative news stories are more common than positive ones?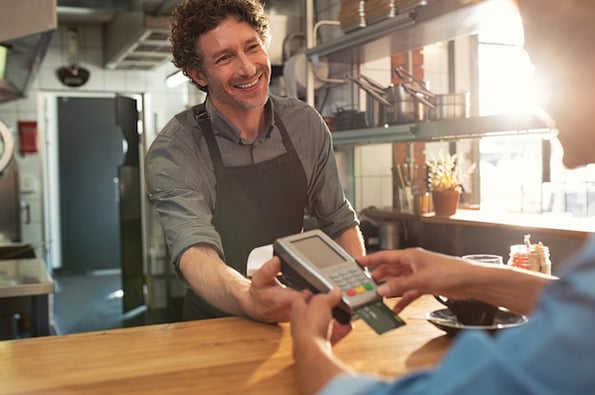 That's because people remember negative experiences more than they remember positive ones. According to Guy Winch, a Ph.D. and psychologist author, our brains innately have a "negativity bias," which means we're more likely to respond to and recall negative experiences. That explains why positive news stories are read 26% less than stories that cover negative topics.
The same goes for customer experiences. In fact, customers are twice as likely to share reviews after a negative experience with your brand than they are after a positive experience. And, research shows that 60% of customers have stopped doing business with a company after one poor customer experience.
While this may put some pressure on your customer service team, these stats don't necessarily stack the odds against your favor.
For example, 67% of customer churn can be prevented by resolving a service issue during your first interaction with the customer. That means if you can remove friction from the service experience, you have a stronger chance of keeping that customer satisfied and loyal. And, when you do that, they'll share positive reviews about your company which, as the graphic shows below, are incredibly valuable to your business.
In this post, let's review what creates a frictionless customer experience, then we'll look at some companies that have removed roadblocks for their customers.
The Frictionless Customer Experience
Before we can understand what makes a customer experience frictionless, we first need to know what customer friction is.
What is customer friction?
Friction is anything the impedes a consumer from completing the customer journey. These can be small roadblocks like long wait times and shipping costs, or they can be major problems like botched orders and escalated service inquiries.
Customer friction isn't limited to the service sector, either. While it's a customer service concept, friction can be found within the marketing and sales department as well.
For example, your sales team may not have a CRM, which causes reps to lose track of open deals and where customers are in the buying process. This can make customers frustrated with the service of your sales team, and cause them to abandon a purchase.
Or, your marketing team may release a promotional offer that can only be redeemed by filling out a form before a purchase. But, if the form malfunctions and the offer can't be used, customers may be displeased and turn to your competitor that will redeem the same offer without using a form.
As you can see, customer friction can be found across your business. So, to help your service team get ahead of these roadblocks, we've listed a few of the most common points of friction in the section below.
What causes friction within the customer experience?
Many factors can add friction to the customer experience, but here are a few common ones that affect most customer service teams.
Organization
An organized customer service team is an efficient one. If your team is unorganized, it's hard to keep track of service inquiries as your customer base grows. You might be able to manage it when you're only working with a handful of customers, but, without a systematic approach, your reps will struggle to keep pace when they're dealing with hundreds each day.
This is where customer service software can be the difference-maker. Tools like ticketing systems and help desks keep reps on track of their open cases, so customers aren't left waiting aimlessly for a response. And, these systems have useful features like automation workflows and peer collaboration, so customers can get information quickly without having to switch communication channels or transfer reps.
Case Duration
Of all customer needs, time is usually the most common point of friction. Not many customers have the time for your support team to leisurely resolve their issue. Instead, most are pressed against the clock and didn't expect to speak with your service team in the first place. The longer they spend waiting on hold is like a lit fuse working its way towards a firecracker. Some fuses may be longer than others, but every customer has their breaking point.
Case duration can be improved in a few different ways. First, you can adopt automation tools that distribute cases to reps who are best suited to solve the issue. That way, customers aren't constantly put on hold while your reps go and speak with specialists.
Another solution is to add chat and phone channels to your service offer. These mediums produce live conversations between customers and reps, so you can exchange information faster. By creating an omni-channel experience, you'll provide an immediate resource for service inquiries which reduces friction for customers who have simple questions that can be resolved with a quick call or text.
Personalization
Your most valuable customers are your loyal ones. They spend the most at your business and are willing to share positive reviews about your company. They're also expecting your company to personalized their experience, as a way of showing gratitude for their business.
The simplest way you can do this is to remember them. Recognize them by their name when they walk into your store and ask about their past purchases to see if you can do anything to improve their user experience. This not only fosters a long-term relationship but also shows that your company is eager to handle their service inquiries. While it's not a complete safety net, creating this personalized experience is a great way to earn the benefit of the doubt, in case your company ever makes a mistake.
Customer Data
Another common issue that creates friction is a lack of customer data or data silos. Having historical customer data readily available can vastly improve your customer experience.
For example, let's say a customer keeps having the same problem with your product. They've called your customer service team twice, only to get a temporary solution that doesn't seem to last.
Now, they're calling for the third time and are expecting you to fix this once and for all, but if you haven't recorded their prior interactions, your reps will have no idea that this customer has had this problem before. Rerunning the same troubleshooting steps you tried the last two times will only frustrate the customer, and prove you're incapable of fulfilling their need.
Instead, if you have a CRM, your reps will know that the customer has reached out about this issue in the past. And, instead of repeating your traditional steps, your reps can escalate the issue to a specialist or provide a replacement product. This will show that your team isn't just blindly troubleshooting issues; they're paying attention to the entire problem and are looking for a long-term solution.
Proactivity
One excellent way to reduce friction is to prevent it before it even occurs. Proactive customer service looks to remove or notify customers of roadblocks before they encounter them. This shows that your team is constantly working to optimize the user experience.
One way to do this is with a knowledge base. Knowledge bases store informative articles that teach customers how to troubleshoot common problems with your products. Instead of having to reach out to your support team, customers can try to solve issues on their own, saving them time and a potential headache from waiting on hold.
Now that we've laid out the blueprint for smooth customer interactions, let's take a look at a few companies that have removed friction from their customer experience.
Examples of Frictionless Customer Experience
1. Iron Planet
If you think buying a used car is tough, try purchasing a used excavator from an old construction site. Iron Planet is a SaaS company that connects buyers and sellers of heavy construction vehicles and equipment. Its goal is to reduce stress for each party when auctioning their items online.
One way it does this is by verifying the quality of items listed in the auction. Since customers are taking a big risk by buying these vehicles online, Iron Planet looks to build trust by sending out inspectors who verify the seller's review. This makes it easier to make a purchase because buyers can trust that the review is accurate and unbiased.
Another step that Iron Planet takes is including estimated shipping costs within the order. Since these items cost thousands of dollars to ship, that can be a major factor when making a purchase. After all, no one likes thinking they found a great deal, only to find that the shipping cost is more than the item itself. So, Iron Planet created this handy tool that lets customers know what they can expect for shipping costs if they purchase that item.
2. Faire
Faire is a wholesale marketplace and store that connects artisans to retail shop owners. When artisans make products, it can be difficult to find the right stores to sell them in. They need to ensure their products fly off the shelves because most are responsible for paying back retailers for any returned items.
Faire eliminates this friction by offering free returns. Retailers can return the products to Faire's warehouse, instead of sending it back to the artisan who made them. Then, Faire sells these items at a discounted price, instead of charging the artisan for the return. This reduces friction for both buyer and seller because Faire is alleviating the risk of closing a regretful deal.
3. Vacasa
Vacasa competes in the same space as Airbnb and Vrbo, but it differentiates itself by focusing on reducing friction for the homeowner.
Renting out a vacation home or room can be harder than you may think, with repairs, cleaning, and security roadblocks adding more stress to the hosting process. And, many people who sign up for Airbnb and Vrbo have no experience with renting, leading to frustration when failing to get their listing booked.
Vacasa eliminates this friction by including features that help homeowners rent out their space. It has an algorithm that assesses the price of a unit and determines if that price needs to be higher or lower, depending on the time of year, the popularity of the location, etc.
And, Vacasa is so confident in its ability to book listings that it promises customers that they'll earn an extra $5,000 in their first year when switching from a competitor. If a new customer doesn't meet that benchmark, Vacasa will refund the difference. This removes friction from the adoption process and makes it easier for customers who are considering Vacasa to make the switch.
For more ways to improve the customer experience, read how you can better get to know your audience.