If you work in customer service, you should want to help your customers. If not, you may be working up the wrong career ladder.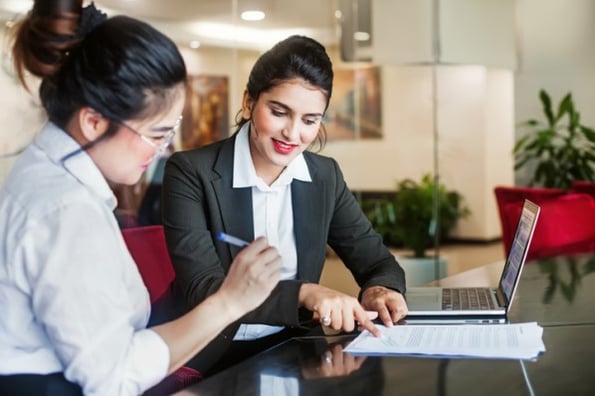 Customer service is all about helping customers, both reactively and proactively. It's the job of the customer service team to ensure all customer needs are fulfilled. They must troubleshoot support calls, answer customer inquiries, and perform a variety of tasks to keep customers engaged and satisfied.
With all of these functions performing at once, it's hard to keep track of everything your customer service team does. You know they're a vital component to your company's success, but it's difficult to outline everything they should be doing for your customers. While you don't want to make their work seem less valuable, you do need a checklist to make sure they're providing the best service possible.
To help you keep track of your customer service, let's review 10 things your customer service team should be doing to help your customers.
10 Ideas For Helping Customers
Build a customer success program.
Customer success is a key contributor to business success. In fact, 95% of companies with growing revenue recognized customer success as being important to their business. We can compare that to companies with stagnant or decreasing revenue, where only 50% reported it was important.
To capitalize on customer success, you need an organized customer success program. Customer success programs identify customer goals and develop roadmaps to help customers achieve them. When customers succeed with your product or service, they're more likely to return to your business.
One company with an excellent customer success program is HubSpot. According to Brian Halligan, HubSpot's CEO, "it used to be what you sold that mattered, but now it's how you sell." HubSpot recognizes that customer experience is just as important as its product. So, the company has developed a highly-interactive customer success program that includes functions like onboarding, self-service support, and constant feedback collection.
2. Develop a customer loyalty program.
If you're not sure why customer loyalty is important, just know that it costs five to 25 times more to acquire a new customer than it does to retain an existing one. That's why customer loyalty programs have become increasingly popular over the past few years. Customer loyalty programs improve customer retention and increase referrals from your existing customer base. Since your most loyal customers usually spend the most at your business, you'll want to adopt a customer loyalty program that optimizes their business value.
One customer loyalty program your brand should emulate is Sephora's. As a "Beauty Insider," you'll earn points for each purchase you make. These points can be redeemed for individual products or used as discounts towards overall purchases. Sephora's loyalty program gives customers the power to choose their reward, which keeps them engaged with the brand's products and services.
Source: Sephora
3. Add a knowledge base to your website.
A knowledge base is a customer service tool used to educate customers on your products and services. It contains support and service articles outlining troubleshooting steps to common customer roadblocks. When customers have an inquiry, they can search through the knowledge base to find a solution to their problem. This saves them contacting your support team for help.
Buffer has a good example of what a knowledge base should look like. It has a simple design, easy to navigate, and the support articles are clear and informative. It even uses Gifs to outline steps, making them much easier to follow. Users don't have to spend time searching around for an answer and can cut right to the information they're looking for.
Source: Buffer
4. Include customer self-service tools.
Some customers, myself included, don't enjoy asking for help. Instead, they'd rather investigate service and support issues by themselves, using customer self-service tools. These tools empower customers to troubleshoot issues without the help of your support team. That way, they can find fast solutions to simple problems without having to pick up the phone or write an email.
While a knowledge base is one example of customer self-service, another one is a community forum. For example, HubSpot's community forum is designed to help HubSpotters with issues that the support team may not cover. When HubSpot support reps are faced with a problem that's outside their jurisdiction, they can refer that customer to the community forum. There, Hubspotters can investigate other external solutions, instead of being met with a dead end.
5. Incorporate live chat.
Live chat is a powerful tool that should be added to every customer service team's arsenal. Live chat is a hybrid between phones and email, allowing reps to efficiently handle a higher case volume. Reps can work on multiple chats at once and link customers directly to your knowledge base for quicker solutions. This creates a better customer experience and reduces the stress placed on your phone and email support queues.
HubSpot offers a free live chat tool that can be installed on both HubSpot and non-HubSpot websites. It's linked directly to your HubSpot CRM which lets you store valuable data about your customers. Each interaction is recorded, so you can refer back to them when relevant. If you're interested in adding HubSpot's live chat to your website, you can check it out here.
6. Integrate automation.
Everybody loves automation. Take a menial or repetitive task and set it on a loop so that it performs automatically. That way, you can sit back and watch as the work completes itself.
Customer service teams can use automation to save time for both employees and customers. Employees can use workflows to automate a series of tasks, like sending an email campaign. Or, you can add a chatbot to your live chat that displays pre-written responses based on the customer's keywords. This ensures a more consistent customer experience because communication is regulated throughout the business.
Customers can use automation to easily connect with support reps. They can fill out online forms that set up meetings with your customer service team. Customers will have an appointment to work with your reps and won't have to waste time waiting on hold.
7. Collect customer feedback.
Collecting customer feedback is an important step in helping customers. After all, it's hard to assist people if you don't know what their problems are. And, if you make changes based solely on the business's perspective, you can end up frustrating your customers and increasing your churn rate. Instead, look for timely opportunities to obtain customer feedback, and apply that information to your decision-making going forward.
Airbnb has done an excellent job of collecting and utilizing customer feedback. After each visit, Airbnb asks customers to fill out the survey below, which lets the company know how their stay was. If the review was good, they use it as part of their customer referral program to attract other users to the same offer. By doing so, Airbnb has been able to increase bookings by 25%.
Source: Airbnb
8. Create a partner program.
If you're a B2B company, you should implement a partner program for your customers. Partner programs set up mutually beneficial relationships, where your business recommends your customers' products and vice versa. This way, you and your customers are instantly expanding your reach by connecting with another organization's customer base.
HubSpot has a notable partner program that customers can use to market their business. They can become a sales, marketing, or integrations partner depending on the goals they're looking to achieve. By doing so, both the HubSpotter and HubSpot grow their network by gaining access to new audiences that have similar interests.
9. Provide proactive customer service.
Your customer service team shouldn't wait for opportunities to help customers. They should be seeking out roadblocks and clearing them before customers even know they're there. That type of proactive customer service will strengthen customer relations and contribute to customer success.
One company using proactive customer service is Brooks Brothers. When customers tweet or post on social media from one of its locations, Brooks Brothers reaches out to ask about their experience. This helps Brooks Brothers collect customer feedback and build customer loyalty.
Source: Twitter
10. Adopt customer service tools.
One of the best ways to help customers is to help yourself. When your customer service team improves, your customer experience will follow suit. A great way to beef up your customer service team is to adopt customer service tools.
Customer service tools organize your service requests and automate repetitive tasks for your agents. For example, one common customer service tool is a ticketing system. Ticketing systems process incoming service inquiries and automatically distribute them to your agents. With this process, tickets are assigned faster resulting in quicker resolution rates and shorter handling times.
For more ways to increase customer success, read about these customer success strategies.