According to Andy Williams, the holiday season is the most wonderful time of year — a wonderful time to delight your customers.

It's far more affordable to retain your customers than it is to attract new ones, and the holiday season is a fantastic opportunity to remind your customers why they should stick around for another year (or more).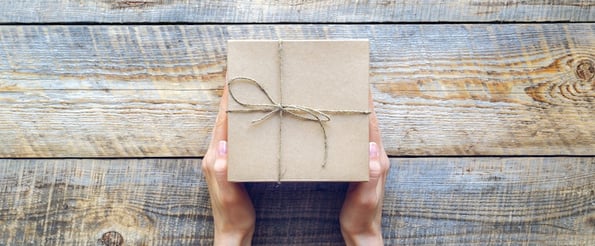 Every day is a good day to delight your customers. But these best practices are especially important around the holidays, when stress levels rise and patience levels drop.
Work with your customer service (CS) team to implement as many of these strategies as possible (some recommended by our very own CS team here at HubSpot), and your customers will leave your store (or hang up the phone) with a smile on their face.
6 Ways to Delight Your Customers This Holiday Season
1. Prepare for the holiday rush.
The holiday season is a crazy time.The most straightforward way to delight your customers is to make each and every interaction with your company a positive one, and preparing helps you do so.
While customers may expect longer lines and wait times around the end of the year, it's never a bad thing to surprise them with the opposite. Keep your CS team well-staffed so they can engage with customers when needed.
Moreover, use a tool like ServiceHub to keep communication consistent and transparent across your CS team. Few things are more frustrating as a customer than receiving two different answers from two different customer service representatives.
With a universal Conversations inbox and free CRM as a single source of truth, ServiceHub can vastly improve communications across your CS team and channels.
2. Pay attention to your social media channels.
Consumers send more messages to businesses during the holidays. According to recent research by Sprout Social, retailers can expect an average of 18% more social messages per month during 2021's holiday season than normal months.
Given this, it's worth considering having support reps available to help on social media, and maybe even adding more reps to your channels during the holiday season to ensure someone is always ready to help. You'll also be meeting customers where they already are, helping them succeed during the holiday season and continue to have seamless experiences.
3. Offer a compelling discount.
By a compelling discount, I don't simply mean "10% off your next order." Instead, try a discount that will inspire your customer to continue shopping with you.
What does that look like? It depends. And there are a couple of things to consider:
Focus on the value your product or service provides customers, not just the price you discount it by. In other words, position yourself in a way where buying your product is a complete no-brainer.
>Write your promotion carefully. According to Psychology Today, a "Get $ Off" promotion emphasizes achieving a gain, while the "Save $" wording emphasizes avoiding a loss — and customers recognize that difference.
Check out Dyson's Black Friday Deals page. The markdown on one of their most popular vacuums mentions how much customers can save — not a percentage off. Moreover, it includes a free gift with purchase.

4. Get personal.
Great customer service is about more than just solving your customer's issue. Go above and beyond to personally remind your customers how grateful you are for their business and why you care.
"I've encouraged team members to select some of their favorite frequent flyer customers and send them thank you notes over the holiday season," shared Ed Yealu, Customer Support Manager at HubSpot. "Thanking them for their engagement, support, and loyalty to the product is a good albeit more direct way to delight individual customers."
We live in a digital world, but it means a lot to receive something handwritten, and capitalizing on the holiday spirit in this way can build a positive brand association.
"When it comes to [this] approach, one of the biggest values I stress is personalized communication," said Yealu. Here are some of his best practices for personalized communication with customers:
Use tone and language that aligns with your customers' knowledge and experience with the product.
Listen to your customer and empower them. Asking the customer direct questions about their preferences both personalizes the experience and builds their confidence in the product.
Send follow-up messages to customers after each interaction to thank them and offer further assistance if needed.
Recommend features and tools based on their history and business needs and always provide notated documentation.
The strategy of sending personalized notes or gifts works well because, with every exchange, customers are encouraged to become brand ambassadors.
"I've sent a customer a gift after having a really good support interaction with them," shared Caroline Fernandes, Support Team Lead at HubSpot. "I would suggest this to other [customer service teams] as it shows the customer that you thought of them outside just your interaction. This can be done at any time of the year, too!"
Consider tools like Sendoso, Rybbon, and Reachdesk to help manage the manual customer outreach and send thoughtful customer experience touches.
5. Invest in premium packaging.
Anyone that's spent any amount of time wrestling with a roll of wrapping paper and tape dispenser knows the value of a pretty package. In fact, according to a recent Dotcom Distribution packaging study, branded or gift-like packaging makes customers more excited about receiving an item, especially younger shoppers.
Moreover, 42% of respondents credited sustainable packaging as a feature most likely to make them want to shop with a brand again.
The lesson? First impressions make a huge difference in our fast-paced, digital lives, so using premium packaging allows your product to stand out against others.
Take Pad & Quill, for example. This tech accessories company packages its iPhone and iPad cases in paper with friendly messages printed on it. It even uses an authentic-looking Roman seal to give a more hand-wrapped feel.
6. Be transparent about the small print.
Refund and exchange policies, as well as additional services, are often part of the small print on your website. As busy and loud as the holiday season is, do your customers a favor and place those policies and services front and center. These policies are in place to increase trust and promote sales, right? Make them known.
When buying gifts, customers prefer a return policy that ensures that if the recipient doesn't like it, they can easily return it. You have a better shot at increasing sales and keeping if you can offer this, especially if you offer free returns. In fact, 55% consumers won't even shop with a company that doesn't offer free returns.
Nordstrom does a great job of displaying all of its holiday shopping, shipping, and return perks, giving potential and existing customers peace of mind during one of the more stressful times of the year:
These customer service strategies are a chance to delight your customers, express your gratitude, and remind them why you care.
Offering compelling discounts with creative call-to-actions will inspire your customers to buy, but great customer service is why they return. Remember to focus on the value that you are bringing your customer, not just how low you can get your prices.